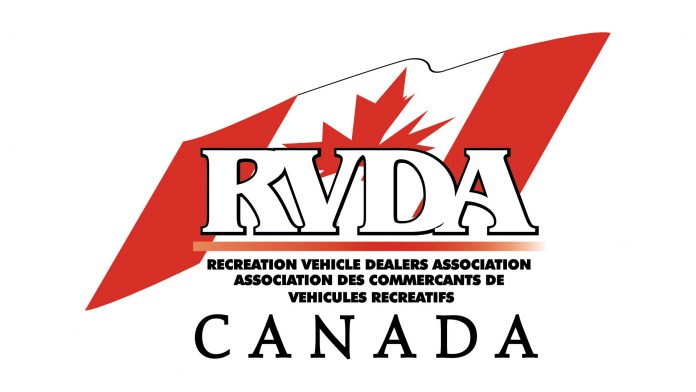 CLICK HERE for the video presentation of the Canadian RV Dealer of the Year 
The Recreation Vehicle Dealers Association of Canada (RVDA) and RV Lifestyle Magazine/RV Dealer News are pleased to announce the 2020 Walter Paseska Memorial Canadian RV Dealer of the Year Award nominees.
This year's nominees are:
Mike Porter, Bluenose RV Centre, Bridgewater, Nova Scotia
Al Robinson, Great Canadian RV, Peterborough, Ontario
Bob Verwey, Owasco RV Centre, Bowmanville, Ontario
Each year, in conjunction with RV Lifestyle Magazine/RV Dealer News, the RVDA of Canada acknowledges the excellent work of RV dealers who have been leaders in the RVDA movement either regionally or at a provincial or national level; who have exhibited a long-term dedication to the RV community; and who have made substantial contributions to their communities. The nominees are submitted to the RVDA of Canada selection committee, which consists of five previous Canadian RV Dealer of the Year winners and representatives from the RVDA of Canada and RV Lifestyle Magazine, the founding sponsor of the Award.
The Canadian RV Dealer of the Year Award was established in 1989 in memory of the late Walter Paseska of Walt's Trailer Sales in Headingly, Manitoba. Walt dedicated many years to the Canadian RV industry and was instrumental in bringing the RVDA to his province.
The Award was conceived and sponsored by Camping Canada (RV Lifestyle Magazine, Vie en Plein Air, and RV Dealer News), and is presented to the Canadian RV dealer who best exemplifies the professionalism and community spirit of RV dealers throughout the country.
While the award is normally handed out at an official ceremony, coinciding with the RVDA of Canada annual general meeting, this year, due to COVID-19, there will be a Zoom meeting to announce the 2020 winner. The meeting will take place on December 8, 2020, at 11am PST / 2pm EST.
Nominee bios: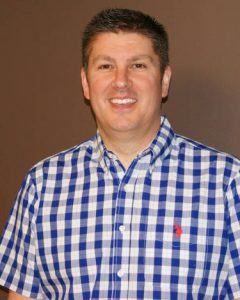 Mike Porter has been in the RV industry for 19 years, six of which have been as a dealer principal. He joined Bluenose RV in 2001 as its business manager, later became GM and purchased the business in 2014, with a focus on serving the Atlantic provinces. Mike is known for his dedication to the overall customer experience, a friendly showroom atmosphere, and treating his customers like family. He's been an active director, member and officer of the Atlantic RV Dealers Association (ARVDA) since 2009. Over the years, Mike has coached kids' soccer and Bluenose RV has supported the Make-a-Wish Foundation, local museums and music festivals.  This year, he made a generous donation to the IWK Health Centre Christmas Toy Drive in Halifax, a charity dear to his heart that Bluenose RV contributes to annually.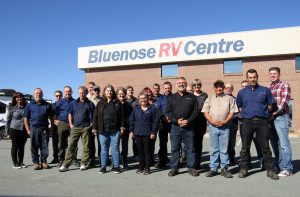 Mike was involved in a serious fire accident in 2019 and thankfully recovered with the support of his family and dedicated staff members. Mike and his wife Pam have five children – three of them, when not studying, have worked at the family business.
Al Robinson has worked in the RV industry for 48 years, 35 of which have been as a dealer principal. He was recently named the ORVDA Dealer of the Year. He works hand in hand with his wife Stacey Robinson and employs a staff of 11. Great Canadian RV boasts the largest RV parts and accessories store in their region.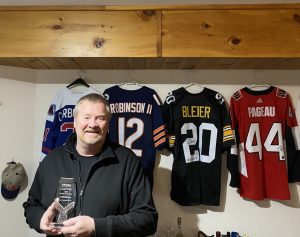 Al grew up camping with his family (his parents Marg and Ken opened M&K's Beaver Park in Omemee, Kawartha Lakes, in 1972) and this shaped his life. He has served on several committees and RV industry boards of directors and he is currently the chairman of the Ontario RV Dealer's Association government relations committee, where he has made invaluable connections and contributions on behalf of the RV industry. He has also served on: the Ontario Private Campground Association Board of Directors; the Trent-Severn Waterway Steering Committee (Board of Directors); the Lindsay and District Chamber of Commerce Board of Directors and Advocacy Committee; and the Kawartha Lakes Associated District Chamber of Commerce.
Al and Great Canadian RV have sponsored youth teams, supported the Canadian Guide Dogs for the Blind, the Food Bank, The Hospital for Sick Children, the Make-a-Wish Foundation, and more. In the spring and summer of 2020, Al and Stacey assisted nearly 50 frontline workers across Ontario and into New York to safely self-isolate in RVs during the COVID-19 crisis.
Al is known for being a great listener and for his true passion for the RV lifestyle. He loves to camp and kayak and spend time with his family.
Bob Verwey has dedicated 28 years to the RV industry and has served for two years on the Ontario RV Dealer Association's board of directors. Known as being civic-minded, he has served as a board member on regional tourism and trade boards, and with the Oshawa General Hospital.
Bob and his family have travelled all over North America and Europe in RVs and campervans, purely for the love of the RV lifestyle. His daughter Amy Verwey has worked her way up to be Owasco RV's GM and earned many industry accolades; Bob's son Mark helped to double the business when he was service manager. Both Bob and Amy have served on the board of the RV Rental Association of Canada for five years.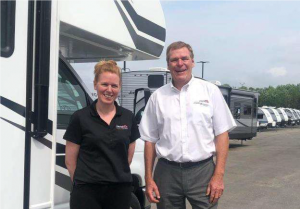 Owasco RV has helped to raise more than $3.5 million for various charities. They have proudly contributed to animal shelters and toy drives, sponsored pads at local arenas, sports complexes and soccer and hockey teams, and supported cancer charities including Relay For Life and CIBC Run for the Cure. Owasco RV donates motorhomes to be used as offices and first-aid stations at local events and, at the end of every rental season, they give used linens to a local women's shelter. When COVID hit in March 2020, the business stepped up and offered 70 motorhomes to local hospitals to shelter frontline workers.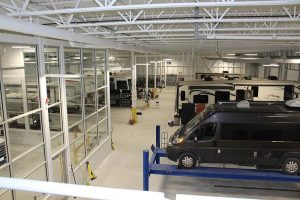 In 2018, Owasco RV relocated to a 42-acre property in Clarington, ON, where they built a 30,000 sq. ft. state-of-the-art facility equipped with 14 50-ft service bays, a full detail centre, showroom and a delivery canopy. During high season, Owasco RV employs 32 team members. In fact, many employees have been with the company for decades. Plans for the future include continued investment at the current site, with expansion plans to build a second dealership location.