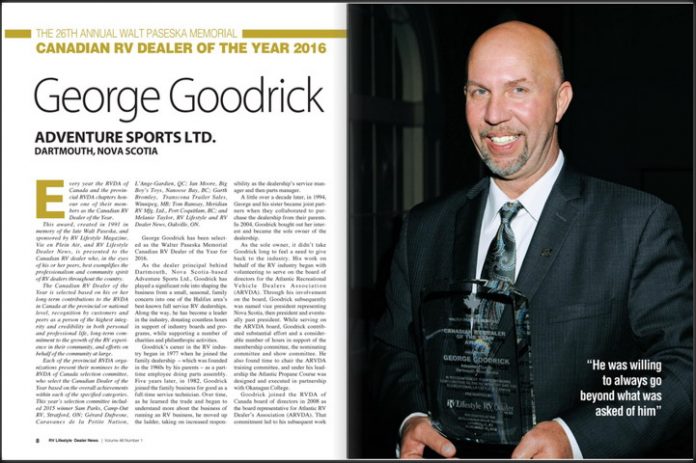 By Norm Rosen
It is with profound sadness that we learned of the recent passing of George Goodrick, former RVDA of Canada Chairman, and recipient of the 2016 Canadian RV Dealer of the Year Award.
George passed away on February 24, 2021, at just 54 years of age, after a two-year battle with cancer. He is well known throughout the RV industry as the President and owner/operator of Adventure Sports RV in Dartmouth, Nova Scotia.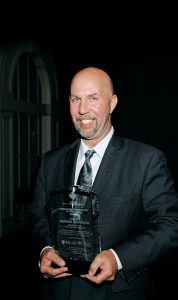 George served with great energy on the RVDA of Canada Board from 2008 to 2017, with many highlights during this period, including Chair of National Education-HR Committee from 2010 to 2014. He served as Chairman of the Board, RVDA of Canada, in 2015.
Always considerate of the many contributions made to the RV community by the various segments of the industry, George was instrumental in the creation of the Canadian Camping and RV Council and served as a Director on the board.
George is survived by his wife Ruth Ann (Chittick) Goodrick and daughters Samantha (Chris), Danielle, Trisha, Jadyn and Georgia, sisters Michelle (Steve) Smith, Jackie (Darren) MacKay, Patti (Rod) Smith, Christine (Aaron) Bell, mother-in-law Margaret Chittick, sister-in-law, Lori (Todd) Metzler, brothers-in-law, Michael (Mari) Chittick and Tommy (Kim) Chittick and many nieces and nephews.
The funeral service will be livestreamed on Wednesday, March 3, 2021 at 11 am Atlantic Standard Time (AST). A celebration of life will be held once COVID-19 restrictions allow, with details to be released at a later date. The family requests that, in lieu of flowers, donations may be made to the Canadian Cancer Society and Heart and Stroke Foundation in George's memory.
To read George's obituary, and sign the memorial book, follow this link: https://www.arbormemorial.ca/atlantic-dartmouth/obituaries/george-henry-anthony-goodrick/62838
To view the livestream of the funeral service on Wednesday, March 3, 2021 at 11 am AST (10 a.m. Eastern Standard Time) follow this link: http://www.livememorialservices.com/Home/ServiceDetail/11174
To read the RV Dealer News article on George's 2016 Canadian RV Dealer of the Year Award follow this link: http://rvldealernews.com/george-goodrick-wins-26th-annual-walt-paseska-memorial-canadian-rv-dealer-year/
To view the 2016 Canadian RV Dealer of the Year Award video presentation to George follow this link: https://www.youtube.com/watch?v=zJnPqPIofew&ab_channel=NormRosen