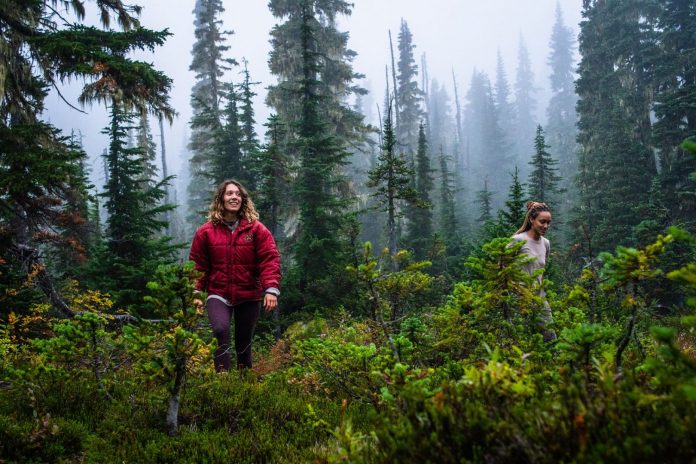 Update provided by Go RVing Canada
Live Your Wildhood is LIVE
Go RVing Canada is thrilled to announce that the latest iteration of the Wildhood platform – "Live your Wildhood" – is now LIVE on GoRVing.ca, and will officially launch on-air in the spring.
The campaign still leverages the Go RVing Canada "Wildhood" equity. However, the messaging has evolved from "Bring Back Wildhood" to "Live Your Wildhood" with a call to action to actively move toward the journey that awaits – to go out and "Live Your Wildhood" right here, right now.
In contrast to previous years' creative, the spot is voiced by a mature individual giving advice learned through a lifetime of experience. On-screen, we follow the lives of three "young outdoor adventurer" protagonists as they experience aspirational moments against the backdrop of nature, finding new adventures, making new discoveries and embracing new friendships along the way. The other heroes of the work are the RV units themselves, as they are the vessels transporting our characters to these unforgettable places and memories. (Click HERE to view Live Your Wildhood on YouTube.)
The campaign was designed to work across all aspects of the customer journey: from discovering the lifestyle, through investigation and purchase. Formats developed to support the journey include: a two and half minute video (for website and showroom use), 60:, 30: and 15: second executions for TV & online video, social prospecting and retargeting units, social content, print, experiential and influencer stories.
Introducing the New & Improved GoRVing.ca
In February, the totally revamped GoRVing.ca was introduced to Canadians, offering an entirely new user experience. Improvements made to the destination for everything RVing, include:
Expanding the 'Plan a Trip' section: Given the increased demand for RV trip inspiration, this has been expanded to include travel itineraries across the country, which can be found in the 'Find my Trip' interactive tool. Campground search and booking capabilities have been further integrated through our partnership with NOMAD Reservations, allowing users to plan and book campgrounds along the way.
Offering brand new features: The new 'RV Matchmaker' helps find the RV that's right for you! Users can explore units in detail with updated 360 tours and photos of interiors to find an RV that fits their lifestyle. The popular 'Compare RV' feature has also been upgraded.
Updating the visual experience: In addition to more engaging content, the design layout mirrors aspects of travel and camping experiences. Videos and blog posts are now tagged to align with targeted interest categories, including: first-timers tool kit, budget tips, on the road travel, trip planning, expert advice, how-tos and more.
Upgrading RV dealer searches by province & city: GoRVing.ca now offers the ability to have featured dealers through our Premiere Tie-in program, and our 'Find a Dealer Near You' email tool has been revamped to provide more leads to dealer websites.  
RVing in the Headlines
Canadians have always embraced the RV lifestyle, as it's an affordable way to enjoy time and make memories with loved ones. However, interest in RV travel from media and their readers has significantly grown over the past year due to the COVID-19 pandemic. In fact, last year over 50,000 RV trips were planned by using the GoRVing.ca Trip Planner, and the website experienced a 40-50% spike in traffic to our 'RV Dealer & Rental' searches during the summer.
As we head into this season, RVing has already been identified by journalists as a top travel trend. In addition to being self-contained units that allow for social distancing, RVs are the best way to explore our own backyard. The spring issue of CAA Magazine for example, features a number of RV-friendly road trip routes for readers to follow, many of which can also be found on GoRVing.ca.
Understanding that many Canadians have been financially impacted by the pandemic, media are also looking for affordable vacation options for their audience to enjoy. A recent study conducted jointly with the RVDA of Canada, CRVA and Go RVing Canada showed that RV vacations are generally less expensive than other types of holidays. In fact, RV trips with a travel trailer or tent camping trailer are 37% less expensive than driving and staying in a hotel, and 57% less costly than flying and staying in a hotel (2020 Family Vacation Cost Analysis).

The Revamped Dealer Tie-In Program
Go RVing Canada is also pleased to introduce the new Dealer Tie-in program, which is aimed to provide dealers with resources and tools to reach their marketing and business growth goals and promote the RV lifestyle effectively. Members can expect to see an array of new content added to the Tie-In library, including 100 new destination and lifestyle images, fresh video content capturing RV adventures, and all-new posters for in-dealership promotion (coming in Q2).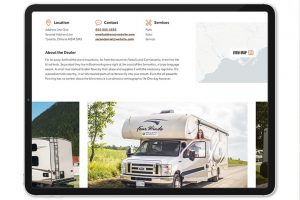 An exciting new feature to the program this year, dealers now have the option to upgrade their membership to Premiere status. Dealers who opt in to Premiere status are able to enhance their listings with images and descriptions to stand out from the crowd and improve their dealership visibility on GoRVing.ca. Premiere dealers also obtain a "premiere" badge, bumping their dealership to the top of the search on "find a dealer" pages. With additional branding, dealers will benefit from the extra exposure of 1.5M unique website visitors to GoRVing.ca's "Find a Dealer" pages, the best performing page throughout the entire site. Adding images and descriptions to listings also significantly increases dealer SEO rankings and drastically improves search results, getting Premiere dealers noticed faster.
The program is charged at an annual fee of $249.99. Go RVing Canada is holding a promotion for the first 50 dealers who sign up to get premiere status at 50% off! Dealers can sign up to the program by visiting gorving.ca/dealer-tie-in-program.
To learn more about the new GoRVIng.ca, the Dealer Tie-in program or for all other inquiries, please contact: info@gorving.ca.