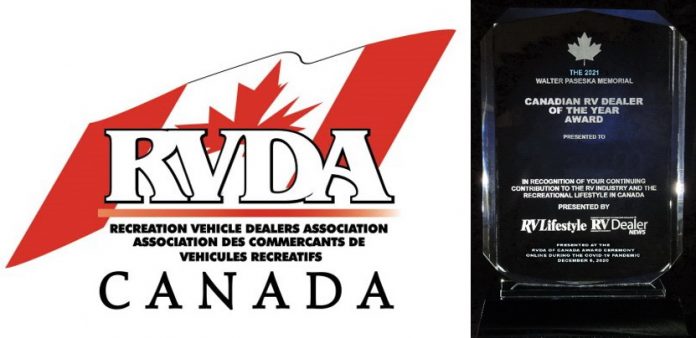 2021 Canadian RV Dealer of the Year – Meet the Nominees…
CLICK HERE for the video presentation of the 2020 Canadian RV Dealer of the Year Award
The

RVDA of Canada

has announced the nominees for the

32nd Annual Walt Paseska Memorial
Canadian RV Dealer of the Year Award
Each year the RVDA of Canada and Canadian regional RVDAs, in conjunction with RV Lifestyle Magazine and RV Dealer News, invite nominations from across Canada for the Canadian RV Dealer of the Year Award. The award is dedicated to the memory of the late Walt Paseska, founder of Walt's Trailer Sales in Headingly, Manitoba, in recognition of his many years of commitment and dedication to the RV industry, the RV experience, and the community at large.
Established in 1989, this award has been presented to Canadian RV dealers who share Walt Paseska's legendary enthusiasm and commitment to the industry; individuals who have been leaders in the RVDA movement either regionally or at a provincial or national level; who have exhibited a long-term dedication to the RV community; and who have made substantial contributions to their communities through charitable or philanthropic activities.
Each of the provincial RVDA organizations are encouraged to present their nominees to the RVDA of Canada selection committee, who evaluate the nominees and select the Canadian Dealer of the Year.
In 2021, with so many of the on-site events postponed due to the pandemic, the call for nominations was expanded to allow anyone in the RV industry to put forward a nomination.
The documentation for the nominees is submitted to the RVDA of Canada selection committee, which consists of five previous Canadian RV Dealer of the Year winners and representatives from the RVDA of Canada and RV Lifestyle Magazine, the founding sponsor of the Award.

This year's selection committee is comprised of previous Canadian RV Dealers of the Year: Left to right: Sam Parks of Camp-Out RV, Stratford, Ontario; Jason Bell, Chemo RV, 150 Mile House and Quesnel, B.C.; Kevin Betzold and Jim Gorrie, GNR Camping World, Winnipeg, Manitoba; Bruce Marsh, Cape Breton Trailer Sales, Cape Breton, Nova Scotia; and Al Robinson, Great Canadian RV, Peterborough, Ontario.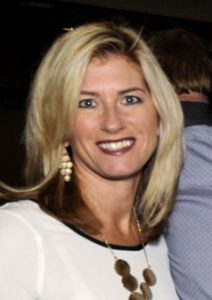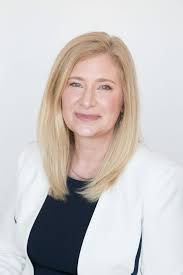 Melanie Taylor    Eleonore Hamm
The selection committee operates under the supervision of Eleonore Hamm, RVDA of Canada, with assistance from Melanie Taylor of RV Lifestyle Magazine and RV Dealer News.
While the award is normally handed out in-person at an official ceremony, coinciding with the RVDA of Canada annual general meeting, this year, due to COVID-19, there will be a Zoom meeting to announce the 2021 winner. The 2021 RV Dealer of the Year Award presentation will take place November 18, 2021, at 11:00 AM Pacific Time (US and Canada). That's Noon in Calgary, 1 PM in Winnipeg, 2 PM in Toronto, 3 PM in New Minas, Nova Scotia, and 3:30 PM in Newfoundland.
For 2021, three individuals have been nominated for this honour, and we are pleased to introduce them here.

Chardell Brydon           Jason Friesen          Andy Thomson
Chardell Brydon, Jerry's RV Trailer Sales & Service, New Minas, Nova Scotia
Jason Friesen, Voyager RV, Winfield, B.C.
Andy Thomson, Can-Am RV Centre, London, Ontario
The following information is derived from the nomination documents: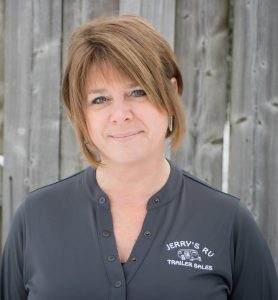 Chardell Brydon, Jerry's RV Trailer Sales & Service, New Minas, Nova Scotia
Chardell Brydon has served for several years on the Atlantic RVDA Training Committee, eventually chairing the committee. She currently chairs the RVDA National Education Committee, having joined that committee in October 2019. She continues to serve as a member of ARVDA's Training Committee, and she is also involved with several training initiatives, including the national trouble-shooter clinic. Chardell serves as a member of ARVDA's Show Committee.
Jerry's RV is a regular and active participant in ARVDA's RV Show Program. Chardell serves as an observer on ARVDA's Board of Directors and is a regular participant and contributor to those meetings.
Jerry's RV was incorporated in 1987 by Jerry Weir, Chardell's father. Chardell started in the business in 1987 and has been the operating dealer principal since 1993.
On a National level, Chardell joined the RVDA of Canada Education Committee in 2019 and became Chair of the committee in 2019.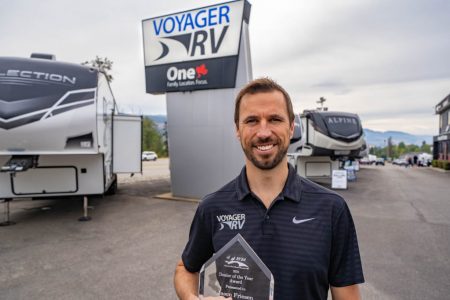 Jason Friesen, Voyager RV Centre, Winfield, BC
2021 RVDA of BC Dealer of the Year.
Jason joined Voyager RV's management team as a leader in 2003 and has been the acting Dealer Principle since 2004 when Rod retired. In 2009 Jason became the Vice President and leader of Voyager RV and immediately set the new direction of Voyager RV to match his vision. He continued to drive the Friesen family mission of creating the best customer experience in the RV industry, even throughout the tough times of the recession. Jason also made the tough decisions to alter certain common RV-dealership practices, to better fit with the new generation of RV buyer. These changes were not easy on some but were a win-win for the customer and the dealership. All non-mandatory fees were removed, and all processes and practices were scrutinized to ensure that integrity, honesty, and transparency would be what Voyager RV would be known for by our customers and in the industry.
The unwavering message and direction from Jason Friesen led to a quick recovery. By continuing to embrace advances in technology and innovations in the RV industry Jason has ensured Voyager RV continues to lead our industry in British Columbia.
Jason continued to embrace innovations of website design, responsive website formats, custom video email responses, and much more, to make the customer's research simpler and more rewarding.
Making sure that the customer experience continued to be the focus, Voyager RV has stayed well ahead of the competition. It has grown in market share and is by a wide margin the largest RV dealer in the BC interior, despite being located in a town with a population of just 15,000.
This last two years, Jason Friesen started the "Voyager Cares" Initiative. Voyager staff were given a list of 25 local charities to vote on, with the top 7 vote getters chosen to receive a share of $100,000 in donations pledged to be donated by Voyager RV over the campaign. Having the team's own experiences, hardships and heartbreaks being reflected in this way meant a great deal to Jason and the Friesen family. This was to be a true reflection of what was in the team's hearts, and a thank you for the amazing hard work and dedication they all possess and demonstrate every day. As we made the donations over the campaign to the different charities, the pride and emotional connection to these worthy causes the staff feels is wonderfully evident in their smiles and sometimes tears, as the representatives from the charities told everyone what these donations meant to their organizations and what it allows them to do here in our own community!
Team Voyager kept giving right through the Covid-19 shutdown and reopening until they reached their goal and donated an amazing $103,635 to local charities!
During the pandemic, the RV industry was blessed to be an industry that could still thrive during this unprecedented time, and Jason kept finding ways to "Support Local" and bought many meals for the whole team to support local restaurants and businesses that had to close their doors to regular customers.
Recent achievements
– 2021 RVDA of BC Dealer of the Year Award
– RV Business Top 50 Dealer in North America – 2015 to 2021 (Innovation Award Winner in
2019, Blue Ribbon winner in 2017) (Not awarded in 2020 due to Covid)
– 2016, 2017, 2018, 2019 Gold Circle Excellence Club winner – Jayco's Top Overall Dealers in North America
(Not award in 2020 due to Covid)
– 2016/2018/2019 Winnebago "Flying W" Award Winners (Superior owner satisfaction & service excellence –
formally 'Circle of Excellence. One of only a handful from our country each year)
– Named Western Canada's #1 Winnebago Dealership for 2016/2017
– Kelowna's #1 RV Dealership (Kelowna Now Awards) – 2018, 2019, 2020, 2021
– Voted BC Interior's #1 RV Dealer for 8 years running – Okanagan Life Magazine Awards
– 2016 Silver Award winner – Kelowna's "Best Of" awards
– Top SALES & SERVICE RV Dealer in BC in 2015 for – RV West Magazine
– BC's RV Dealer of the year 2014 – BC RVDA
– Finalist for Canadian Dealer of the year 2014 – RVDA of Canada
– A+ Dealer Rating – Better Business Bureau
Community activities:
– Okanagan College Foundation – a $30,000 Donation to the New Trades Tech Training Building
– Justice Institute Paramedic Training simulation programs
– Kelowna Futures Tennis Tournament
– OK College Women in Trades
– Swinging with the Stars – Annual Event in Support of Kelowna Hospice
– Daffodil Ball – Canadian Cancer Society
– Make A Wish Foundation (two separate RVs in the previous years)
– CIBC Run for the Cure – Breast Cancer
– Cops for Kids
– Red Cross – support of Forest Fire recovery support in BC and Alberta
– Kelowna Grandmother's for Africa
– Nick Tresnich Memorial tournament (fallen fire fighter local hero)
– Okanagan Jewish Community – OJCA Fundraiser Golf Tournament
– KSS and Mt. Boucherie School Basketball and Volleyball teams (local high school-aged school and community teams)
– KVC and Barn Owls Club Volleyball Teams
– Lake Country Health and Wellness Fair
– 55+ BC Sport Games
– OK College RV lifestyle Seminar
– Harvest Ladies 2 Ball Golf
– Kelowna Sun Devils AAA Baseball
– Kelowna Minor Hockey
– Child Advocacy Centre
– ALS Society of B.C.
– Heart and Stroke Foundation
-Alzheimer Society of B.C.
– BC Cancer Foundation
– Central Okanagan Community Food Bank
– Mamas for Mamas
– Kelowna Women's Shelter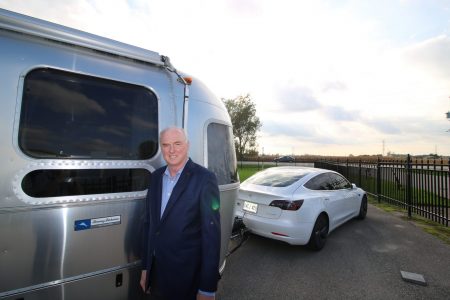 Andy Thomson, Can-Am RV Centre, London, Ontario.
2021 Ontario RV Dealer of the Year.
Contributions to the RV Industry
Andy has served for many years on the RVDA of Canada Board and was one of the founding members of the Ontario RVDA Show Committee.
He has served as a member of the Government Relations Committee, worked with the MTO to clarify licensing issues, and shared his knowledge with RV enthusiasts throughout North America as a seminar presenter at RV shows across the continent.
On a local level, he is a member of the London & St. Thomas RV Show board.
Company information
Can‐Am RV has been in business for 51 years at the same location, started by three Airstreamers including Andy Thomson Sr., Dr. Lou Hershey, and Al Hamil. The company started as an Airstream only store but added Travelaire in the second year. In the early days, there were four people working including Andy's father, Andy Sr.
Andy started working part‐time from day one at just 11 years old. At that time, the shop encompassed the store, showroom, and three service bays, growing after a few years to include to three buildings. Today, Can-Am RV is a dealership with over 20,000 sq. ft., with 18 service bays and a staff of more than 50 people.
Andy has always been a car enthusiast and started working with his dad on ways to make trailers tow better. They began looking at the physics behind sway and what could be done to make things safer. Over a few decades, they experimented with a variety of vehicles to see what worked and what didn't.
When Trailer Life ran its one and only fuel economy challenge, they outfitted a Chevy Caprice and won its category (18.2 MPG) and only lost to a popup being towed by a Volkswagen.
Over the years, Can-Am RV has concentrated on towing, and sold products that towed well. The dealership has been a perennial winner of Airstream's #1 Dealer in Customer Satisfaction Award, in Sales, Service and Parts – more than any other dealer.
Always intrigued by new technology and how it can be applied to the RV experience, Andy has a clear vision for the future of the dealership – he has been an early innovator of many technologies, and he sees that the industry will continue to expand with lighter and more aerodynamic trailers, and that as Electric Vehicles become a greater part of everyday life, the products and the infrastructure that will integrate the electric vehicles into the RV sector will have to grow with the advancing technology.
RVDA and Industry Participation and Leadership
Andy has been on both the National and Provincial RVDA boards over many years.
He has been a very active member of Go RVing Canada and has promoted the various programs with Social Media influencers. He has served as Chairman of the Board of Go RVing Canada, and as a key personality within this capacity the group was able to promote the industry nationwide on "Stronger Together" broadcast across Canada on all 4 networks to support our frontline workers at the beginning of the pandemic.
Community involvement
Among the many community efforts that Andy has supported over the years, his recent efforts to provide free rentals of trailers to front line workers needing to isolate from their families to avoid the risk of Covid-19 drew international recognition and brought a wave of very positive reactions that elevated the image of the RV industry in general.
Andy has been an active Sponsor of Bethany's Hope Foundation, an active Sponsor of One Run, and an active sponsor of Rockin Wheel to help raise money for neuro‐traumatic injuries.
Heather Thomson is a member of Rotary International, and Andy participates in numerous initiatives, including decorating the community at Christmas.
Andy and Heather are very proud parents of two daughters, Ashley and Megan, whose husband Dan is working in the dealership as Sales Manager. Andy has always emphasized the importance of training young people to continue the business for the next generation.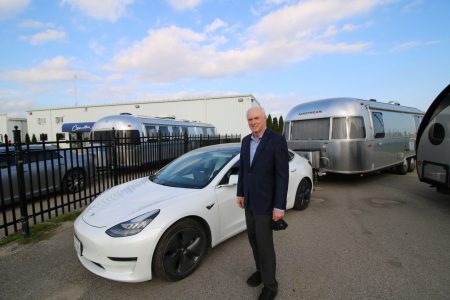 When time permits, Andy is the quintessential RV enthusiast – he likes to go camping with his wife Heather in a 27′ Airstream – towed across the continent behind his current favourite tow vehicle – a Tesla!