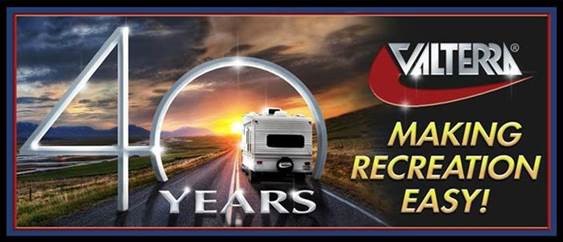 Valterra is a leading supplier to the RV OEM and Aftermarket and has been in business for over 40 years. Valterra was recently acquired by Dometic, a global market leader in the areas of Food & Beverage, Climate, Power & Control and Other Applications.
Valterra has a very interesting history – definitely one of the coolest family businesses in the RV industry…
In 1971 Bert Grengs started Grentec Inc., a plastic injection molding company in Burbank, CA. They began manufacturing RV gate valves, RV toilets, plumbing fittings and later some of Southern California's iconic plastic skateboards like the "banana board".
In 1981 Bert retired and Valterra Products, Inc. began with his son, George Grengs, daughter-in-law, Patricia Grengs, daughter, Barbara Glennon, and son-in-law, Dennis Lunder owning the new company.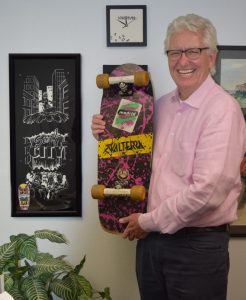 Although the RV products were the primary business they reintroduced a skateboard line in 1984 that focused on wood decks, exciting graphics and precision bearings.
In 1985 Michael J. Fox rode a Valterra skateboard in the movie "Back to the Future" which introduced Valterra skateboards to the whole nation.
Eventually Valterra moved away from the skateboard business and focused on the expansion of their RV business with the acquisition of many important product lines including sewer hoses, RV locks, Fridgemate Fans, and ABS tanks.
The main gate valve product line continued to grow as the line expanded into pool & spa, plumbing and industrial applications.
Valterra acquired the Blue Devil Pool & Spa Accessories line in 2002 which expanded the pool & spa assortment beyond plumbing to a full line of Blue Devil maintenance accessories.
The line specializes in pool water test kits, reagents, valves, vacuums, brushes, nets, and poles for use by consumers and pool service professionals.
In 2008 Valterra established a contract manufacturing division to offer low-cost custom manufacturing and assembly services to client companies seeking to reduce costs and improve the bottom line. A year later, Valterra joined C-TPAT (Customs – Trade Partnership Against Terrorism).
With 39 injection molding machines, 3 profile extrusion machines, JIT (just in time) warehousing with a global supply chain, prototyping, bottling, assembly and packaging, Valterra can handle a multitude of contract manufacturing projects. Our molding facility became ISO 9001:2008 (International Standards for Quality Management System) certified in 2015.
In 2013, Valterra management successfully completed a corporate restructure and recapitalization.  This has assisted Valterra in acquiring several leading brand companies to round out product offerings in the RV, truck and motor coach markets.
The recent acquisitions include Mighty Cord, Phoenix Faucets, Odorlos eco-friendly tank treatments, Diamond LED lights, GoPower! solar systems, Minder Industries tire pressure monitoring and Monochem deodorizers and cleaning products.
Valterra has, through organic growth and strategic acquisitions become one of the premier RV suppliers in North America serving both the RV OEM and RV Aftermarket.
Valterra Acquired by Dometic
In April, 2021, mid-way through Valterra's 40th Anniversary year, the announcement came through that Dometic would be acquiring Valterra Products, LLC and Go Power.
Valterra and Go Power will continue to operate in the same manner as they have for the past several years, but now under the umbrella of Dometic.
Valterra's commitments to quality and great service remain firm through this acquisition. There are many opportunities in the company's association with Dometic, and the company is looking forward to sharing more information going forward.
Though Valterra has grown through the years, the company continues to operate as a family business with many of the employees having worked there for 20, 30, even 40+ years!
With 430+ employees and 160,000 square feet of production, warehousing, and shipping space, the Valterra team is ready to help with all your RV, pool & spa, plumbing, industrial and custom manufacturing needs.
Valterra Expanding Product Management Team
To support continued growth, Valterra Products is expanding its management team with the addition of an experienced Product Manager. This exciting role focuses on the voice of the customer, new product planning, new product development and managing the company's strong portfolio of RV products throughout the product lifecycle. This role will be a key leader on the Valterra team to propel further innovation and continue to build on Valterra's strong consumer demand for its reliable products. Interested candidates should contact hr@valterra.com to learn more.