MIDDLEBURY, Ind., October 28, 2021 – GRAND DESIGN RECREATIONAL VEHICLE COMPANY recently received results from the 27th Annual Dealer Satisfaction Index (DSI) Survey. Grand Design's Transcend, Imagine, Reflection, Momentum and Solitude brands received the coveted "Quality Circle Award".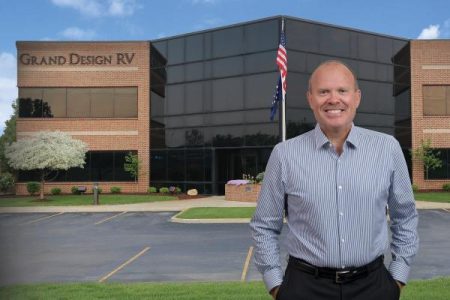 "We are excited and humbled to receive the DSI award for all of our Grand Design brands," said Don Clark, President, CEO and Co-Founder of Grand Design RV. "We have been awarded the "Quality Circle Award" for each brand from the first year we founded Grand Design RV."
The DSI survey comprises ratings from dealers who have expressed their satisfaction levels confidentially regarding manufacturers' reliability and quality, parts, warranty and sales. The survey measures dealer attitudes in key policy, product, service operations and procedure areas essential in their businesses.
"Dealers are the foundation of Grand Design's company and culture," Clark continues. "Their remarks and support have been overwhelming. My heartfelt gratitude goes out to our world-class Grand Design dealers for their confidence in our products and loyalty to our company. They invest large portions of their profit centers and reputation in our products and services. We take this responsibility very seriously."
"I also want to take a moment to congratulate all of our Grand Design team members on their dedication to excellence and for continuously raising the bar in quality, design and service."
About Grand Design RV
Grand Design RV®, headquartered in Middlebury, Indiana, manufactures the market-leading Reflection® Fifth Wheel and Travel Trailer, flagship Solitude® Extended Stay Fifth Wheel, luxury Momentum® Toy Hauler, lightweight Imagine® Travel Trailer, and introductory level Transcend™ Travel Trailer product lines. Since its founding in 2012, Grand Design RV has become one of the fastest-growing RV companies in history and rated among the highest quality RV manufacturers. Grand Design RV is a wholly-owned subsidiary of Winnebago Industries (NYSE: WGO), a 63-year old manufacturer of outdoor lifestyle products.
For more information please visit: https://www.granddesignrv.com/