Go RVing Canada achieves new heights amid 'the year of the RV'
Special report by the Go RVing Canada Team, prepared for RV Dealer News…
Demand for RVing in Canada has reached an all new high in 2021. This is certainly no different for the Go RVing Canada (GRVC) team who are coming off one of their busiest summers to date. The team has been extremely busy creating unique content to support their new website as well as their evolved social media channels. "The fundamental need for this content has also been sparked by engagement from a completely new audience in the RV space", says President, Chris Mahony. "It has caused us to rethink our entire content marketing strategy". Leveraging new partnerships like host of Amazing Race Canada's Jon Montgomery, has helped provide access to some of these new audiences.
The GRVC digital ecosystem was also re-imagined and takes advantage of new marketing technologies to analyze the impact of advertising campaigns, partnerships, and content performance in real time. "Dynamic, short-format video content, information about RV types, and RV focused trip guides perform extremely well on our social channels. We combined these learnings with hand-picked content creators who craft authentic stories that showcase how an RV has allowed them to 'Live their Wildhood', along with trip guides of where they visited to inspire others." says Cyrus Irani, Director of Digital Strategy. With demand for information about RVing top of mind for consumers, GRVC continues to fill the funnel and ensure the RV industry has a solid future.
The unprecedented demand is not without its results either. Chris Mahony reports that there has been a 10% increase in the team's KPI's with over 100M media impressions to date. The TV post buy that was recently released to the dealer group also shows a significant increase in audience growth, with GRP's hitting upwards of 30% higher than originally forecast. This equated to over 500K worth of extra TV spots throughout the year, a significant boost to generating awareness for Go RVing Canada.
Jon Montgomery Partnership Reaches Record High Engagement Numbers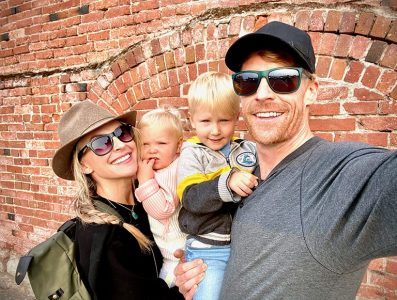 This past Summer, GRVC announced the start of an exciting on-going partnership with Jon Montgomery, host of Amazing Race Canada, Olympic gold medalist and Go RVing Canada's newest RV lifestyle ambassador. The team worked closely with Jon to develop a trip guide series on gorving.ca, with a goal in mind to encourage Canadians to get outside and explore their backyard by RV this summer. The series garnered impressive media results, bringing in a total of 12.4M+ media impressions, a total of 49 media hits, and was featured in 6 broadcast outlets across Canada! You can see Jon's trip guide series on GoRVing.ca here.
Jon Montgomery's proven success at championing the RV lifestyle brings great excitement as GRVC plans to launch the next joint project, an 8-part short series highlighting Jon visiting destinations across Canada from the comfort of his RV. The series will be titled "Brewdocking with Jon Montgomery" and the Go RVing Canada team has just wrapped filming the first three episodes in Tofino, Kelowna, Calgary and the Badlands! In each unique episode, Jon immerses himself in the RV lifestyle and culture as he visits craft breweries, participates in adrenaline rushing activities, and has conversations with local personalities to discuss what makes each destination so unique. The following 5 episodes will be filmed in the Spring/Summer of 2022, and GRVC anticipates to launch the first three episodes ahead of Summer 2022.
New Cross-Canada Trip Guides added to GoRVing.ca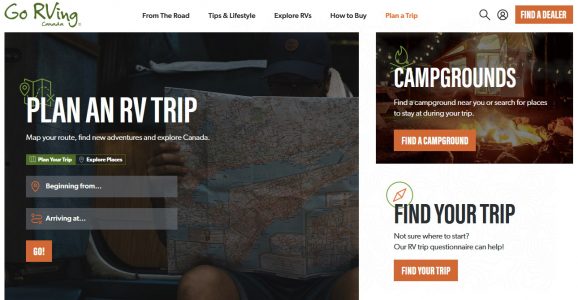 Go RVing Canada's new trip planner has gained the attention of audiences Canada wide, garnering over 50k page visits YTD! GRVC has made each trip guide authentic and unique for anyone interested in exploring new Canadian regions by RV throughout the shoulder season. New trip guides include the regions of Quebec, Newfoundland, Viking Trail, and Ontario's Bruce Peninsula with more to come!
Furthermore, to honour Indigenous Peoples Day, Go RVing Canada has partnered with Indigenous Tourism Association of Canada to highlight Indigenous-owned tourism attractions in Atlantic Canada and the Prairies, giving audiences insight into scenic routes in Canada to experience rich indigenous culture.
Go RVing Canada is now on Tik Tok!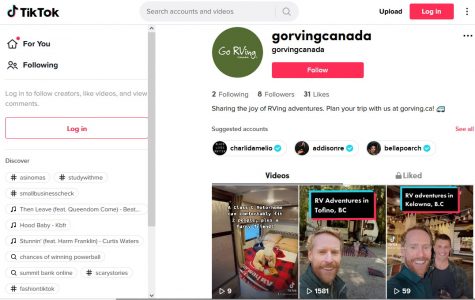 Tik Tok may be known as the addictive scrolling machine for Gen-Z kids, but research has shown it's much more than that. Every month, an average of 3.2 million Canadians are on Tik Tok, and while it's important to reach the next generation of RVers, Parents are also shown as being avid users, with 45% of the users being adults 25-54. What does this mean for Go RVing Canada? We plan to populate our feed with RV destination guides, how-to content, RV tours and day in the life sneak peaks so that prospects and owners can gain inspiration for their own RV adventures or jump into the lifestyle. Head to Go RVing Canada's Tik Tok page to see a sneak peak of "Brewdocking" with Jon Montgomery!
NEW Agency Contract awarded

This spring the GRVC Board elected to undertake an RFP for a new creative agency. Over the past 7 years, Doug & Partners has helped elevate the association's impact with its target audiences through 3 separate award winning ad spots focusing on 'Wildhood' as the overarching campaign. However, as part of association governance, the Board decided to proceed with an agency review, and this involved a lengthy RFP process that featured 5 agencies (including Doug&Partners).
Following a series of evaluations and meetings, GRVC can now announce that Broken Heart Love Affair has won the business for creative agency, officially joining the team in late Fall. The Broken Heart Love Affair team is a team comprised of proven Canadian marketing and strategic stars, and they are no stranger to GRVC, as partners Todd Mackie and Denise Rossetto were the creators of the first original "Bring Back Wildhood" campaign. "We are extremely excited to work with this team and looking forward to seeing what they bring to the table next year as we ramp up with a new campaign for 2023 launch!" says Chris Mahony.
New Video and Photo's added to the Dealer Tie-In Program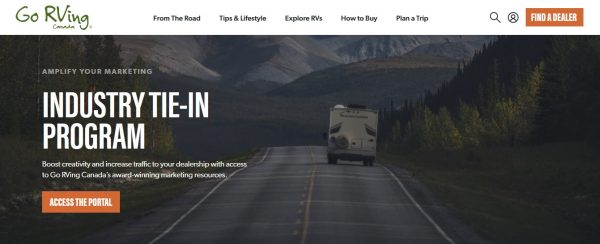 Dealers can now target an emerging demographic with new marketing material added to the Go RVing Canada dealer tie-in program! New assets include over 50 new images and a 2:22 minute video highlighting a group of digital nomads adventuring through Canada's Rockies in a Class C motorhome.
Not a member of the program yet? What are you waiting for! The bulk of the program is completely free and available to all members of the RVDA. Take advantage of professional marketing assets for content creation, including 100's of RV lifestyle images, promotional videos, and the new "Live Your Wildhood" national ad campaign.
New to the program this year, RVDA members now have the option to upgrade their membership to "Premiere" status. Premiere dealers have the ability to enhance their listings with images and descriptions, and obtain a "premiere" badge, bumping their dealership to the top of the search on GoRVing.ca's "find a dealer" pages. With additional branding, dealers will benefit from the extra exposure of GoRVing.ca's 1.5M unique website visitors. RVDA dealers can become a premiere member for a low annual rate of $249.99 (plus applicable taxes). To learn more about Go RVing Canada's dealer tie-in program and apply to become a member, visit gorving.ca/dealer-tie-in-program