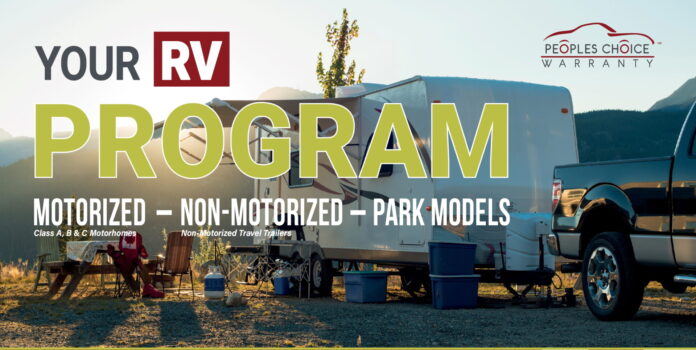 People's Choice Warranty – Protection that Pays!
Recreational vehicles (RVs) are becoming an increasingly popular choice for families who value their recreational advantages and their potential as a long-term investment. However, the purchase of a new or used RV can easily exceed six figures. Fortunately, dealers offer a wide range of RVs that include several valuable services for their customers, such as market-competitive pricing, financing options, excellent after-sales service and a variety of extended warranties. Customers appreciate these value-added options that help them enhance the overall RV ownership experience, so dealers strive to live up to their customers' expectations by partnering with trusted partners.
Since 1999, People's Choice Warranty has been a reliable partner for dealerships across Canada. The company offers extended warranties for all kinds of vehicles, including RVs. Their plans cover motorized, non-motorized and park model RVs from new to used.
RV Titanium Warranty
The RV Titanium Warranty is one of the newest and most popular plans People's Choice Warranty offers.  This plan provides coverage for motorized class A, B, and C motorhomes. The Titanium warranty picks up where the manufacturer's warranty ends and from the original in-service date when the odometer reading was zero. To be eligible for this warranty, the RV must have at least one month left on the original manufacturer's full warranty or 1,000 km left on the odometer before the warranty expires, whichever comes first. The Titanium Warranty is one of the most popular warranties for new RVs due to its exclusionary coverage. However, if the RV is between 11 -15 years-old, then the Platinum Used Motorized warranty is the best fit. One of the standout features of the Platinum Used Motorized warranty is its unlimited kilometre coverage, surpassing People's Choice Warranty competitors in the industry.
RV Peace of Mind Benefits and Tire and Rim Coverage
People's Choice Warranty also protect RV owner's investment with their peace of mind benefits. These benefits include towing service, roadside assistance, trip interruption, car rental and food spoilage. In addition to these benefits, their "RV Tire and Rim Coverage" guarantees repair or replacement of tires, rims, and flat tires as well as mounting and balancing.
The People's Choice RV Titanium Top Up Warranty, combined with their Peace of Mind Benefits and Tire and Rim Coverage, is the ideal package to ensure customers have complete protection while they fully enjoy their RV experiences.
People's Choice Warranty Top-Notch Team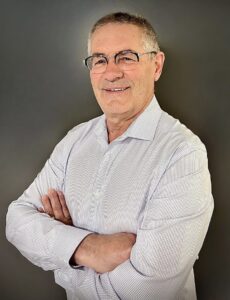 Their team of highly skilled and experienced professionals undergo regular training to ensure that their dealers and their customers receive the highest level of excellence, transparency, and quality standards. "Our dedicated market research and continuous training plans keep our sales and marketing team a step ahead in the world of extended RV warranties," says Gerry Cloutier, National Training Manager at People's Choice Warranty. Gerry has over 30 years of experience working in the Automotive Industry. His expertise helps the company anticipate constant market changes in an industry that is never static.
Not only does People's Choice Warranty have an excellent Training Team. Their Sales Representatives also bring to the company a wealth of knowledge and experience built up over years of work in the automotive industry. They are ethical professionals who care about providing honest advice to their customers, giving them the most comprehensive and innovative warranties. Their commitment to open communication and trust is the cornerstone of their success. The People's Choice Warranty Sales Team's strong vision will continue driving the company's growth in the years ahead.
Like the People's Choice Warranty Sales and Training Team, the company's Claims Department also provides excellent service. They are staffed with subject matter experts in the automotive industry. Lloyd, a valued customer, recently shared his thoughts on the exceptional service he received from the company: "Service seems to be a lost art, so I am not saying this lightly. I am shocked at the level of service I received from Matt from Claims. I don't even know where to begin. I was a mess and probably not the easiest person to speak with. Matt was BEYOND professional. He took it all in stride and with an incredible amount of empathy that I do not see anymore. He was ALWAYS available. Always called when he said he would. Always provided me with the recent updates. He was able to explain everything to me in understandable language. Please take what I am saying here as the most literal I can be -this man is AMAZING at his job. His candor, his punctual efficiency and his knowledge are…amazing. His personal skills take him right off the charts. I have not been this impressed with someone I have dealt with in decades (ever?)." The People's Choice Warranty's Claim Adjuster Department is 100% home-based.
People's Choice Warranty has been a highly reliable partner to dealerships for almost 25 years. Their comprehensive warranties, exceptional team and strong customer service, have helped the company become one of the most competitive players in the automotive industry.
To learn more about their plans, please visit their website at www.pcwwarranty.com or feel free to contact them directly at info@pcwwarranty.com.