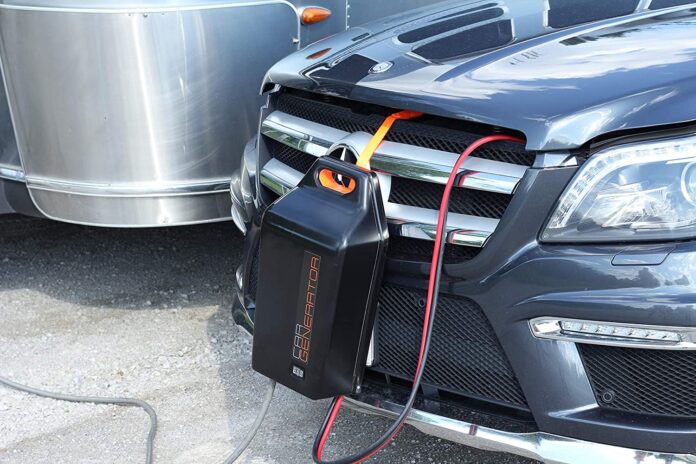 Check out the Airstream-edition CarGenerator model!
When an invention comes along that challenges the norm in an industry, it's always refreshing and exciting. When the company behind this unique product is proudly Canadian, it's really exciting!
When we look to backup power, whether it's for emergency residential situations such as storms or off-grid power for RVing, gas generators have always been the go-to. Well, thanks to one progressive Canadian company, those noisy, smelly heavy gas generators are no longer the only option.
Introducing CarGenerator. The world's lightest generator powered from your vehicle!
Who is CarGenerator?
Entrepreneur and avid RVer, Jonathan Schloo, is the man behind CarGenerator which was the answer to his desire for a cleaner, more efficient source of backup power. RVer's are innovative people and Jonathan is no different. What most see as their daily driver vehicle Jonathan saw as the ultimate generator ready to go to work.
What at first simply looked like an easy way to provide backup RV power quickly proved to be so much more! Gas generators are not only widely used in the RV community but also as emergency power for homeowners everywhere.
So, would this RV backup power source be able to power homes? The answer was yes! and this is where CarGenerator shines. Easily transitioning from a weekend camping to keeping your family safe during a winter power outage makes CarGenerator an invaluable investment for RVers.
CarGenerator: Power You Need Without the Hassle
What Makes CarGenerator Superior to Traditional Generators?
Gas generators are all basically the same and have been mostly unchanged since their inception. A small, inefficient engine with no emissions or noise controls runs loudly, burning stinky gas from a small tank. When you factor in the need to transport and store the generator and fuel (not to mention notorious reliability issues), they can often seem like more of an inconvenience than a convenience.
CarGenerator solves all of these problems leaving you with only the convenience of fast, reliable, clean, backup power. Harnessing the power of your vehicle's engine allows you to take advantage of all the engineering of a modern gas or diesel engine. Monitored for efficiency and emissions, your vehicle's engine is far superior to that of a typical gas generator.
CarGenerator is designed for safe use in all weather.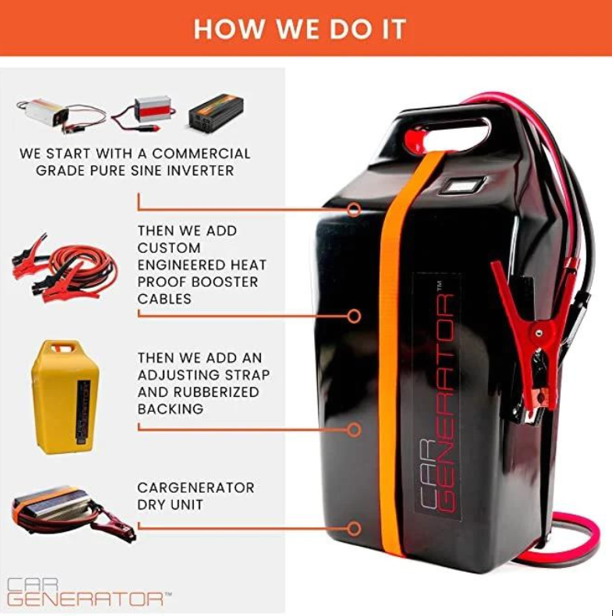 CarGenerator is the link between the ultra-efficient engine in your vehicle to your home, RV, boat or anywhere you need power. Utilizing an industrial pure sine wave inverter and housing it in a durable weatherproof case is how CarGenerator makes this happen.
Using design-specific, tested components such as the industrial inverter and heavy-duty, corrosion-resistant, booster-style cables that connect CarGenerator to your vehicle ensures safe, reliable power.
It couldn't be any easier, connect CarGenerator to your vehicle's battery using the supplied cables, start your vehicle, and plug in the items requiring power, that's it! A home integration kit is also available to make using it at home even easier!
Why Your Customers Will Absolutely Love CarGenerator
CarGenerator is the ultimate tool for RVers who want a cheaper, cleaner, more reliable source of backup power for solar and boondocking.
Greener ways of enjoying the outdoors are being demanded by outdoor enthusiasts all the time. The growing popularity of boondocking and solar as a primary source of RV power aligns perfectly with CarGenerator.
Solo travellers and active retirees appreciate the lightweight design and simple setup it offers.
The 1000-watt flagship model packs a serious punch too! Powering all your RV essentials (plus home furnaces, residential fridges, and sump pumps) is all possible with this compact package that conveniently stores in your vehicle or RV.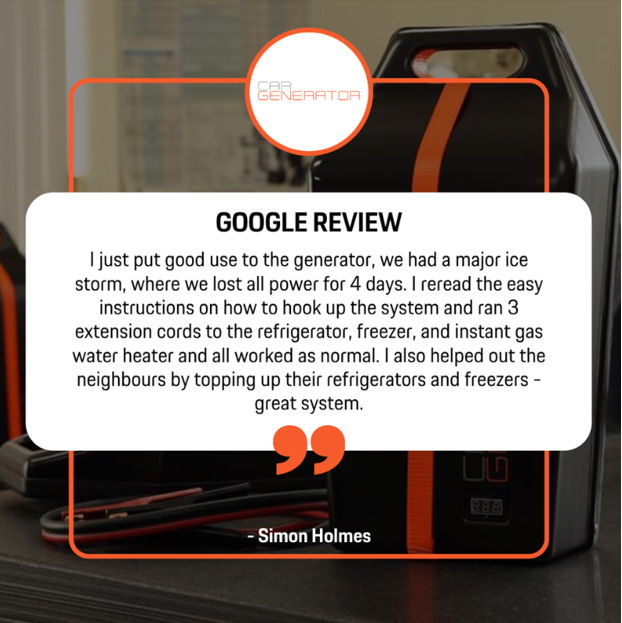 Your Customers Will Love:
At only 11 pounds and the size of a backpack, CarGenerator is easily handled by everyone.
No maintenance or repairs equals no after-purchase costs.
Use CarGenerator while camping, at home, at the cottage, or anywhere you need power.
Unmatched reliability – if your car starts, you have power.
All the power without the noise and smell.
RUN TIME OF 50-70 hours.
No more heavy, loud, hard-to-start generators and jerry cans of fuel, just you, your tow vehicle and RV, and mother nature.
Offer Your Customers the Future in Emergency & Backup RV Power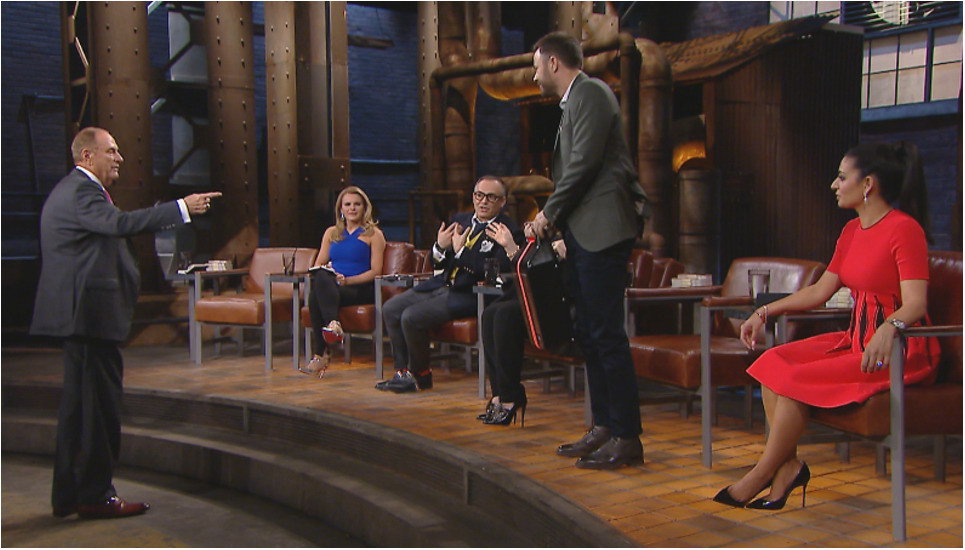 CarGenerator was a huge success on The Dragon's Den winning a $100K deal with multiple investors.
A generator is the ultimate upgrade for new and used RV buyers. Thanks to the small size and lightweight, demonstrating and displaying CarGenerator to customers right in your showroom is easy! No longer will you have to send customers off-site to purchase a generator for their RV.
CarGenerator's versatility between a great solar backup, boondocking power source, or power for unserviced camping makes it invaluable to any type of customer. On top of providing them with the latest in alternative RV power, you are providing a lifeline for their homes as the perfect source of emergency backup power.
The best part is their child can carry the world's lightest generator out of your dealership to their car.
CarGenerator is headquartered in Ontario, Canada's mecca for camping, and ships to all of Canada and the U.S. To guarantee you can offer CarGenerator to your loyal customers, head over to CarGenrator.com and learn about options for dealers.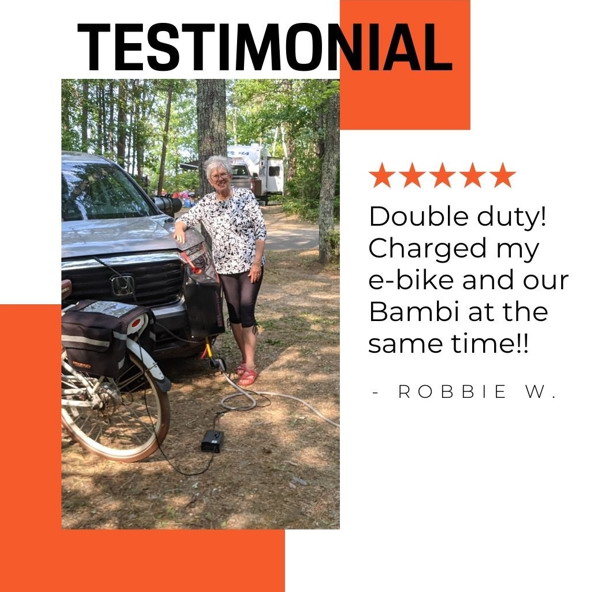 For more information please contact Jonathan Schloo and the CarGenerator Team at: https://www.cargenerator.com/ Telephone 800-750-4660