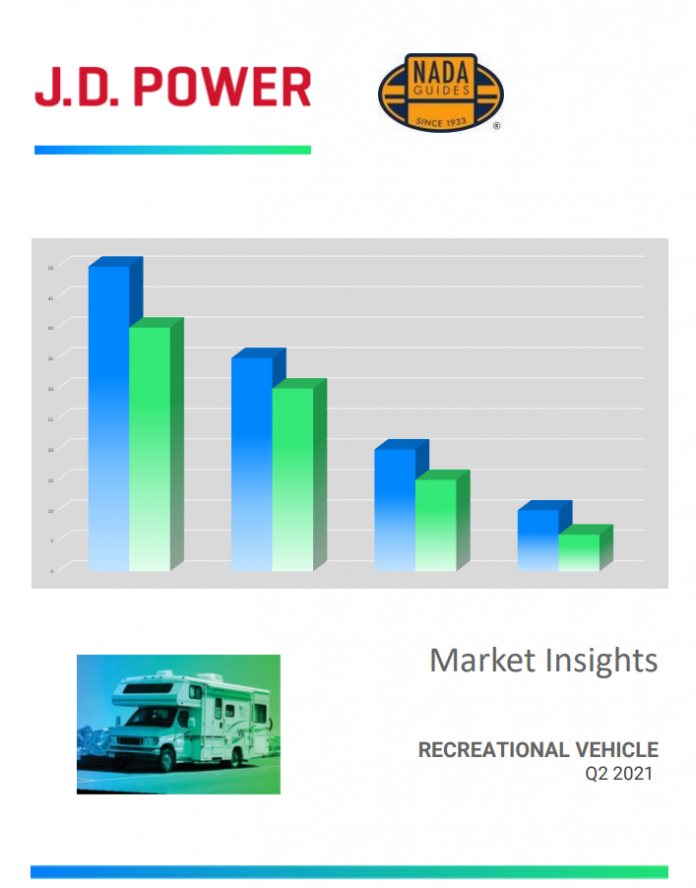 In the Q2 2021 Recreational Vehicle (RV) Market Insights, analysts from J.D. Power Specialty Valuation Services say summer is a seller's market for dealers with used motorhomes, trailers or campers. The supply and demand relationship is expected to continue into the fourth quarter of 2021.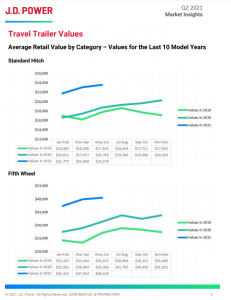 "Summer is the peak season for vacations and RV travel is still extremely popular," said Lenny Sims, vice president business development and strategy at J.D. Power Specialty Valuation Services. "Anyone with a used vehicle to sell should be able to do so quickly and at a substantial price. Smaller vehicles are commanding amazing prices, with camping trailers averaging 34.7% more revenue in the first half of 2021 than a year ago and truck campers are 30% higher."
Major findings in the free quarterly report note:
Used values across all RV categories continued to increase in the first half of 2021.
Camping trailers average retail value is $11,201 in May-June 2021, a 34.7% year-over-year increase.
Standard hitch units are the most searched with 45% of traffic views.
Download the free Q2 2021 Recreational Vehicle Market Insights.
J.D. Power Specialty Valuation Services (formerly NADAguides) is a leading provider of specialty vehicle valuation products and services to businesses. The team collects and analyzes tens of thousands wholesale and retail transactions per month, and delivers a range of guidebooks, web service data, analysis and digital data solutions.
About J.D. Power
J.D. Power is a global leader in consumer insights, advisory services and data and analytics. A pioneer in the use of big data, artificial intelligence (AI) and algorithmic modeling capabilities to understand consumer behavior, J.D. Power has been delivering incisive industry intelligence on customer interactions with brands and products for more than 50 years. The world's leading businesses across major industries rely on J.D. Power to guide their customer-facing strategies.
J.D. Power has offices in North America, Europe and Asia Pacific. To learn more about the company's business offerings, visit JDPower.com/business. The J.D. Power auto shopping tool can be found at JDPower.com.