Elkhart, IN, September 28, 2023 – Truma North America celebrated their 10th Anniversary by hosting a luncheon for their industry partners and invited guests at their headquarters in Elkhart.
More than 150 guests were on hand to share the celebration – it was a wonderful way to wrap up the annual Elkhart Dealer Days Expo – with a celebration of excellence that is unparalleled in the RV industry.
The Truma story is one of creativity, ingenuity, and compassion for the people who will ultimately enjoy each product. The Truma corporate philosophy, and the company's dedication to their industry partners, the OEM and dealer network technicians who install and service the products, and, most importantly, their total dedication to the end consumer, is an inspiration in an era where many suppliers seem to have very little interest in the lifestyle experience of the end user.
Please take a few minutes to watch the Truma 10th Anniversary video presentation – click on the YouTube screenshot below to play the video.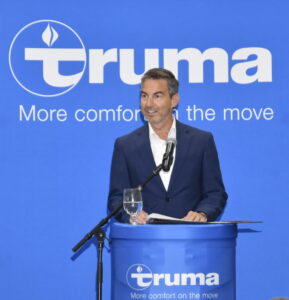 In his address to the Truma guests and the Tuma North America team, Gerhard Hundsberger, President and CEO, Truma North America, conveyed his thoughts and appreciation to everyone who gathered to participate in the celebration of the company's tenth anniversary in North America.
On hand for the event were special guests, including Greg Goode and Mary Martin, representing the offices of US Senator Todd Young and Mike Braun; Joanna King, State Representative of District 49; Rod Roberson, Mayor of the city of Elkhart; Arvis Dawson, Elkhart City Council; Jon Hunsberger with the Elkhart County Convention and Visitors Bureau; and David Damerow and Chris Stager of the Economic Development Corporation of Elkhart. Joining the celebration from the head office in Germany were the Co-CEOs of the parent company Truma Group, Alexander Wottrich, and Marcel Janssen; and Markus Heringer, Commercial Managing Director of Truma Geraetetechnik.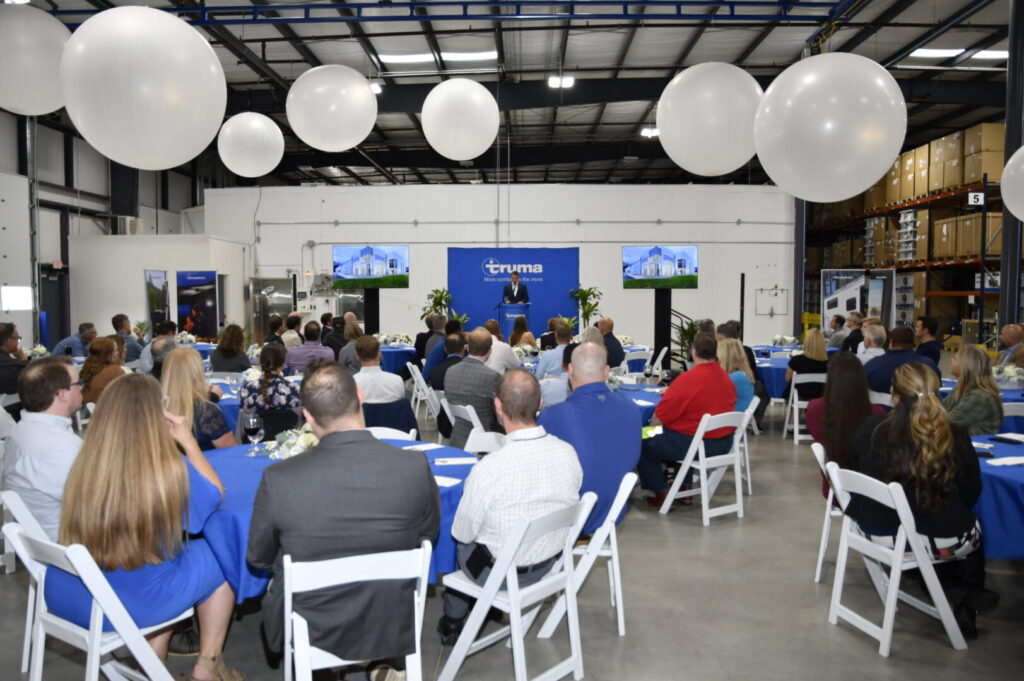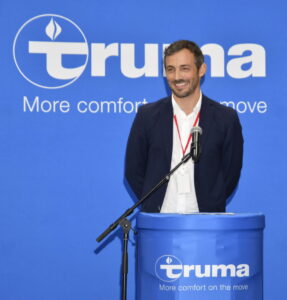 Many of Truma's OEM customers were there for the event, as well as business partners who have helped Truma North America achieve success over the past 10 years, including Truma's HR consultant, marketing agency, lawyers, industry media, and their contractor, NuWay Construction – who were responsible for the beautiful Truma North America facility in Elkhart.
It was an excellent opportunity to network with some of the key personalities in the RV industry, and to absorb some of Truma's positive energy and inspirational corporate philosophy.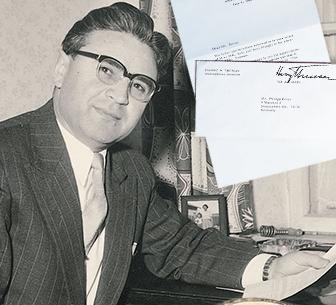 Gerhard took a few minutes to reflect on the history of the company.
Truma was founded in 1949 after President Philip Kreis developed a propane fuelled lantern to fill a need for lighting in an era when electricity was not a dependable source of energy. Encouraged by the popularity of his invention, and inspired to help his friends and neighbours, Philip started to build more lanterns – this led to the creation of a manufacturing company. Gerhard shared the story with the 10th Anniversary guests… "Harry S. Truman implemented the Marshall Plan for economic recovery after World War II, making it possible for Germany to become industrialized. Our founder, Philip Kreis named the company after President Truman, thus linking the U.S. and Truma from that point forward." Among the treasures in the archives of Truma is a letter from President Truman giving Philip Kreis permission to name the company after him.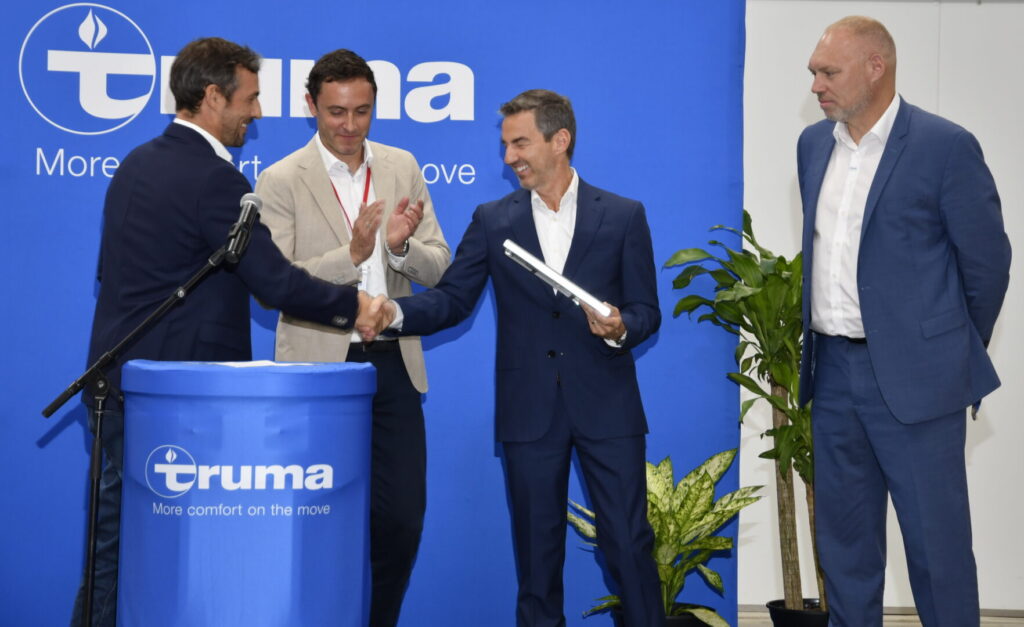 Truma started out manufacturing gas lamps. Through innovation, engineering, and perseverance, the company grew and evolved to become the leading supplier of RV furnaces, water heaters, air conditioners, and many other systems in Europe. It was that tenacity, thoughtfulness, and work ethic that sparked the idea of bringing Truma systems to North America. Gerhard reflected on the process of creating Truma North America… "When we made the decision to bring Truma systems to the U.S. and Canada, we believed there was room for a quality supplier. We knew, based on our experience in Europe, that our systems would appeal to high-end RV manufacturers and RV owners. Yet, we didn't just jump into this market, we did our homework, conducted a market study, and interviewed manufacturers, dealers, and end-users. We found that, indeed, there was space for a quality supplier in the appliance area. At that time, we frequently heard that no matter if an end-user owned a $25,000 travel trailer or a $500,000 motorhome, the appliances were all the same – in fact many were still using 1970s and 1980s technology. However, we also learned that people who spend that much money on high-end RVs – and often use their RV year-round – expect better quality systems on board. Whether facing a cold fall night or a long, hot summer's day, those customers want to enjoy the outdoor lifestyle without compromising comfort. In addition, they expect uncompromising service. Long wait times are not acceptable. Reliable, knowledgeable, and convenient service is a must."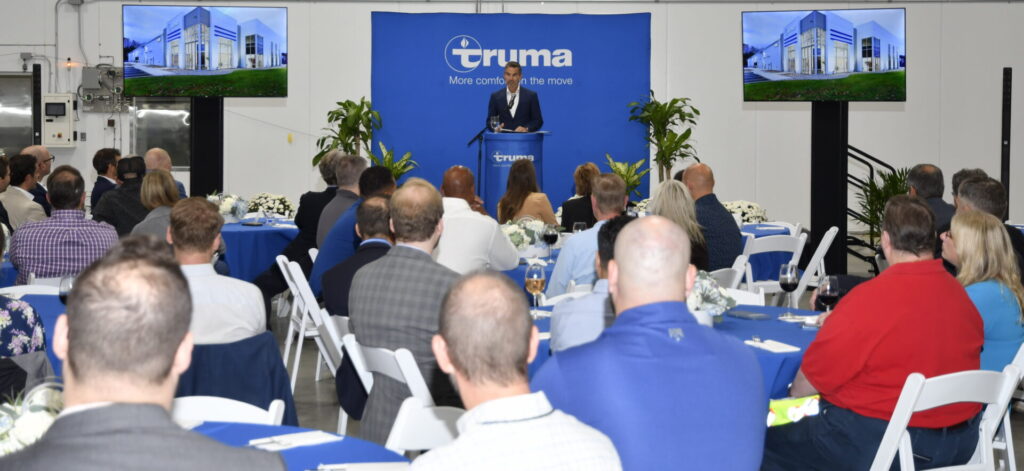 As Truma engineers began to develop the systems and technologies that would make the company a leader in the RV industry, they applied the traditional values that have been the cornerstone for the company since its inception. As Gerhard described the process, the guests were transfixed with an appreciation of the essence of Truma's corporate approach to everything they bring to their end consumer… "We asked ourselves several key questions. What if we brought highly reliable appliances to the market? Would the market be interested in furnaces and water heaters which were compact, lightweight and space-saving? Would manufacturers buy an air conditioner that was as quiet as it was cooling? We were confident Truma could meet the industry's expectations and demands when it came to high-quality, well-built systems with exceptional service. What about the price points? Could we compete? That was one box we couldn't check – We know that Truma systems are always the more expensive choice. During our interviews with manufacturers, we heard that switching suppliers to save even fifty cents was not unheard of since keeping costs down meant a higher profit margin – completely understandable since many of us in business like to find the best deal. Thus, when Truma established our headquarters in Elkhart in 2013, we knew what we were facing. But simply going the less expensive route just to sell more products isn't in our DNA."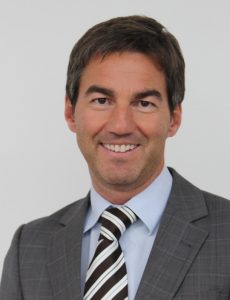 "High quality, dependability, and end-user comfort are most important. So, the old saying – you get what you pay for – certainly rings true to us. At Truma, we develop systems for the end-user. Our products are for people who want to spend time together traveling in an RV, enjoying the outdoors, or seeing the country. Those people do not want to spend their trips stuck at a dealership waiting for their water heater or AC to be fixed. They want to enjoy time with friends and loved ones without spending more money to keep their RV comfortable. We introduced the Truma AquaGo water heater specifically to the North American market. We offered Truma VarioHeat, a compact and silent furnace. And we certified Truma Combi, the original two-in-one furnace and water heater. Which, by the way, is not only the market leader in Europe, but Combi has achieved its own status in America as others try to imitate and replicate its greatness."
"With each new Truma system, such as our Aventa air conditioner, we quickly learned that many OEMs are dedicated to quality above price. OEMs are willing to invest in better systems to keep customers happy and brand loyal. We are proud of the partnerships we have developed with OEMS throughout the industry."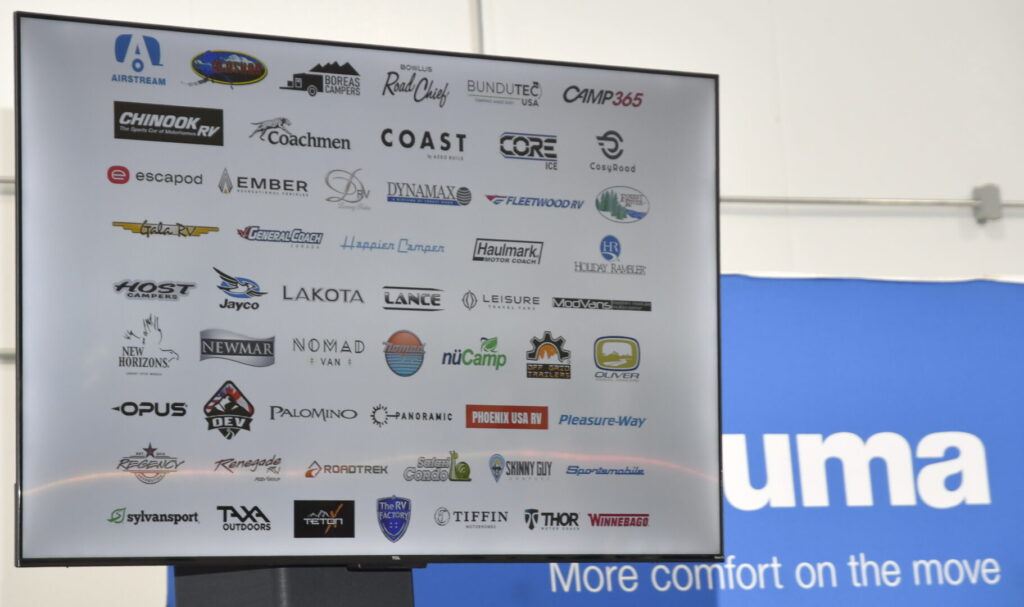 In an era when suppliers seem to be focused on building lighter, cheaper, and more profitable products, often sacrificing quality and long-term reliability, Truma steadfastly clings to the company's core values. As Gerhard explains, "Someone recently asked me what it means to be a quality supplier in the RV industry. I told him that at Truma, we do not think of ourselves as suppliers or vendors. We strive to be partners with manufacturers, dealers, and end-consumers. We are your partner from start to finish. The total value of a Truma partnership can be found beyond our products. It's in the way we develop our systems – talking with our OEM partners, testing new ideas, auditing installations, and ensuring that we are achieving the absolute best in quality. It's in our approach to service – providing technical training for dealers and meeting the needs of end-consumers with our mobile service technicians. From one of our first partnerships with Winnebago, who is still one of our largest partners, we have worked hard to bring our very best to each relationship."
Gerhard expressed his appreciation for the many OEM RV manufacturers who have chosen to install Truma systems in their vehicles… "Lance started using only Truma systems this year; our Canadian friends – Triple E (Leisure Travel Vans), PleasureWay, Safari Condo, Roadtrek, Panoramic, and Off-Grid, and our American partners, NuCamp; Airstream; Tiffin; Coachmen; Dynamax; Ember; Newmar; RevGroup; Thor; Taxa Outdoors and many more, are our partners in bringing Truma systems to their RV consumers. To these OEM partners, we are grateful beyond words. To every OEM who has put their trust in us, thank you. Thank you for your support, commitment, and partnership. Each of you is a competitor to the others in one way or another, but you all have one thing in common – your commitment to your customer. You want them to be happy, so you focus on quality, reliability, innovation, service, and doing the right thing. Thank you for letting us do the same for you and your customers."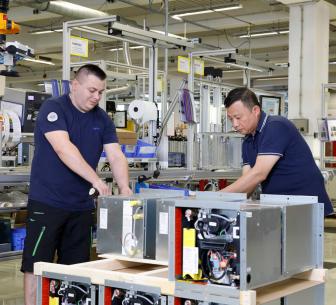 Always cognizant of the many people who contribute to the enjoyment of the RV lifestyle, Gerhard took a moment to acknowledge the dealers and service techs who strive to keep every end user's RV vacation a memorable and positive experience. "I want to extend our gratitude to the hundreds of dealers throughout the U.S. and Canada who have championed Truma systems and provided excellent service to end-users. Working with dealers is the best way to learn what the end-consumer wants."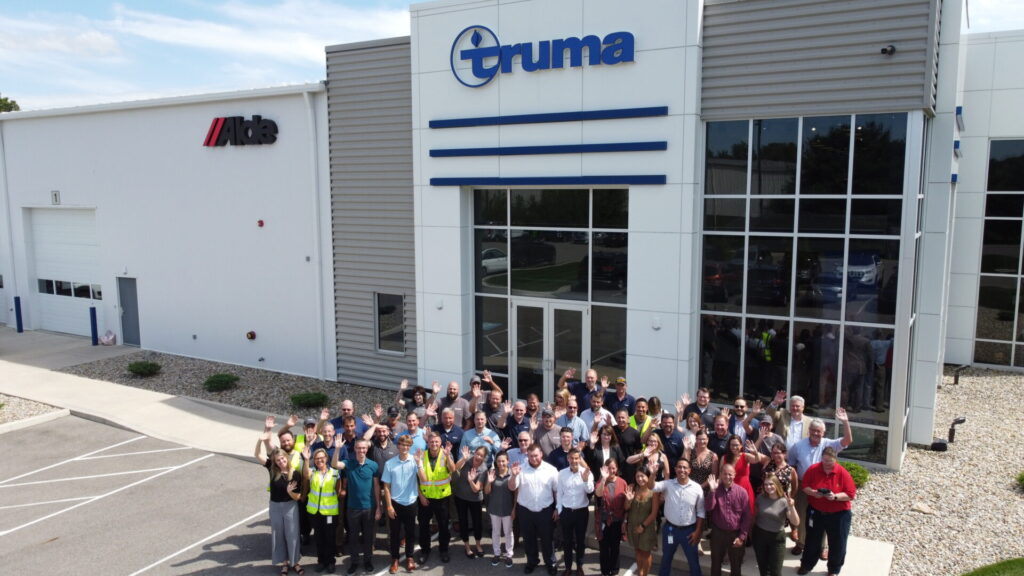 Gerhard continued his address with the following thoughts… "We understand that a ten-year anniversary would not be possible without a strong community. To the marketing agencies who helped us from day one; the architects and contractors; accountants and attorneys; the Elkhart community, and the state of Indiana; I want to thank all of you for your support. Last but most certainly not least on my list of thank you's today, is our Truma Team. There is no way I can say enough about this team to let each of you know what you bring to our company and our community. We would not be here today without you. I'd like to call out some of our "long-timers" Mark Howlett, my right-hand and COO since day one; Michael Schicker, Sr. Development Technologist, also here since day one and with Truma Germany for twelve years before that; Chantal Hershberger, seven years in customer care; David Swihart working with the OEM, processing and confirming orders; and Jonathan Ellis who has been in OEM sales for the last eight years."
Looking forward to many more years as a key supplier to the RV industry, Gerhard focused on the eco-friendly nature of the Truma products, and the company's commitment to environmental sustainability. "Truma's commitment to the environment and sustainability is something of which we are very proud. Each of our systems has a high-efficiency rate. Our building was built with a geothermal cooling system, as well as motion-activated LED lighting, and solar panels were installed in 2020. From a community standpoint, we have sponsored a local clean-up day for the past three years, and this year I am proud to announce that Truma will be adopting High Dive Park here in Elkhart. We are looking forward to working with the Elkhart Parks Department in cleaning up and beautifying one of our community's largest parks."
New products on the horizon…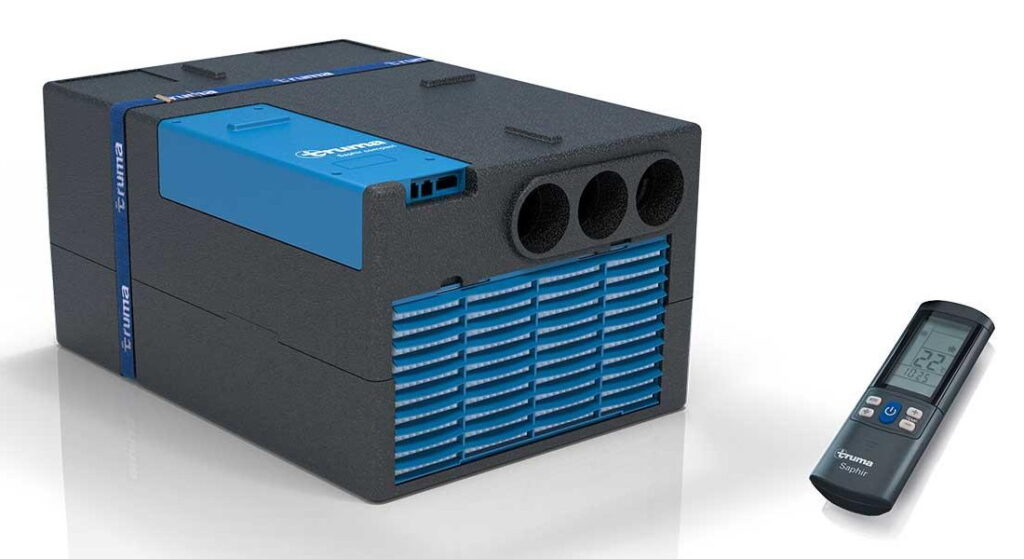 Gerhard revealed some of Truma's new product introductions that will make 2024 a banner year in RV technology. He introduced the Truma Saphir, an under-the-bench air conditioning system with heating capability. Truma Saphir is designed to create a sleek look by removing the air conditioner from the roof and eliminating the need for large wall cutouts. Saphir recently received certification and is currently being tested in the U.S. Truma is looking forward to offering Saphir AC in early 2024.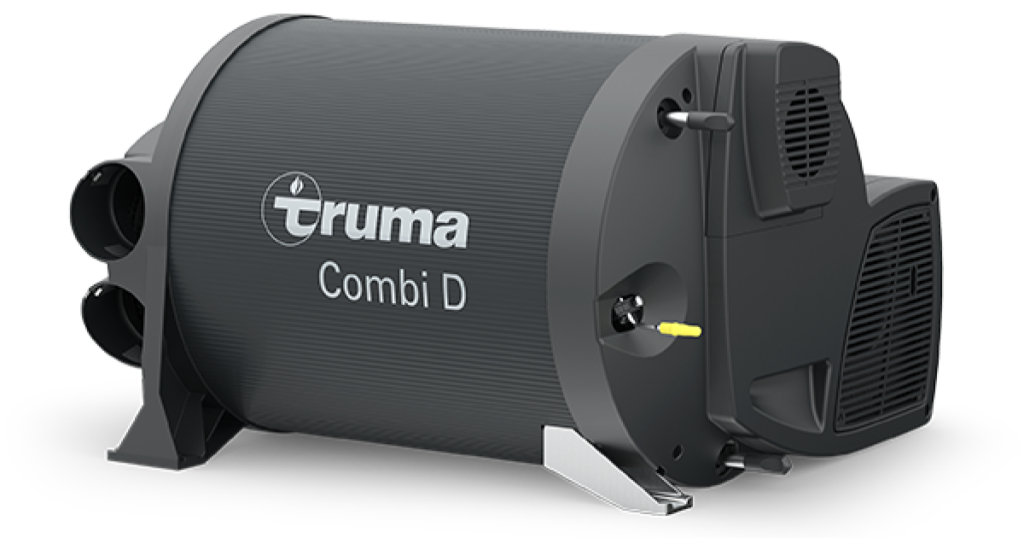 Also on the near horizon, are new versions of Truma Combi – In 2024, Truma will offer a new version of the Truma Combi that will address the desire for one fuel source and off-grid capabilities.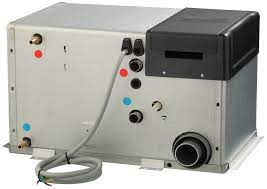 In addition to those Truma systems, the company is excited to introduce the new Alde 3030, which offers hydronic heat and continuous hot water. Truma's sister brand, Alde, came to North America in 2012. Then, four years ago, Truma moved Alde from the west coast to Elkhart. The Alde 3030 will be available in the US early next year.
From a team standpoint, Truma North America is increasing the talent and focus of the engineering team in the U.S. The Engineering team will work together with Business Development, Sales, and all of the OEMs to continue developing North American products in North America.
Gerhard concluded his presentation with some thoughts on corporate responsibility, dedication to the end consumer, and the value of partnerships across the full spectrum of the industry. "To last in any industry, you first must build a strong foundation. Together we did that. By staying true to our values of courage, adaptability, and connectedness we have created partnerships where we can continue to put the customer first. Day in and day out, we demonstrate that our tagline is more than just marketing fluff. Everything we do, build, say, and offer must be "Simply Better." That is the foundation we have built, and it is built to last. Whatever the next ten years hold; we are excited to face them with each of you."
For more information on Truma North America, and the many products that are currently available, as well as news of product innovations to come, please visit the website at https://truma.net/