Travis Bromley of Transcona Trailer Sales in Winnipeg, MB receives the RVDA of Canada George Goodrick Emerging Leader Award
A special report from RVDA of Canada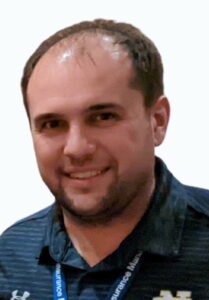 Las Vegas, NV – November 7, 2023. Travis Bromley from Transcona Trailer Sales in Winnipeg, Manitoba, received the 2023 George Goodrick Emerging Leader Award during the RVDA of Canada reception, during the RVDA of Canada Reception at the RVDA Convention/Expo in Las Vegas, NV.
The George Goodrick Emerging Leader Award recognizes and encourages early-career professionals who have demonstrated exceptional commitment, passion and promise of leadership to the Canadian Recreation Vehicle industry.
Travis' journey into the RV industry began in 2003 when he could be found washing and detailing RVs and boats at the family's dealerships after school and on weekends. After graduating in 2009, he started working in the Parts Department. In 2012, he further developed his skills as a Service Writer. After learning about various dealership departments, he took on the role of Sales Manager in 2015 and has gradually become the new face of Transcona Trailer Sales.
Recently, Travis identified an opportunity to enhance digital communication with their customers by introducing a text-based communication tool. This innovation has significantly improved customer dialogue, with overwhelmingly positive feedback from clients who prefer it over emails. This initiative has fostered a sense of community within Transcona, extending the digital reach of the dealership to clients.
In 2016, Travis became actively engaged with the RVDA of Manitoba when he joined the association's RV Show committee. Four years later, in 2020, Travis assumed the role of Chair for the RV Show committee. His commitment to promoting the RV industry in Manitoba has remained unwavering. Travis played a pivotal role in establishing the 2023 Mid-Canada RV and Marine Sale, a merger of two shows designed to reach a broader audience and introduce more individuals to the RV lifestyle. In 2021, Travis expanded his involvement by joining the RVDA of Canada board as the director representing Manitoba.
Remaining true to his upbringing, Travis's focus extends beyond ensuring the dealership's smooth operation; he also takes his social responsibility seriously. He consistently seeks opportunities for Transcona Trailer Sales to contribute to community betterment. For instance, Travis consistently incorporates fundraising components into sales events and open houses. Recently, during a dealership BBQ, all proceeds were dedicated to supporting their local shelter.
While George Goodrick's family could not be present for the award ceremony, Ruth Ann Goodrick noted that Travis's journey in the family business reminded her so much of George's; starting out in the family business doing all those same things to work his way up to where he was. The Goodrick family congratulates Travis on his drive and success.
For more information on the George Goodrick Emerging Leader Award please follow this link:
Transcona Trailer Sales recently celebrated their 60th anniversary – please follow this link to the feature story: