Transcona Trailer Sales –
Celebrating 60 years of service to the RV Community in Winnipeg and the surrounding area.
By Norm Rosen
Photos by Bennett Hargreaves

Transcona Trailer Sales is Winnipeg's longest family-owned RV dealer, established in 1963 by Fred and Joyce Bromley, selling RVs as well as boats, snowmobiles, and ATVs at the original Panet Road location, before moving to a larger location on Nairn Avenue, and in 1995, to the current location at 1330 Dugald Road, Winnipeg.
Today, Transcona sells a full line of Forest River products. Including class C motorhomes by Sunseeker, 5th wheel trailers by Chaparral and Crusader, Travel trailers from Wildwood, Surveyor, R-Pod, Avenger, Tracer, and Clipper, as well as Arctic Cat snowmobiles, side by sides, and all terrain vehicles. The dealership also sells utility trailers by Triton and enclosed trailers by Haulmark and Alcom.
Transcona's sister dealership, Rond's Marine, predates the RV operation, with a large boat, outboard, snowmobile, ATV, and motorcycle dealership in Winnipeg, selling Polaris snowmobiles, ATVs, and personal watercraft, and Bayliner, Crestliner, Mastercraft, and Princecraft boats, as well as a full range of used vehicles at the dealership adjacent to Transcona Trailer Sales at 1350 Dugald Road, Winnipeg.
There have been three generations involved in the creation and growth of Transcona Trailer Sales – today we have the pleasure of chatting with Terry and Garth Bromley, the brothers who have steered the course for the dealerships over the past 40 years… Terry can generally be found at the Transcona location, while Garth floats back and forth between the Rond's Marine and Transcona locations.
The brothers have always been very active in their provincial and national industry associations, Garth was the 2012 Canadian RV Dealer of the Year, and a strong proponent of the Spader 20 Groups – the western Canada 20 Group recently held their quarterly meeting at Transcona, helping to celebrate the dealership's 60th Anniversary in mid-July.
We had the pleasure of interviewing Garth and Terry Bromley for this special feature article… here's a synopsis of that session:
Garth, how has your RVDA of Canada and RVDA of Manitoba experience impacted your approach to serving the RV community?
The time spent there on both associations is incredibly valuable – you meet a lot of the dealers from across Canada, it's a great way to compare notes on what's happening in their neighborhoods.
On the National Association, we would Lobby our members of parliament in April every year and present our issues that our consumers are facing, and that we are facing on the national front and on the provincial scene as well – for example, we had issues with insurance regulations, there were campground issues, and it was essential to stay in touch with the federal and provincial governments. The associations do a fantastic job of that, and what we achieved from all this helps our consumer have a better experience.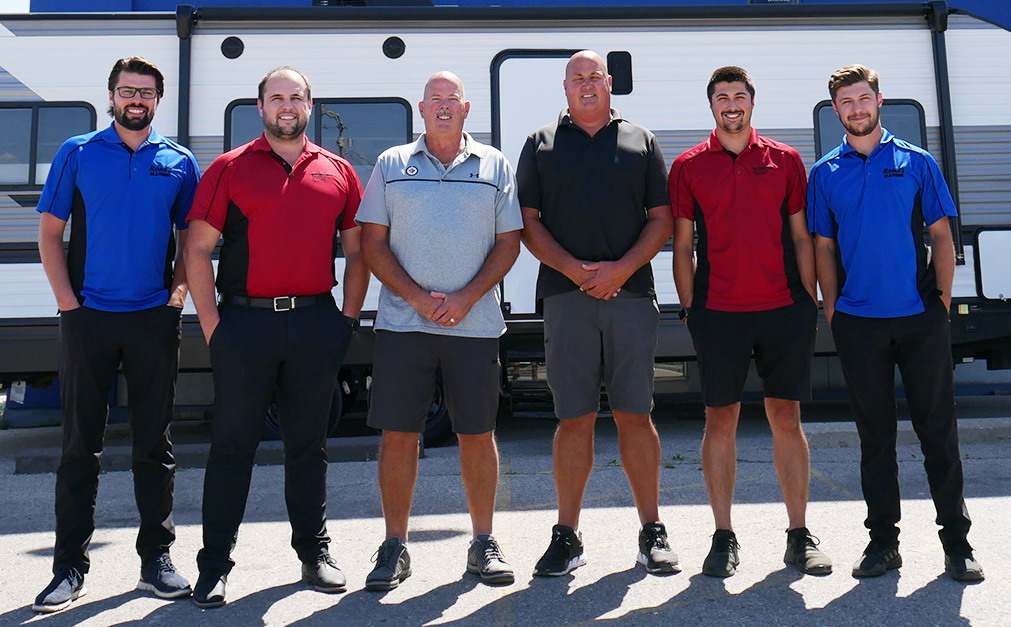 Gentlemen, as the key second generation in a family dealership, tell us how you have encouraged the third generation to step into active rolls in the companies…
Terry: My dad told Garth and myself when we were younger "you've got to stay focused, and you've got to work hard… "
All of our boys have worked here for at least 10 years or more – they started in the wash bay, and from there they went to the parts department, and now two or three of them will be into the management positions – so they see how things work and how things have got to go, and just what it takes to get to where we need to be.
As well as the daily operations of the business, they have all been to the Spader group, and Mitchell's starting to go with Travis to the 20 Group meetings. Braden will start going with Tyler to meetings to get them up to speed.
The 20 Group really helped Garth and myself over the years – we started back in the '90s and you know you meet a lot of good dealers – a lot of good people and you'll learn a lot of things going to visit their dealerships, which helped us out a lot and that's what we look forward to for the kids.
With the boys going to the dealer shows down in the USA – they've been to the marine and the RV events – all of them – so it's time for me and Garth to take more time off and think about semi-retirement.
The next generation – Mitchell, Travis, Tyler, and Braden are at Transcona Trailers and Rond's Marine – they go back and forth between the industries, so they build their expertise within each of the business sectors.
With the RV industry adapting to a post-pandemic sales environment, how have you kept the business rolling, and where do you see the RV business heading in the coming years?
Garth: It was a challenging year as we all know and understand, and now that the pandemic years are over, everybody that wanted to stay home close to their family did a lot of purchasing… this has slowed this year but not necessarily just due to that – the high interest rates aren't helping.
We have managed to have a spot-on year with last year, so our sales are good, however you know margins are down quite a bit, but our focus is to get our inventory back in check. We want to be low on inventory in the fall and then we can cherry pick what we feel will sell next year.
I always believe in the strength of the recreational industries – you know we're 45 years in it this year – since I started – the RV industry has gone through a lot of up and downs –  high oil prices, high interest rates, fuel shortages – it'll bounce back – it always does – it's something that's I think born and bred into Canadians to spend time with family to enjoy affordable ways of traveling. As people get older, they like their own beds, their own cooking, their own accommodations – so it will come back – it's a matter of a year or two so we can flush out some inventories and also get people a little bit more refocused on what they're doing and hopefully our interest rates will go down a little here in the next 12 months, which will help get consumers back on track.
Back in 2012, when you were selected as the Canadian RV Dealer of the Year, you had been very active in community charities. What community projects have you supported over the past few years through Transcona Trailer Sales, Rond's Marine, and your personal activities?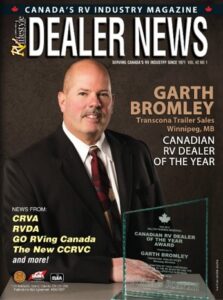 Garth: We have a community events trailer that is available to any organization for any kind of fundraiser they're hosting, be it a cultural or ethnic event, or a camping activity. We try to support any kind of Winnipeg Community or Manitoba Community event in that regard. We are a sponsor of the Make-A-Wish Foundation – we had a family who requested a unit for camping a year and a half ago, so we set all that up for the child's wish to come true.
We sponsor a variety of different events, for snowmobile clubs, ATV trail associations, fishing festivals, to further support our investment in the Marine industry and any kind of camping event that comes up.
We've done donations that are open houses, and we have helped out local animal shelters to help them encourage people to come down to see all of the adoption availabilities. The last one Travis and Mitchell helped, about a month ago, was a great success – there were 10 dogs adopted that day.
So, whatever local opportunity that fits into what we do, we will stand behind for sure.
When you look at the situation in the industry at the moment, some of the dealers still have a fair number of 2022 models on their lots – there are lots of '23s around, and the '24s are coming in – how are you doing as far as model year inventories are concerned at Transcona?
Well, we have about twenty 2022s on the lot, and the rest will be '23s. We haven't got any '24s in as of the beginning of August, but we have some coming, and we're just going to have to try to get rid of the '22s now, and the 23s – we're not too worried about at the moment. You know, they're not old inventory – those '22s are just non-current model year units. As for the '24s, we really haven't ordered much yet – just some fifth wheels and we're just going to watch our inventory, so essentially, we're in a similar situation to a lot of small to mid-sized dealers throughout North America.
I understand that the U.S inventory problem and net margin is lower than Canada, so we're not seeing the worst of the worst and it'll be a year of cleansing, and I think the manufacturers are just going to have to live with that and we've got to get our pricing back in order that the average family can afford to go camping.
The general consensus among the small to mid-sized dealers I speak to is you're going to be looking about mid-2024 before it starts to get back to some semblance of normalcy.
Gentlemen, where do you see Transcona Trailer Sales and Rond's Marine evolving as the automotive sector transitions to an electric era?
Terry: I'm not a firm believer that's all going to happen for at least five to eight years because we see guys have electric cars, and they're not doing what they're supposed to do and when you start pulling with them, unless somebody builds RVs with battery banks, and if they can get the wheels on the trailer to charge the batteries or somehow make more power… but if everybody bought electric cars and trucks you wouldn't be able to plug them in because we don't have enough power in Canada – especially in Winnipeg where you've got real winter – the cold temperatures make the electric battery situation even worse – some of the cars have heat pumps in them, and it is like the old style fan and heat motor that ran off the batteries – that is killing the operating time of the batteries as well. Now they're supposed to be putting some heat pumps in so they're going to be better on battery power in the winter, but that 30 volts still won't work at 30 below – you know – who wants to sit around at a charger for a couple hours.
The other aspect that the politicians don't seem to comprehend is that Canada has so much barren land – you know across the Lake Superior routes, for example, that the infrastructure for charging that volume of vehicles is just not there, and may not be for many, many years.
Just think about the parking lot when you pull in with a 30-foot trailer behind you and connect to a charging port there won't be much room for other cars and trucks towing trailers. There's a lot of work to be done in Canada in particular, I believe the US might advance sooner with their interstates and their big truck centres, and all that kind of thing but we don't have manufacturers pointing in any direction yet towards electric vehicle pulling for RVs. I don't see it on the EV trucks with the high horsepower that were supposed to come out  – but they are not out – and none of them have a long enough charging radius, so I believe Canada could be 10 – 12 years out before it becomes a major trend, and there are going to be a lot of people still keeping their diesel for towing. We're not going to see the end of the semi-trailer business even when electric semi-trailers replace the diesels, in five or six years so you're going to be able to buy diesel fuel on the highways and it's going to take a lot longer here to get the EV truck footprint down.
 As one of the leading RV dealers in Canada, do you have any words of wisdom to share with the RV Dealers across Canada, and the USA?
Garth: I think it's very important to stick with a manufacturer that's going to stick with you through thick and thin when times get tough, they're not pushing you when things open up, they're going to support you.
Canada kind of got forgotten over the pandemic with inventory levels and some of the manufacturers looked at the bigger sources so the ones that stay true to you -stay true to them and work with them.
Terry: Educate your people – your staff – keep them in a training loop, be it online, be it by technical training be it by 20 groups – whatever your can do – keep them interested and enthusiastic, support them and you will be successful.
Your staff is your is your whole key to success – Garth and I are just two people – we are only a small amount out of the 45 staff members who keep the big wheel turning.
Garth: The RV industry has always been a fun industry to be in – you want to keep it fun for your customers, your clients, you want to keep it fun for your staff – it creates a better relationship with everybody – it's been very good to us for 60 years – yes we've had our up and down years, and we'll continue to do so but it's a great lifestyle and Winnipeg is a great place to be.