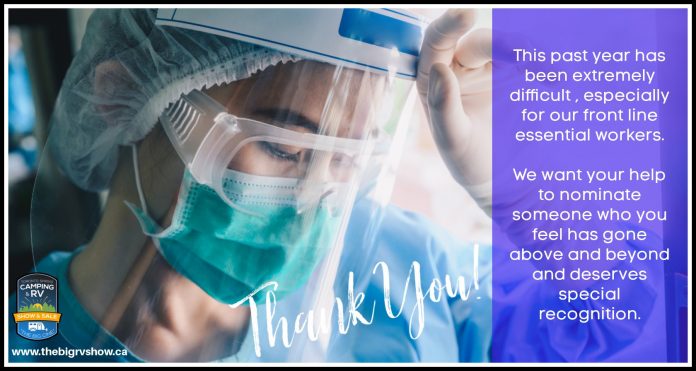 The Toronto Spring Camping & RV Show & Sale thanked frontline essential workers during "The Big One's" 2021 virtual event for helping to keep Canadians "safe and healthy" during the COVID-19 pandemic.
The Show invited people to nominate "someone … who has gone above and beyond and deserves special recognition".
The Toronto Spring Camping & RV Show & Sale (#BigRVShow) posted:
"The Canadian RV industry would like to express its sincere appreciation to all frontline essential workers who have worked so hard over the past year to keep us safe and healthy. The BigRVShow would like to thank you all for your extraordinary efforts … we would like to recognize a special individual during the virtual Toronto Spring Camping & RV Show & Sale that you feel has gone 'above and beyond' with a special gift."
Nominations were accepted via Facebook with an announcement on February 28.
A gift card spa day and dinner prize package was awarded to Jessica Skillen and her mother Nikki Skillen. Jessica wrote these touching words in her submission:
"My mom is an ICU nurse and has worked tirelessly this entire year. With increased workloads, many many extra hours to care for our community, [she] as well teaches in the Critical Care Program at our local college. Even with all of this my mom takes care of our family, makes scrub hats/masks for hospital and nursing home workers to wear, to assist in protecting themselves. Also, in the very beginning of the pandemic last March, a local nursing home had, I believe, the first large outbreak. Those nurses, PSWs, cooks, cleaners, etc., were working with very little PPE and given 1 mask for multiple shifts as they had very little stock or access to any more. My mom heard about this from a neighbour when she was returning home after a very long 12 hr shift. She, as my mom always does, set out to help. She found an online pattern for a cloth mask and began to sew. My mom sewed most of the night and when she had completed (100) she packaged them up and left them on the porch of the neighbour who worked at this nursing home with a note to provide to the staff, with more to come. Over my mom's few days off she made around 500 masks for this nursing home to help protect the staff so they could care for the most vulnerable. My mom did not identify herself and forbid us to as well. Over the past year my mom has worked in the ICU, helped countless health care workers protect themselves so they can, in turn, provide much-needed care to our elderly and community. My mom is a true unsung hero and deserves to be recognized as one of this year's health care heroes. Thank you."
The Skillens were interviewed on the final day of the online event when the Show also paid tribute to the country's frontline essential workers. Click HERE to view the video.