ELKHART, IND. (May 27, 2021) – Thor Motor Coach's Gemini AWDTM, Compass AWDTM, Axis® and Vegas® Recreational Utility Vehicles (RUVs) have fresh exterior and interior color options for the 2022 model year.
Gemini AWD comes in four new exteriors. "Atlantis Blue" and "Sun City" graphics on HD-Max® sidewalls and "Sirius Blue" and "Moonwalk" full-body paints. The patterns use bold colors against neutral bases for a contrasting yet cohesive exterior. The same philosophy continues into Compass AWD's new exteriors, "Arcade Fire" and "Stellar Blue" graphics on HD-Max® sidewalls and "True North" and "Fibre Optic" full-body paints. Unlike traditional RUV exteriors, the full-body paint on Compass AWD uses sharp, angular designs for a more refined look.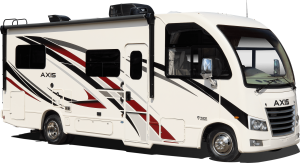 Inside the Class B+ motorhomes, Gemini AWD and Compass AWD have new interior decor options that couple with TecnoForm® cabinetry. These light-weight cabinets, available in either "Uptown Gray" or "Forever Latte," each pair with a complementary color palette: "Silverpointe" or "Travertine." The warm or cool-tone interiors widely appeal to those looking for a modern home on wheels. Gemini AWD and Compass AWD's all-wheel-drive platform complements the full-time RV lifestyle, providing a reliable drive regardless of the weather. Conveniences onboard, including Winegard® ConnecTTM 2.0 WiFi extender and 4G hotspot, new wireless phone charging stations and USB ports throughout the motorhomes, support transitions to full-time RVing for those working from the road.
Like their Class B+ counterparts, the Class A RUVs, Axis and Vegas, showcase all new exteriors. Axis' "Painted Desert" and Vegas' "Marque" have distinctive red designs, while "Stratus" and "Galleria," have blue graphics to catch the eye. The new interior color options, "Pavilion" and "Liquid Mercury," couple with the "Divine Linen" and "Silver Oak" cabinetry to give the motorhomes a light and contemporary atmosphere.
At 25 to 29-feet, Axis and Vegas are ideal for those entering the market or downsizing. There's room for four to five family members to sleep, depending on the floor plan. Every family-friendly layout includes a powered drop-down overhead bunk with a Cotton CloudTM mattress and a telescoping bunk that stores in the wardrobe for a quick and effortless retreat to the next destination. For more information on our 2022 motorhomes, visit https://www.thormotorcoach.com/motorhomes/.
About Thor Motor Coach
Thor Motor Coach®
is the only Made to Fit® motorhome brand in North America. Thor Motor Coach's diverse product lineup includes many of the world's most recognized Class A, Class B and Class C motorhome brands. As an industry leader in innovative design, Thor Motor Coach builds a variety of unique styles, sizes, and floor plans that feel custom-made – at a truly competitive price. For more information, visit ThorMotorCoach.com or call 800-860-5658. Thor Motor Coach and all related model names, slogans, logos, trade dress, and trademarks are owned or used under license by Thor Motor Coach, Inc. All other trademarks are owned by their respective owners.