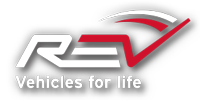 DECATUR, IN ­­– June 1, 2021 – REV Recreation Group (RRG), a manufacturer of Class A motorhomes and a subsidiary of REV Group®, is providing an updated web portal for its dealers selling American Coach®, Fleetwood RV® and Holiday Rambler® brands.
The RRG portal allows dealers to:
Quickly review their existing inventory of RRG brand motorhomes
Determine how many and what models are on order
Register new owners to activate their warranty and roadside assistance
The portal operates in real time, so dealer inventory is updated as orders are shipped. Dealer inventory transfers and owner registrations are also in real time.
"Our enhanced portal digitizes and significantly streamlines the new owner registration process between dealers and RRG," says Deb Stapel, Director of Marketing for REV Recreation Group. "We're constantly striving to improve our dealer experience, and this portal is another step forward."
To enhance its dealer communications, RRG previously announced a quarterly "Dealer Connect" e-newsletter to share relevant news and updates.
Dealers who would like to register for the Dealer Portal, should contact the RRG marketing team at marketing@revrvgroup.com. To receive the 'Dealer Connect' e-newsletter, dealers should contact their RRG sales representative.
About REV Recreation Group
REV Recreation Group, Inc. (RRG) is a REV Group company and a leading manufacturer of Class A Gas and Diesel recreational vehicle brands. This company has one of the best and longest standing distribution networks in the industry and boasts some of the industry's most recognized and iconic brand names such as American Coach, Fleetwood RV, and Holiday Rambler. REV Recreation Group is headquartered in Decatur, IN, which is also its principal manufacturing location. In addition, RRG operates two state-of-the-art service and repair centers and a genuine parts online warehouse.
About REV Group, Inc. 
REV Group® (REVG) is a leading designer and manufacturer of specialty vehicles and related aftermarket parts and services. We serve a diversified customer base, primarily in the United States, through three segments: Fire & Emergency, Commercial, and Recreation. We provide customized vehicle solutions for applications, including essential needs for public services (ambulances, fire apparatus, school buses, and transit buses), commercial infrastructure (terminal trucks and industrial sweepers) and consumer leisure (recreational vehicles). Our diverse portfolio is made up of well-established principal vehicle brands, including many of the most recognizable names within their industry. Several of our brands pioneered their specialty vehicle product categories and date back more than 50 years. REV Group trades on the NYSE under the symbol REVG.