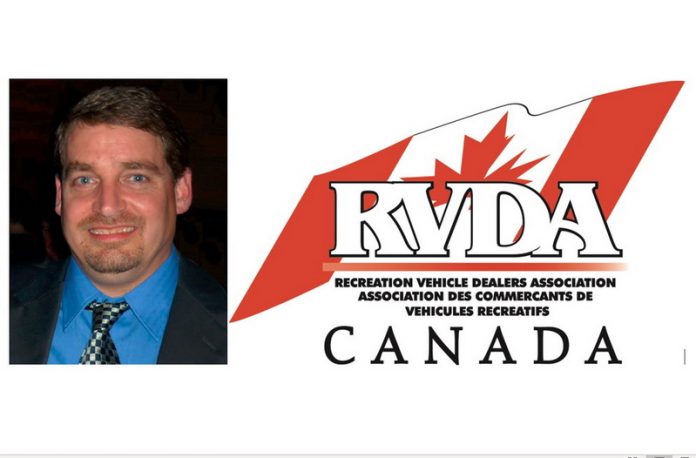 Gord Bragg of Hub City RV in Lantzville, British Columbia has been re-elected as Chairman of the Board of the Recreation Vehicle Dealers Association (RVDA) of Canada for a second term.
Mr Bragg has been involved in the RV Industry for over 25 years. He started out washing trailers for his father Bruce Bragg at Chimo Travel Homes in Langley, BC and in time became a journeyman Red Seal RV technician, sales manager and general manager at various locations before opening Hub City RV in 2000.
Gord sat on the RVDA of BC Board of Directors for many years and worked his way through all positions on the executive panel. He has served two terms on the RVDA of Canada Board and has also volunteered many hours of service to support the RVDA of Canada HR/Education Committee giving freely of his time to attend and participate in the Skills Canada Competition.
Gord has given generously to local charitable campaigns such as Kidsport, Children's Hospital and a Motorhome for the Manna Homeless Society and enjoys spending his spare time fishing and with his daughters.
Given the current state of affairs with COVID-19, the RVDA of Canada nomination committee felt that it would be in the Association's best interest to keep the current Executive Committee in place.
Other officers for the 2020-2021 year are:
Vice Chair: Josée Bédard, Roulottes Chaudière, Levis, QC
Treasurer: Dale Hopkins, RV City, Leduc, AB
Past Chair: Herb Cowen, Pike Lake Golf Centre, Clifford, ON
RVDA of Canada's current Board of Directors are:
Greg Nikkel, NR Motors Ltd., Prince George, BC
Dean Goerzen, Go RV, Nisku, AB
Kyle Kehoe, Kehoe RV, Saskatoon, SK
Jim Gorrie, GNR Camping World, Winnipeg, MB
Roland Goreski, Campkin's RV Centre, Ashburn, ON
Marc Rémillard, Centre du Camping Rémillard, St-Jean-sur-Richelieu, QC
Jonathan Stone, Stone's RV Centre, New Glasgow, NS
Ken Dobson, Leisure Time Sales, Quispamsis, NB