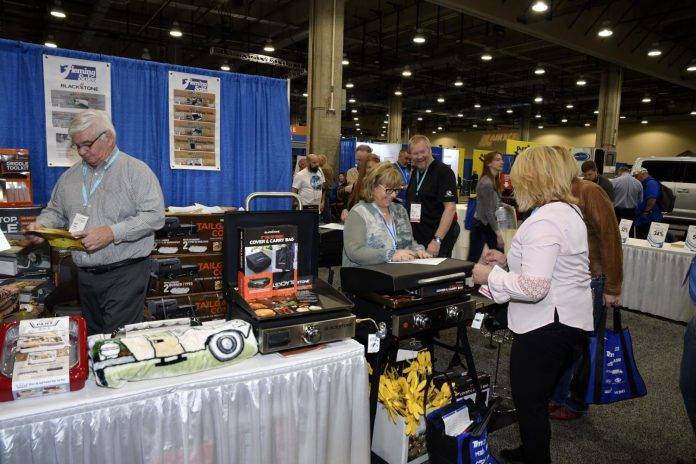 2020–2021 INDUSTRY EVENTS & RV SHOWS
The RV expo and trade show industry was turned upside down this year with many events cancelled due to COVID-19. As months have passed various shows have been able to organize online and virtual events.
NB: Due to COVID-19, some events/shows cannot yet confirm whether in-person attendance will take place or if they will be virtual-only.
Click on the links in RED to access the show websites.
November 9 – 20   RVDA – RV Dealers Convention/Expo
This virtual event, spread out over two weeks, will be available for access through January 31, 2021, and will include a keynote speaker, education workshops, Vendor Training +Plus sessions, virtual networking opportunities, and an interactive exhibit hall with vendor solutions. The RV Dealers Convention/Expo is open to dealers, aftermarket, rental, associate members and non-member RV industry personnel. Contact: Julie Newhouse; jnewhouse@rvda.org
November 17 – 18 (9am-5pm MT)   Atlas Trailer Coach Products – 25th Annual Buying Show
This virtual show will host over 100 of the industry's leading vendors. Registrants will have the opportunity to chat live with the vendors and Atlas sales staff during the show hours. Vendors will present seminars on their new and current products one week before the show dates. There will be six days of seminars: November 9, 10, 11, 12, 13 & 16. Atlas Trailer Coach Products celebrates its 50th anniversary this year!
January 18 – 21, 2021   Celebrate New Beginnings 
Celebrating New Beginnings is an outdoor hospitality conference and expo organized by the Canadian Camping and RV Council (CCRVC), Canada's national campground association. The event will offer 22 workshops and 44 sessions including exclusive live keynotes and sessions, dozens of interactive educational opportunities, collaborative workshops, real-time video chats with friends and suppliers, evening networking lounges, group discussions, supplier expo booths with special deals, brand new awards for Canadian campgrounds and swag bags mailed to members' parks.
January 18 – 19, 2021   NTP / Stag EXPO 2021
LIVE Trade Show, Orlando, FL   Subject to travel and COVID 19 considerations – please consult your Provincial or State guidelines for travel and self-isolation requirements, and consult your NTP / Stag Canada rep for registration information. The virtual event will be January 25 – 29.
The NTP / Stag Canada EXPO 2021 will also feature a virtual trade show – consult your NTP / Stag Canada rep for details.
January 28 – 31, 2021   Calgary RV EXPO & Sale
BMO Centre – Stampede Park. Tickets will be available to the public from December 1.(780) 455-8562 or (888) 858-8787
February 4 – 7, 2021   Edmonton RV EXPO & Sale
Edmonton Expo Centre. Tickets will be available to the public from December 1. (780) 455-8562 or (888) 858-8787
February 18 – 21, 2021   Red Deer RV Show
The Red Deer RV Show is Central Alberta's largest gathering for all things camping, RV and outdoors.
February 25 – 28, 2021   Toronto Spring Camping & RV Show (2021 Virtual Big RV Show)
Also known as 'The Big One', the Toronto Spring Camping & RV Show will be a VIRTUAL show this year. The Canadian Recreational Vehicle Association (CRVA) showcases the largest display of RVs from respected Ontario retailers of every model and type of RV, and for every budget. Contact: Shannon O'Callaghan; Shannon.Ocallaghan@crva.ca for more info.
March 4 – 7, 2021   Halifax RV Show & Sale
Atlantic Canada's largest RV show, now in its 21st year, is working with the provincial government and Halifax Exhibition Centre organizers to get an approved plan to run an in-person event. They will also have a digital component to the Show. Contact: info@hecns.ca
UPDATE: POSTPONED UNTIL MARCH 2022  Moncton RV Show & Sale
Hit the road to adventure at the biggest RV show in New Brunswick with family-friendly features, show-only pricing and much more. (888) 454-7469; info@mpltd.ca
2021 SHOW DATES To be Confirmed
Kitchener RV Show & Sale   At present, the 2021 Kitchener, ON show is a 'go'. (888) 331-8885; info@ontariorvda.ca
Toronto RV Show & Sale   The Ontario RV Dealers Association is to confirm if a virtual show will take place in 2021. (888) 331-8885; info@ontariorvda.ca
Ottawa RV Expo & Sale   The Ontario RV Dealers Association is to confirm if a virtual show will take place in 2021. (888) 331-8885; info@ontariorvda.ca
For amendments to the above calendar listing please email mcarmichael@taylorpublishinggroup.com