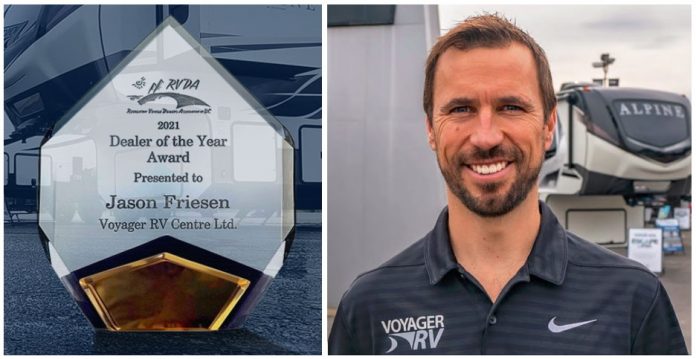 RVDA of BC – Dealer of the Year 2021 – Jason Friesen
We would like to congratulate Jason Friesen of Voyager RV Centre Ltd. as the recipient of the 2021 RVDA of BC Dealer of the Year Award. The award was presented to Jason and Voyager RV at the annual AGM and Fun-Raiser for the RVDA of B.C. on September 8 – 10, 2021, in Langley BC.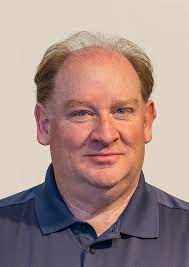 Ward Fraser, General Manager of Voyager RV, provided the following background information on Jason, and the dealership:
"Jason Friesen is not one to covet the spotlight and prefers to let the dealership's customers and reputation do all the talking. However, I feel this Dealer of the Year distinction is absolutely deserved, and in my opinion, overdue. Awarding this honour to Jason Friesen and the team at Voyager RV will recognize what the RV community and our loyal customers have known and believed for many years – Voyager RV is one the best RV Dealerships in Canada and beyond.
Rod Friesen started this enterprise in 1984 after moving here from Meadow Lake, Saskatchewan with his wife Dianne. After successful efforts in the gas station and used car sales businesses, Rod opened Voyager RV. On day one the dealership consisted of a used trailer for an office and 5 used consignment motor homes for sale on an old gravel pit lot. With vision and talent, Rod grew his dealership quickly, adding on acreage and a two-story building with service bays, parts store, and plenty of office space by 1990. The staff requirements grew quickly as well and by the time I joined the team in April 1997 there were almost 30 full time staff and further expansions to the lot and building had again taken place.
Rod's vision and talents were not singular, as he and Voyager RV embraced innovation and technology when times were changing the way business was done. The internet had a huge impact on the world of business and Rod immediately saw this new technology as an opportunity, and the way of the future. Voyager RV was one of the first RV dealerships to have a fully operational website and was the first RV dealer in BC to have our full inventory online as early as 1996! Rod started a sister company which is now RVT.com, the 2nd largest RV listings website in North America. His son Jason Friesen started working with this internet company while completing his university degree from the University of Victoria and soon caught the bug for the RV business.
Jason joined Voyager RV's management team as a leader in 2003 and has been the acting Dealer Principle since 2004 when Rod retired. In 2009 Jason became the Vice President and leader of Voyager RV and immediately set the new direction of Voyager RV to match his vision. He continued to drive the Friesen family mission of creating the best customer experience in the RV industry, even throughout the tough times of the recession. Jason also made the tough decisions to alter certain common RV-dealership practices, to better fit with the new generation of RV buyer. These changes were not easy on some but were a win-win for the customer and the dealership. All non-mandatory fees were removed and all processes and practices were scrutinized to ensure that integrity, honesty and transparency would be what Voyager RV would be known for by our customers and in the industry. The unwavering message and direction from Jason Friesen led to a quick recovery. By continuing to embrace advances in technology and innovations in the RV industry Jason has ensured Voyager RV continues to lead our industry in British Columbia. I feel that the other RV dealers in western Canada owe Jason a debt of gratitude for forcing them to follow as we improved our web sites and social media approach. Jason continued to embrace innovations of website design, responsive website formats, custom video email responses, and much more, to make the customer's research simpler and more rewarding. By including transparent pricing, complete and accurate specifications and removing all fees, the customer found a dealer they could believe in, and an industry they could trust again. Making sure that the customer experience continued to be the focus, Voyager RV has stayed well ahead of our competition. It has grown in market share and is by a wide margin the largest RV dealer in the BC interior, despite being located in a town with a population of just 15,000.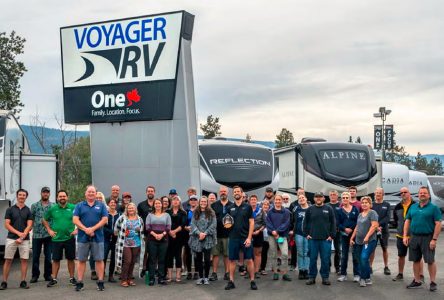 Jason, like his father Rod, is a very strong believer in giving back to the industry that has given them so much. They have had their General Manager sit on the board of the BC RVDA for 22 straight years including 12 years on the executive. Jason was the sector chair for 4 years for the construction of the new trades building and faculty at Okanagan University College. This College is only one of two available RV technician training programs in Western Canada. Substantial donations were made by Jason and the Friesen family to ensure that trained technicians are continually learning to help support the growth and innovation in our industry. Voyager RV played a vital role in stopping the VSA and CVSE from shutting down sales of over-length RV's in B.C. when the issue came to the forefront several years ago. Working quickly and directly with the Registrar of the VSA and the CVSE, time was bought for the RVDA of BC to work with the RVDA of Canada to advocate for the industry to have new regulations created that will remove substantial liability and risk for the entire dealer body moving forward.
A great relationship with one's community is a two-way street, and we strive to stay involved and give back as much as we can. The generosity of the Friesen family is inspiring and the list of worthy causes we support is as varied as it is long. From supporting High Schools, community events and local sports teams to major charities, fundraisers, and Fire Relief Funds, Voyager RV tries to have a positive effect where we are needed.
This last two years, Jason Friesen started the "Voyager Cares" Initiative. Voyager staff were given a list of 25 local charities to vote on, with the top 7 vote getters chosen to receive a share of $100,000 in donations pledged to be donated by Voyager RV over the campaign. Having the team's own experiences, hardships and heartbreaks being reflected in this way meant a great deal to Jason and the Friesen family. This was to be a true reflection of what was in the team's hearts, and a thank you for the amazing hard work and dedication they all possess and demonstrate every day. As we made the donations over the campaign to the different charities, the pride and emotional connection to these worthy causes the staff feels is wonderfully evident in their smiles and sometimes tears, as the representatives from the charities told everyone what these donations meant to their organizations and what it allows them to do here in our own community! Team Voyager kept giving right through the Covid-19 shutdown and reopening until we reached our goal and donated an amazing $103,635 to local charities! During the pandemic, the RV industry was blessed to be an industry that could still thrive during this unprecedented time, and Jason kept finding ways to "Support Local" and bought many meals for the whole team to support local restaurants and businesses that had to close their doors to regular customers."
Jason had the following thoughts to share: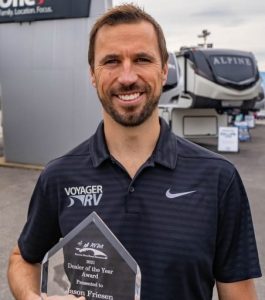 "Unlike other 2nd Generation's working in the RV industry, I was never groomed for the business, nor was my lifelong goal ever to take over management or ownership of Voyager RV. I wanted to be a high school teacher and went to university to reach this goal. I was on the Teacher-on-Call list locally, so on the days that I was not called in to teach… I came into to the dealership to help with their marketing, and to do all website changes, design, etc. What I found out is that I was falling in love with working at Voyager RV, and the RV business itself. It was all I thought about when I went home at night. How could I improve it? What could we do to drive more retail business? The timing was perfect, as my father Rod was ready to fully retire… so in 2003 I assumed the role as Sales Manager, leading into the VP & Active Dealer Principal role that I am still in today. And things haven't changed one bit regarding my love for this industry. The people I work with and the customer's we deal with are better than any other industry I've seen or worked in. The flexibility that I have in ordering, pricing, selling-styles, servicing, marketing, etc. that we get as a dealership (compared to a New Car franchise dealer, for instance) allows us to set ourselves apart from other RV dealers, and is what I enjoy most about what we do. We can mold things how we see fit, daily. It gives me that exciting feeling of being an 'entrepreneurial startup' when I come to work every single morning! I wouldn't want to be anywhere else, but the RV industry."