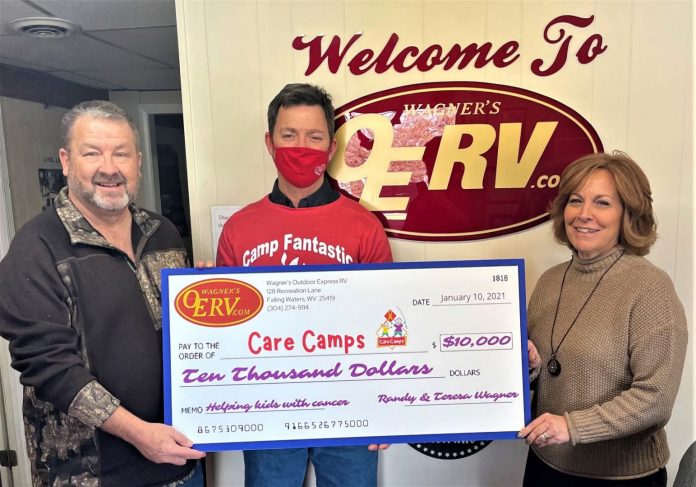 An RV dealer in West Virginia has proven what it means to give back, by donating $10,000 he won in a charitable event back to the charity for which the fundraiser was created, Care Camps for children with cancer.
Care Camps is a non-profit that helps kids with cancer experience hope and healing in the great outdoors by sending them to special oncology camps. There are 135 Care Camps across North America.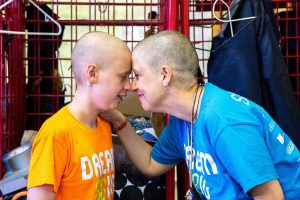 In December 2020, Level 5 marketing company issued a year-end giving challenge to RV, marine, and motorsports dealers across the US and Canada to inspire them to make a charitable gift to Care Camps. To add an "incentive" to donate for the first time, Level 5 ponied up an amazing $10,000 grand prize. Fortunately for Care Camps, the family that won the grand prize happened to be a couple with incredibly generous hearts.
Randy and Teresa Wagner own Wagner's Outdoor Express RV and it's a true family-run business. Randy made Jennifer Mercer of Care Camp's day when he enquired, "Would it be OK if we donated the money back to Care Camps to help more kids?"
The seemingly quick decision seemed to be a natural one for Randy as the Wagners know how devastating a cancer diagnosis can be on an entire family.
Teresa explained, "Our family has experienced childhood cancer twice, once with a nephew and again with a niece. Fortunately, both survived. Randy lost his father, sister, grandmother, and two aunts to lung cancer. I lost my father to cancer. We know firsthand how terrible this disease is. No kid should have to suffer cancer."
She added, "The RV industry experienced a tremendous year, and we were all presented with an opportunity to give back. We would love to see all RV dealerships and RV manufacturers match this donation and support Care Camps moving forward. Let's help all kids with cancer experience the healing power of camping."
Care Camps is funded entirely through private and business donations, and COVID-19 greatly impacted the charity's 2020 fundraising campaigns. Thanks to the generosity of the Wagner family and Wagner's Outdoor Express RV, 2021 is looking a little brighter for Care Camps.
For more information on how your dealership can help, contact Jennifer Mercer, Director of Development: (406) 671-0447 or by email at: jmercer@carecamps.org