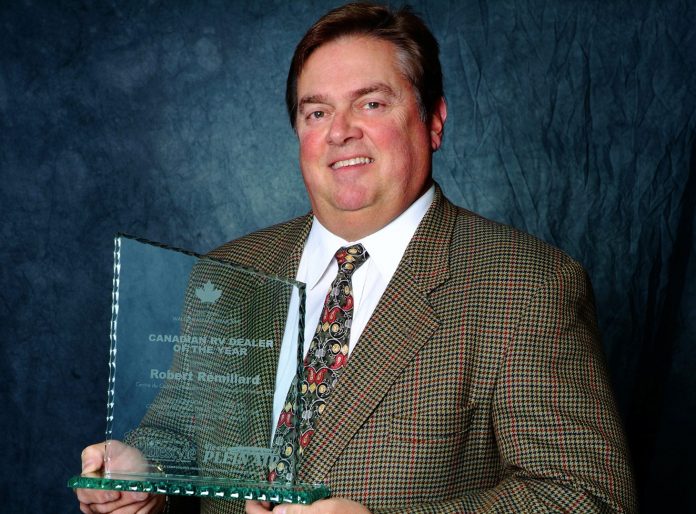 Robert Remillard – A Celebration of a life well-lived
Robert Rémillard – Célébration d'une vie bien vécue
It is with profound sadness that we have learned of the recent passing of one of Quebec's most popular RV dealers, Robert Remillard, of Centre du Camping Remillard, St-Jean-Sur-Richelieu, Quebec.
Over the years, Robert played a major role in the ACVRQ, and the RVDA of Canada. He was a raconteur of the highest order, bringing his vibrant personality to every event, and contributing greatly to the image of the Canadian RV dealers as benevolent members of the RV community, and the community at large.
C'est avec une profonde tristesse que nous avons appris le décès récent de l'un des marchands de VR les plus populaires au Québec, Robert Rémillard, du Centre du Camping Rémillard, à St-Jean-Sur-Richelieu, au Québec.
Au fil des ans, Robert a joué un rôle majeur dans l'ACVRQ et la RVDA du Canada. Il était un conteur de la plus haute ordre, apportant sa personnalité vibrante à chaque événement, et contribuant grandement à l'image des concessionnaires canadiens de VR en tant que membres bienveillants de la communauté de RV, et de la communauté dans son ensemble.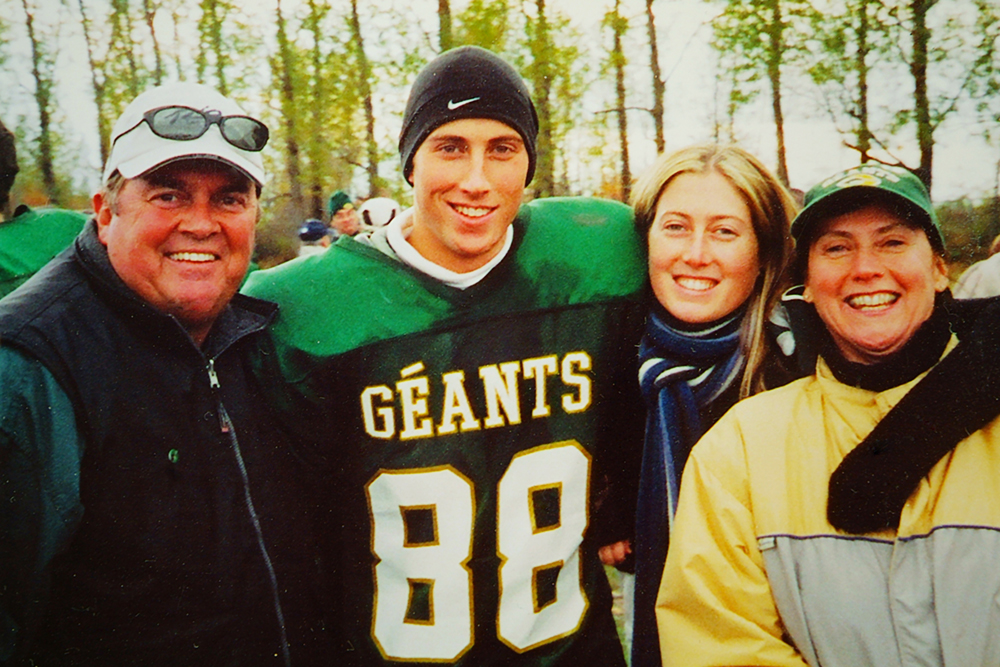 We were honoured to present the 2005 Canadian RV Dealer of the Year Award to Robert Remillard, and privileged to have enjoyed his friendship since we first met him in the early 1970s.
Our sincere condolences to his wife, Carole Dussault, and his children Julie and husband Georges, and Marc and his wife Vicky, as well as all of the members of his family and his treasured employees.
To honour his memory, we have reproduced the feature article that ran in RV Dealer News, announcing his 2005 Canadian RV Dealer of the Year Award, and celebrating his many contributions to the RV industry, the RVDA movement, and the community at large.
Nous avons eu l'honneur de remettre le Prix du marchand VR canadien de l'année 2005 à Robert Rémillard et nous avons eu le privilège d'avoir apprécié son amitié depuis que nous l'avons rencontré pour la première fois au début des années 1970.
Nos sincères condoléances à son épouse, Carole Dussault, ainsi qu'à ses enfants Julie et son mari Georges, ainsi qu'à Marc et à son épouse Vicky, ainsi qu'à tous les membres de sa famille et à ses employés précieux.
Pour honorer sa mémoire, nous avons reproduit l'article de fond qui a couru dans RV Dealer News, annonçant son 2005 Canadian RV Dealer of the Year Award, et célébrant ses nombreuses contributions à l'industrie des VR, le mouvement RVDA, et la communauté dans son ensemble.
To view the memorial notice, and to add your condolences, please visit this website:
Pour consulter l'avis commémoratif et ajouter vos condoléances, veuillez visiter ce site Web:
https://lesieuretfrere.com/avis-de-deces/remillard-robert-1951-2020/?fbclid=IwAR0gHuMHRXO0SOX2wZjIDStwe5D05-7x-Ac0PeyNf9bf5VW4i-ua_rglsbM
The following article appeared in the December 2005 edition of RV Dealer News Magazine.
L'article suivant a été publié dans l'édition de décembre 2005 du magazine RV Dealer News.
Passion for the Industry –
Passion pour l'industrie
2005 Canadian RV Dealer of the Year –
Concessionnaire canadien de VR de l'année 2005
Robert Remillard
A man of conviction, and not afraid to offer constructive criticism where it's needed, Robert Remillard has dedicated himself to the RV industry.
Un homme de conviction, et n'ayant pas peur d'offrir critique constructive là où elle est nécessaire, Robert Rémillard s'est consacré à l'industrie des vr.
RVing is in Robert Remillard's blood, which comes as no surprise considering he was practically born into the industry. He was perfectly bilingual at age five, thanks to his father's insistence that he play with the kids at Hollywood Beach Trailer Park while on family Florida trips. Robert remembers hanging around his dad's dealership in St-Luc, Quebec. Even as a young boy, he loved the business, and would stick around the sales office until tolerance levels were tested, and he was finally sent out to play. "A farmer once showed up there, dressed in his work clothes, and with mud all over his boots," he recalls. "The other salespeople said he didn't have a nickel, and avoided him. My dad came right out and sold him the biggest trailer on the lot."
RVing est dans le sang de Robert Rémillard, ce qui n'est pas surprenant étant donné qu'il est pratiquement né dans l'industrie. Il était parfaitement bilingue à l'âge de cinq ans, grâce à l'insistance de son père qu'il joue avec les enfants à Hollywood Beach Trailer Park lors de voyages en famille en Floride. Robert se souvient d'avoir traîn sur la concession de son père à St-Luc, au Québec. Même quand il était jeune, il aimait l'entreprise, et restait dans le bureau des ventes jusqu'à ce que les niveaux de tolérance soient testés, et il a finalement été envoyé jouer. « Un fermier s'est présenté là-bas, habillé dans ses vêtements de travail, et avec de la boue sur ses bottes », se souvient-il. « Les autres vendeurs ont dit qu'il n'avait pas de nickel et l'ont évité. Mon père est sorti et lui a vendu la plus grosse caravane du lot.
Behind Every Successful Man …
While it's evident that Robert's ambitious drive has been inspired by his father, and brother Larry, he also credits much of his success to his wife, Carole, who holds up the administrative end of Centre du camping Remillard Inc. in St-Jean-Sur-Richelieu. "Some people say it's hard to work with their counterpart, but it can work. Open communication is a key factor, and so is the ability to separate business from the rest of your life. When we're going home, we don't talk about the office." Married for 23 of the 28 years they've been together, the couple launched the dealership, and have worked as a strong team throughout the years.
Although dedicated to his career, Robert is very much a family man, and supports his children in their endeavours. His son Marc has followed in his football steps; he's been drafted by the University of Laval in Quebec City, as an all-star wide receiver. Daughter Julie is working on her Masters Degree in Business Intelligence at the University of Montreal – and is, her father says, a 'gazelle' in flag football, representing Canada in world competitions.
Derrière chaque homme réussi …
S'il est évident que l'ambitieux élan de Robert a été inspiré par son père et son frère Larry, il attribue aussi une grande partie de son succès à sa femme, Carole, qui tient la fin administrative du Centre du camping Rémillard Inc. à St-Jean-Sur-Richelieu. « Certaines personnes dis-le est difficile de travailler avec leur homologue, mais cela peut fonctionner. La communication ouverte est un facteur clé, tout comme la capacité de séparer les entreprises du reste de votre vie. Quand nous rentrons chez nous, nous ne parlons pas du bureau. Mariés depuis 23 des 28 années qu'ils ont passés ensemble, le couple a lancé le concessionnaire et a travaillé comme une équipe solide au fil des ans.
Bien que dévoué à sa carrière, Robert est très bien un père de famille, et soutient ses enfants dans leurs efforts. Son fils Marc a suivi dans ses pas de football; Il a été repêché par l'Université Laval à Québec, à titre de receveur étoile. Sa fille Julie travaille à sa maîtrise en intelligence d'affaires à l'Université de Montréal – et est, dit son père, une « gazelle » en flag football, représentant le Canada dans les compétitions mondiales.
A Force to Initiate Change
What really sets Robert apart is his nerves of steel. "I've listened and grown with the demand of the public," he explains, "I give more constructive criticism to the industry than anyone. I get people to tell me what's wrong with an RV, and I in turn tell the manufacturer, for example, to send their engineering people camping instead of to hotels, so they can come out with new, innovative ideas on inside constructions."
Part of Robert's mission is to give back, not only to the RV industry, but also to society. "This wonderful business of RVing is very profitable for all of us. Time should be given back to society. People should get involved." Involved with fundraising he is, from his early football initiatives to the Rotary Club, Knights of Columbus and various associations. He raised $25,000 for the St-Justine Children's Hospital a few years ago, and has recently matched that amount for a Meals for Kids campaign. With the RVDA, he collected $14,000 for the Children's Wish Foundation; this is an annual project for him. Considering he began fundraising just five years ago, the fact that's he's summoned up more than $80,000, is impressive.
La force d'initier le changement
Ce qui distingue vraiment Robert, ce sont ses nerfs d'acier. « J'ai écouté et grandi avec la demande du public, explique-t-il, je critique plus que quiconque l'industrie. Je demande aux gens de me dire ce qui ne va pas avec un VR, et je dis à mon tour au fabricant, par exemple, d'envoyer leurs ingénieurs camper plutôt que dans des hôtels, afin qu'ils puissent sortir avec de nouvelles idées novatrices sur les constructions intérieures.
Une partie de la mission de Robert est de redonner, non seulement à l'industrie des VR, mais aussi à la société. « Et ce merveilleux business de RVing est très rentable pour nous tous. Le temps devrait être rendu à la société. Les gens devraient s'impliquer. Impliqué dans la collecte de fonds, il est, de ses premières initiatives de football au Rotary Club, chevaliers de Colomb et diverses associations. Il a amassé 25 000 $ pour l'Hôpital pour enfants St-Justine il y a quelques années, et il a récemment égalé ce montant pour une campagne Repas pour enfants. Avec la RVDA, il a recueilli 14 000 $ pour la Fondation Rêves d'enfants; c'est un projet annuel pour lui. Considérant qu'il a commencé à recueillir des fonds il ya cinq ans, le fait qu'il est convoqué plus de 80 000 $, est impressionnant.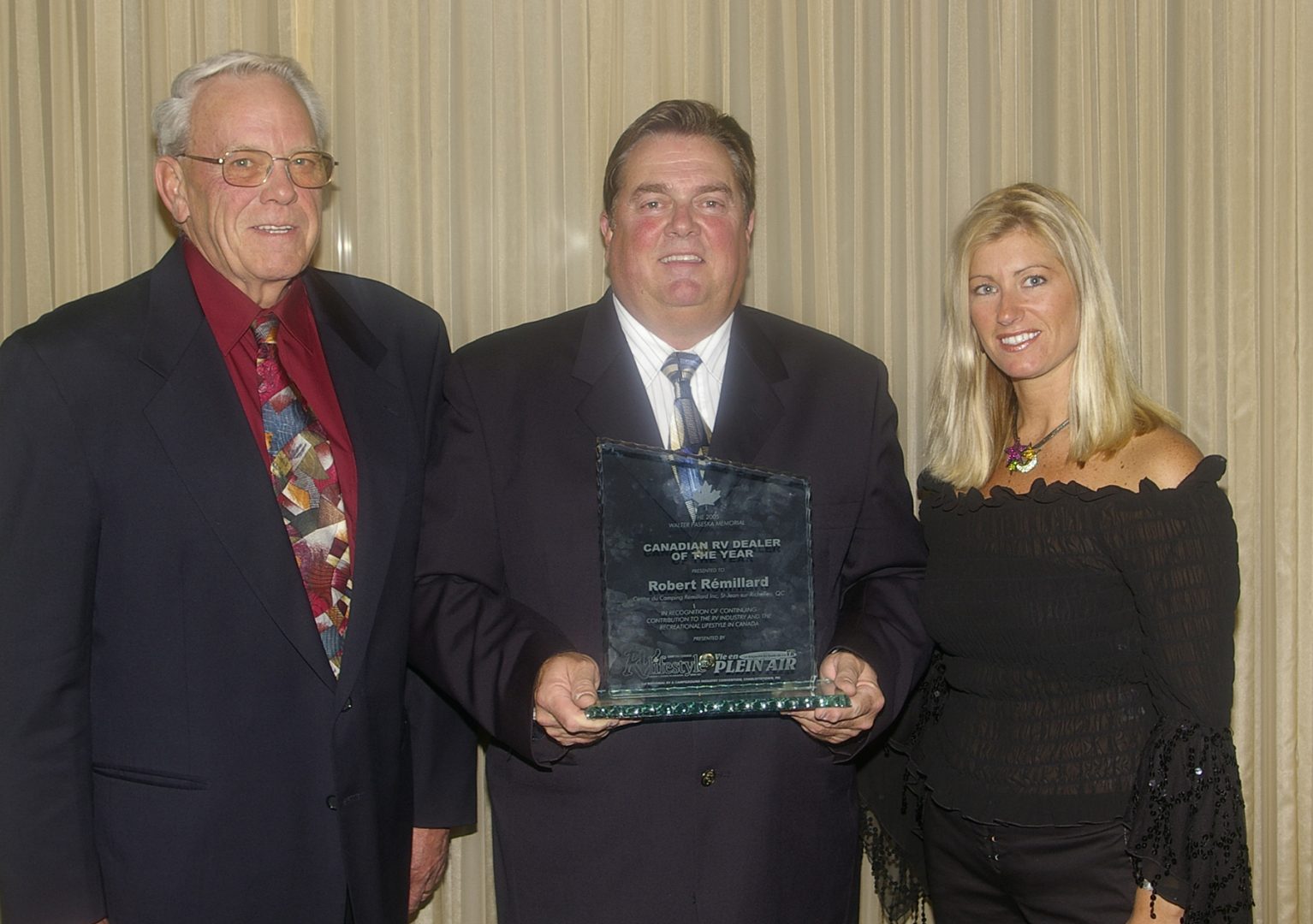 An RV Industry Celebrity
Along with helping the first president of the RVDA of Quebec (the ACVRQ), Pierre Jutras, and Eleanor Powers (RVDA of Canada), Robert was instrumental in the start of the ACVRQ. Within the first two years, he recruited 60 members. "The driving force," he says, "is to get the dealers to work together to solve many problems. You're definitely more powerful as a group."
Then, appointed to represent the ACVRQ on the board of the RVDA of Canada, he brought numerous issues to the table, contributing to various projects including the establishment of the Montreal RV Show. "It went on to become a great success because of the RVDA of Canada and RVDA of Quebec," he offers.
Une célébrité de l'industrie VR
En plus d'aider le premier président de la RVDA du Québec (l'ACVRQ), Pierre Jutras, et Eleanor Powers (RVDA du Canada), Robert a joué un rôle déterminant dans le début de l'ACVRQ. Au cours des deux premières années, il a recruté 60 membres. « La force motrice, dit-il, est d'amener les concessionnaires à travailler ensemble pour résoudre de nombreux problèmes. Vous êtes certainement plus puissant en tant que groupe.
Puis, nommé pour représenter l'ACVRQ au conseil d'administration de la RVDA du Canada, il a présenté de nombreuses questions à la table, contribuant à divers projets, dont la création du Salon RV de Montréal. « C'est devenu un grand succès grâce à la RVDA du Canada et à la RVDA du Québec », offre-t-il.
Onward and Upward
You can witness another of Robert's skills at the Louisville show – his talent for auctioneering at Canada Night. "I get a lot of satisfaction from raising money with the dealers, and I consider them to be the most generous people on earth. Why? Because all RV dealers work hard and play hard, and definitely answer with their hearts in the right place for these types of fundraising events."
What's in store for Robert Remillard, now that he's got Dealer of the Year under his belt? "I'm 54, and I'm gonna give more," says the man who admits he was "practically born in the bathtub of an RV."
En avant et vers le haut
Vous pouvez être témoin d'une autre des compétences de Robert au spectacle de Louisville – son talent pour la vente aux enchères à la Nuit du Canada. « Je reçois beaucoup de satisfaction en recueillant de l'argent avec les concessionnaires, et je les considère comme les personnes les plus généreuses au monde. Pourquoi? Parce que tous les concessionnaires de VR travaillent dur et jouent dur, et certainement répondre avec leur cœur au bon endroit pour ce genre d'événements de collecte de fonds.
Qu'est-ce qui attend Robert Rémillard, maintenant qu'il a le dealer de l'année à son actif? « J'ai 54 ans, et je vais en donner plus », dit celui qui avoue être « pratiquement né dans la baignoire d'un VR ».