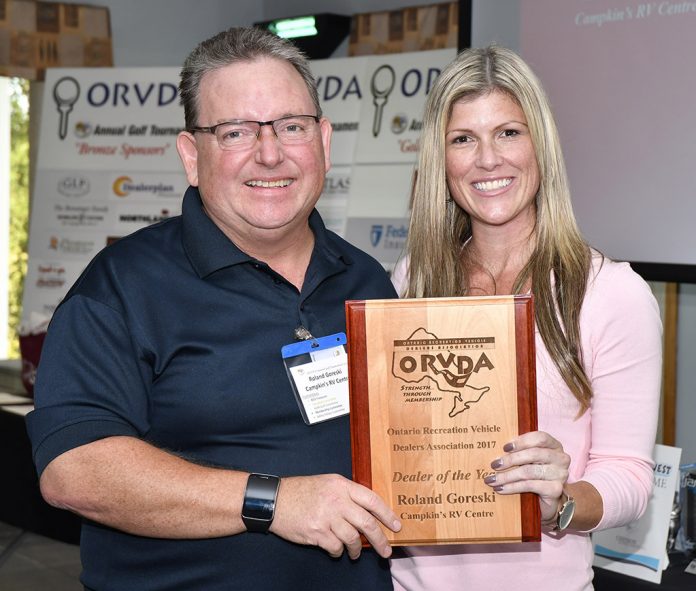 OVRDA Dealer of the Year:  Roland Goreski.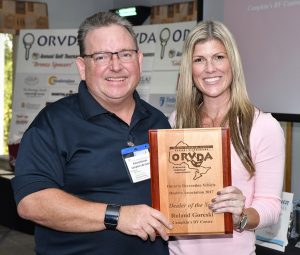 The Ontario RV Dealers Association (ORVDA) announced the winner of their ORVDA Dealer of the Year at the Annual Golf Tournament, held August 9, 2017 at the beautiful Pike Lake Golf and Country Club in Mount Forest, Ontario.
Natalie Conway, Executive Director of ORVDA, presented the award to Roland Goreski, of Campkin's RV Centre, North Whitby, Ontario.
The official announcement describes Roland's contribution to the RV industry and the community:
"It is with great pleasure that ORVDA recognizes this individual with the Dealer of the Year Award. His experience in the RV industry goes back to the 1970s, when he started working at his parent's dealership.
His father also served as a director on the ORVDA board, actively supporting RV programs and RV shows.
His dedication to getting the job done comes from his dad, who told him many years ago: "amateurs make excuses, and professionals get it done."
It is this attitude that made him the perfect candidate for the position of General Manager of Campkin's RV Centre. He currently serves on the ORVDA board and on several committees, including the Golf and AGM Committee and the Education Committee, and on the RVDA of Canada National Education Committee.
He has always supported local charities and community events such as the Make-A-Wish Foundation, and many more. He is a devoted family man and enjoys spending time with his wife Kelly and their three daughters and four grand-daughters.
Ladies and gentlemen, please join me in congratulating Roland Goreski, the 2017 ORVDA Dealer of the Year."
ORVDA Associate of the Year Award:  Jamie Russell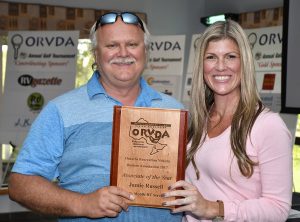 The 2017 ORVDA Associate of the Year Award was presented to Jamie Russell, a man who has devoted more than 30 years to the RV industry in Ontario. Here is the transcript of the official announcement:
"Following his graduation from the small business program at St. Lawrence College in Kingston, Ontario in 1987, he started his own mobile RV service business in the Kingston area. Adding to his experience in the RV industry, he began working with the Ministry of Skills and Development rewriting the exam for the RV Technician Program as well as developing course material and teaching the RV Apprenticeship Program at Georgian College in Midland, Ontario.
His family has owned Rideau Acres in Kingston, Ontario, since 1971, and he has played an integral role in the operation of the family business. He is a sought-after seminar host at the ORVDA consumer shows, and a devoted family man. He enjoys winter golfing in Florida with his wife Kathy, with whom he shares three children and five grandchildren.
The ORVDA Associate of the Year is a kind and hardworking soul – Jamie Russell, from JR's Mobile RV Service, Kingston, Ontario – a.k.a. the RV Fixer."