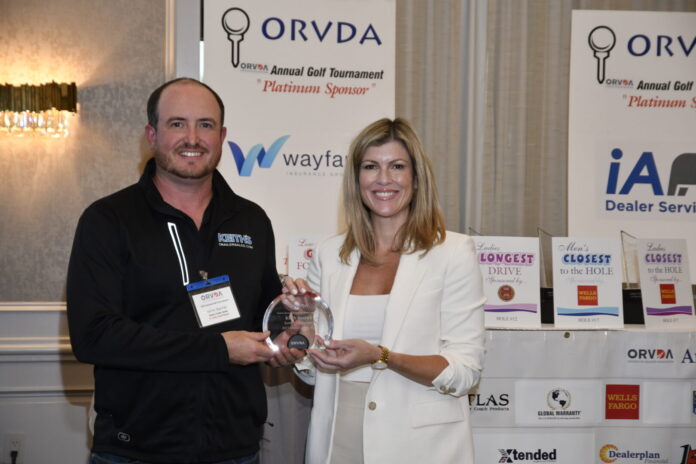 RV dealers from across Ontario gathered at the annual ORVDA AGM and Golf Tournament at Nottawasaga Resort on August 23, 2023.
One of the highlights of the day was the presentation of the ORVDA Dealer of the Year Award – this year's winner was Keith Barrick, of Keith's Trailer Sales, Orton, Ontario.
We asked ORVDA's Natalie Conway to provide the official ORVDA presentation text…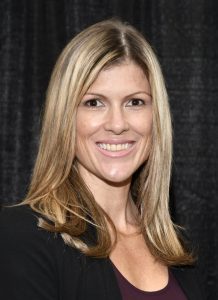 "On behalf of the ORVDA, I would like to congratulate all of the 2023 nominees. This prestigious recognition reflects a remarkable level of excellence in leadership, and you should all be very proud of the positive impact your commitments are making within Ontario communities.
This individual's journey in the RV industry spans over two decades, marked by his passion and dedication. His initial foray into the world of RVs began in the Parts Department of the Hitch House, where he was given an after-school opportunity by Mr. Dave McKee.  From these beginnings, his trajectory led him to establish his dealership located in Orillia, Ontario.
What began as a modest endeavour, has evolved into a testament to his entrepreneurial spirit and unwavering commitment to the RV lifestyle. In July 2014, Keith's Trailer Sales Inc. emerged under his visionary leadership. As the Acting Dealer Principal, his innovative marketing strategies, community engagement initiatives, and strong partnerships with stakeholders have elevated the dealership to new pinnacles of success.
His involvement in industry events and continuous learning have not only enriched his own knowledge but have also contributed to the broader appreciation of RV travel. By prioritizing customer satisfaction and offering a diverse range of high-quality RV products, he has undeniably left a mark on the industry.
Operating with the highest level of integrity and credibility, his business practices and genuine approach to sales and service have earned respect from both customers and peers alike. His ethical standards have not only elevated the dealership's standing within the RV market but have also extended into his personal life, where he actively engages in charitable initiatives and community involvement. His role as a board member in the Erin Chamber of Commerce further exemplifies his commitment to supporting local businesses.
Keith's Trailer Sales boasts a workforce of fifteen dedicated employees, and a fully operational 6,000 sq ft service shop, and their customer base spans across Canada.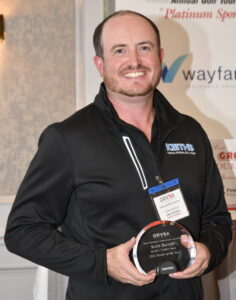 Beyond the numbers and achievements, Keith's Trailer Sales is a family-run business rooted in providing exceptional and personalized customer service. His unwavering belief in finding solutions and continuous improvement is reflected in the service shop's ethos and, as they look to the future, he envisions further opportunities for expansion, a testament to his relentless spirit, commitment to the industry and the strength of his team.
I am honoured to present the 2023 RV Dealer of the year award to… Keith Barrick, Keith's Trailer Sales."
In his acceptance speech, Keith had the following remarks:
"I am not the best at public speaking, so I made some notes…
This is such an honour. I want to say thank you to the ORVDA for putting on such a great event, and for the honour of winning this prestigious award. Your efforts and what you do for the RV dealers of Ontario are truly appreciated.
This award means so much. Spending my entire adult life in this industry has been an amazing ride so far. Starting with the parts job at The Hitch House 19 years ago, to owning my own ever-expanding dealership, has been a journey, to say the least.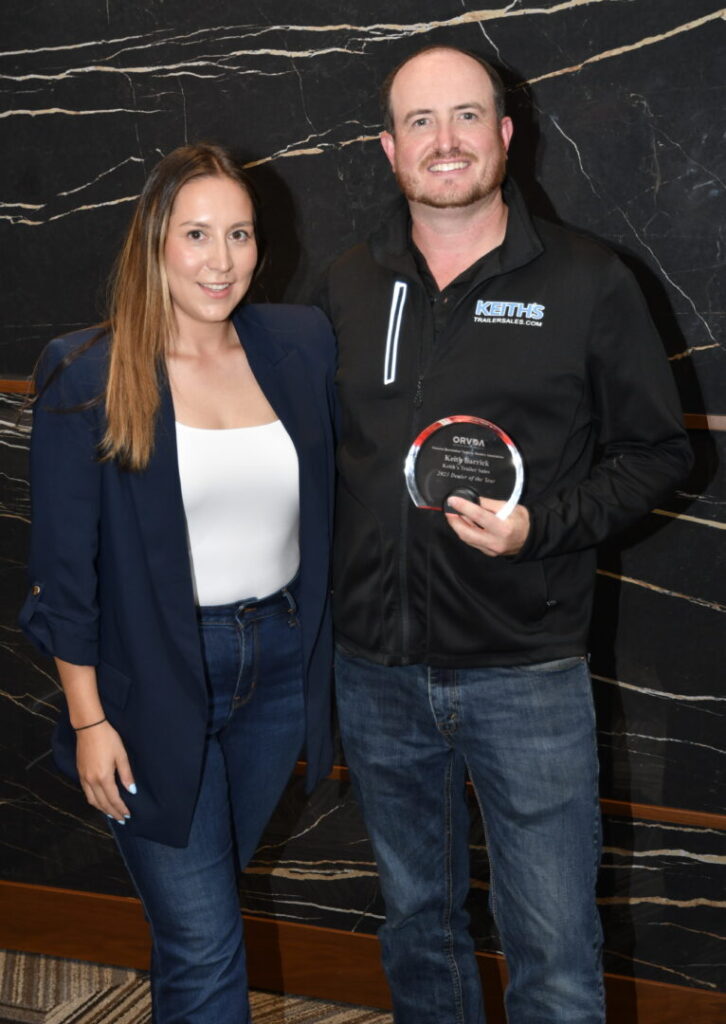 Having great friends and mentors in this industry, to work with and guide me along the way, has made the road here much easier. There are a lot of you in this room tonight, and some who are not in attendance, who have been there for me all these years. I owe a lot of thanks to your guidance and support.
My wife Ally has been my biggest supporter – I owe everything to her, and her relentless support in everything that I do, she is part of the foundation of the dealership, and none of this would be possible without her – thank you Ally – I love you…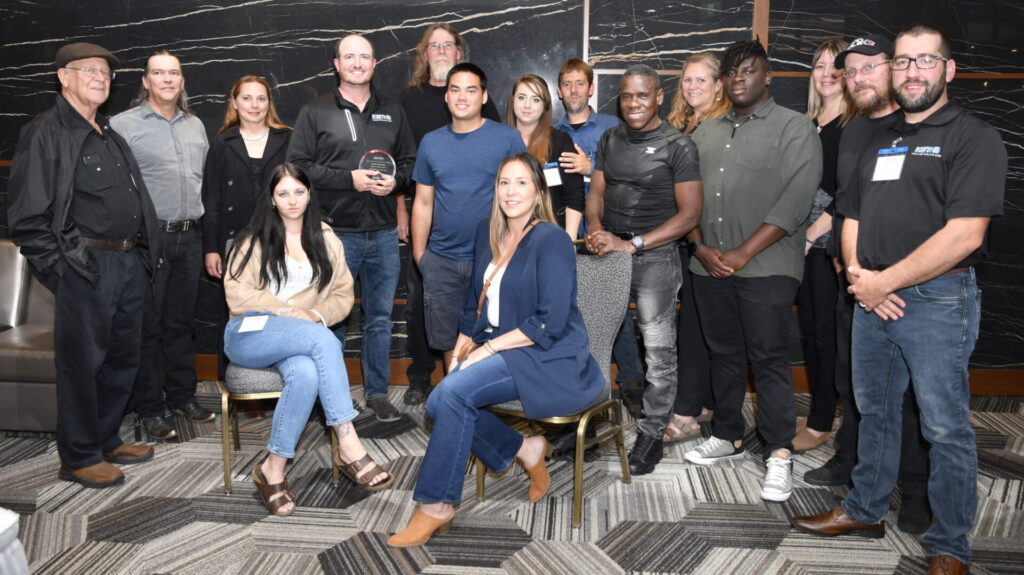 This Award, for Dealership of the Year, is only possible because of the amazing team that works beside me every day. I don't take this award as a victory of my own… I share this honour with each and every staff member who works with us – they all happen to be here – so let's give them a round of applause… These people truly are the lifeblood of the dealership, and you are the reason why we have seen so much success in the past few years – thank you to each and every one of you.
This has been a great event so far – I am truly honoured for this award – thank you everyone!