Stock up your shelves with these great RV accessories.
Battle Born Batteries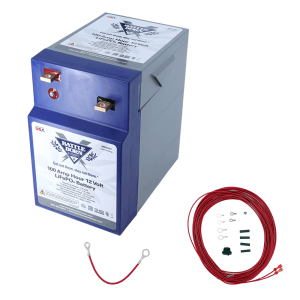 The 12V GC2 LiFe PO4 Heated Battery Kit is a top of the line lithium battery that provides you with power anywhere you need. The kit comes with a 100Ah GC2 Heated Battle Born Battery, 1 Heat Battery Kit, and 1 Heat Battery Jumper Wire. The battery stays warm by using the least amount of currents needed to be ready to use in any weather or situation. It is water resistant and made with cylindrical cells. For more information visit https://battlebornbatteries.com/.
Bauer Products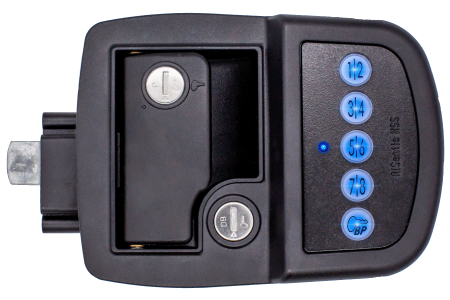 The new Bauer NE Bluetooth is a battery-operated door handle that is designed to be locked and unlocked without a physical key. This device is Bluetooth powered, and is meant to be operated from your phone. The device connects to your phone via Bluetooth through an app. The app shows how much battery life is left on the handle and keeps track of usage. The device is secured with bank level security, making it difficult to break into. For more information visit https://bauerproducts.com/.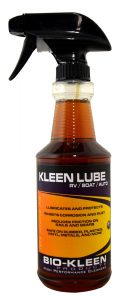 Bio-Kleen Products
Bio-Kleen's new Kleen Lube spray helps release friction from problems such as squeaky hinges, conveyor belts, stabilizer jacks, key locks and anything else that needs to be loosened. It also protects the sprayed surfaces and dries quickly without attracting dust and dirt. Safe to use on a variety of materials, including but not limited to vinyl, plastic, rubber, and metal. For more information, visit https://www.biokleen.com/.
Blue Ox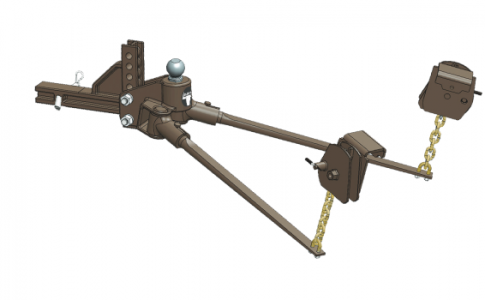 The SwayPro Weight Distributing Hitch is a trailer hitch designed to prevent swaying on the road. The weight is evenly distributed between the axles of the trailer and the towing vehicle. The total towing weight is 20,000lbs, with tongue weight options of 350, 550, 750, 1000, 1500, 2000 pounds. The hitch is not noisy and won't disconnect while backing up. It will always keep your trailer centered, even in bad weather. For more information visit https://www.blueox.com/.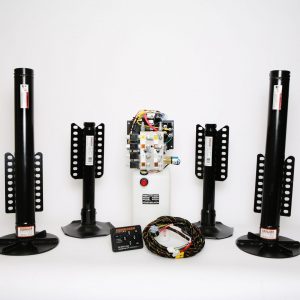 Equalizer
The 4 Pt 5th Wheel EQ Smart-Level System is a leveling system designed for fifth wheel trailers. This system makes is easy to hook and unhook your trailer with the front two jacks operating either together or separately. The system levels your trailer automatically, so you don't have to go through the hassle of doing it manually, and it only takes a few minutes. This system can be operated from your smartphone via Bluetooth for an easy and user-friendly experience. For more information visit https://eqsystems.us/.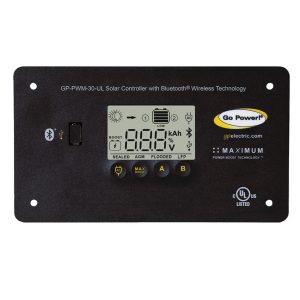 Go Power!
The GP-PWM-30-UL is a Bluetooth powered digital solar controller is designed to protect your battery life from overcharging. This is done by blocking currents flowing into the battery once it is fully charged. The controller has a solar current input of 30 amps and can connect 600 watts of solar power. There is an LCD screen on the controller to display solar array charge current, system battery voltage and battery capacity. For more information visit https://gpelectric.com/.
Hughes Autoformers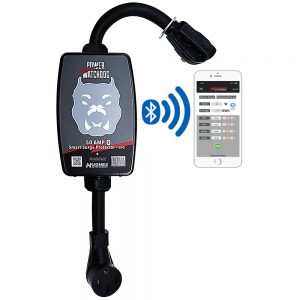 The Portable Power Watchdog Smart Surge Protector with automatic shut off is a bluetooth powered surge protector, designed to protect the power in your vehicle. The device will notify you via text of any threat or danger to warn you. It will also automatically shut down power if voltage drops below 104 volts or rises above 132 volts. It will automatically restore power once it recognizes stable conditions for 90 seconds. For more information visit https://hughesautoformers.com/.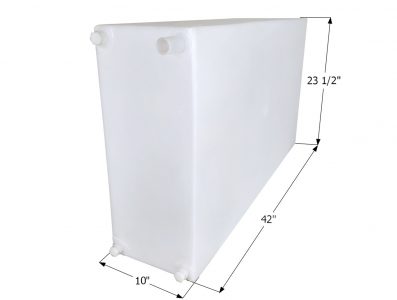 Icon Technologies Limited
The Fresh Water Tank WT3618 is a water tank designed to expand your water capacity. It holds 40 gallons of fresh water and can be used in your RV, trailer, or camper. It is roto-molded and certified to IAPMO standards. It can either come as one piece/tank only or with three corner hookup fittings and one fill fitting for easy rotation. For more information visit https://www.icondirect.com/.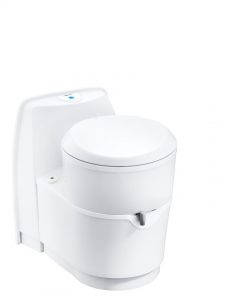 Thetford
The C223 CS Cassette Toilet is a convenient toilet for your RV. Compared to other models, the C223 has a compact design that is perfect for small spaces or just for saving extra space for other necessities. The bowl rotates 180º for convenience and locks into place by just pressing down on the seat. The toilet has a two-in-one feature with the ability to be a portable toilet, or a built-in toilet. The tank has a waste capacity of 4.75 gallons or 18 litres. There is also a level indicator on the tank that will let you know when the tank is getting full. For more information visit https://www.thetford.com/.
BMPRO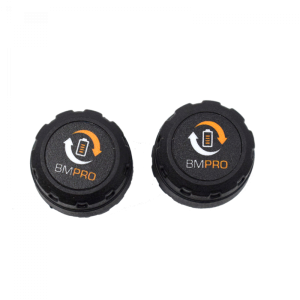 SmartPressure is a level monitor that keeps track of your tire pressure levels as well as the internal temperature. It can be used via Bluetooth with an app and only takes a couple of minutes to install. This device must be used with either the ControlNode103 or the OdysseyLink103. The package includes two tire pressure sensors and one toolkit. For more information visit https://teambmpro.com/.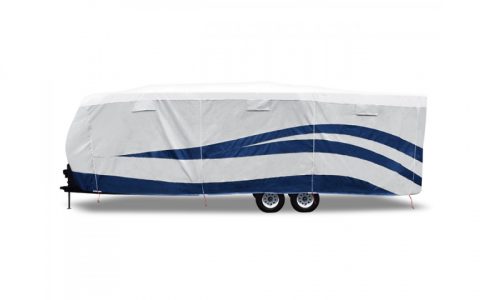 ADCO
The UV Hydro RV Cover is a specially designed cover for your travel trailer. It comes in many different sizes to fit all trailer sizes. It is designed to protect your trailer from any weather, no matter how harsh. It is sheltered from UV rays to prevent cracking and fading on your RV from the sun. The cover is also built to be easily accessed while still on the RV, with zippers on both sides of the trailer. For more information visit https://www.adcoprod.com/.

KING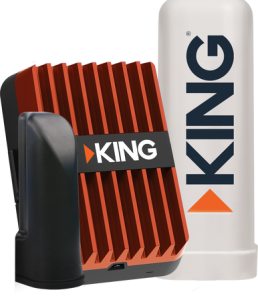 The KING Extend Pro is a device that is used to boost the LTE and Cell Signal in your RVs and Trailers. It supports most North American Cellular Carriers and improves data and cell range. This product has a one-time purchase price, meaning there is no monthly fee or hidden contract payments. There are mounting brackets included in the package, creating the option for it to be used while your vehicle is both parked and in motion. For more information visit https://kingconnect.com/.
MORryde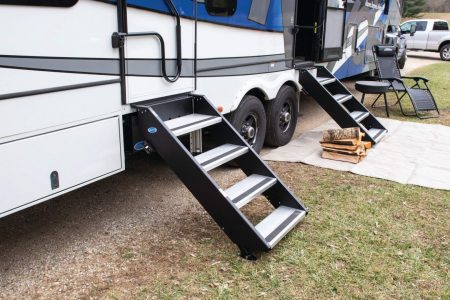 The StepAbove system is a helpful set of steps to enter your RV easier. The system is stable for worry-free use without bouncing or wobbling. The StepAbove has adjustable legs so it can stand on any type of land, no matter how rough. The steps are built wide for comfort and can hold a weight of 500 pounds. The product comes in different sizes to cater to all sizes of RVs. For more information visit https://www.morryde.com/.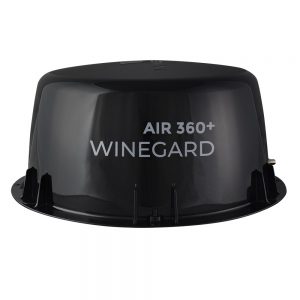 Winegard
The Air 360+ is a HDTV Antenna that receives VHF, UHF, and FM signals. It's super easy to install and has an advanced low-noise amplifier to reduce volume dropout and pixilation. The 360º reception creates no need for struggle with pointing and turning for trying to get a better connection. The package comes with the Air 360+ Domed Antenna, a 20′ Coax Cable, 12 V Power Supply, 12 V Rocker Switch, a Cable Access Cap, and Installation Hardware. For more information visit https://winegard.com/.