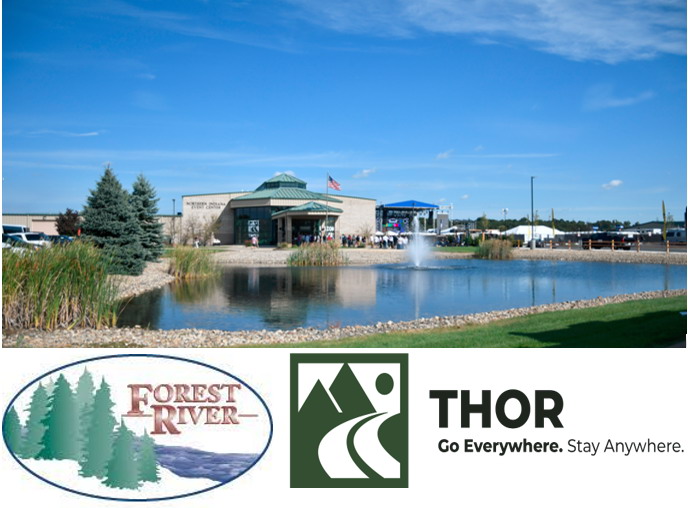 Forest River and THOR Industries Cancel their Participation in 2021 Dealer Open House due to COVID-19 Concerns
ELKHART, Indiana (September 8, 2021) — Forest River, Inc. and THOR Industries have jointly announced the cancellation of Dealer Open House activities for 2021.  The annual event, scheduled for the week of September 26th, attracts thousands of visitors to Elkhart, Indiana from across North America.
The Companies' top priority is the health and safety of valued industry partners, team members and the larger Elkhart community.  With local and national COVID cases rapidly increasing, safety mandates would be required to help mitigate risks, distracting from the positive experience industry partners expect.
The cancellation of Open House is the right thing to do in order to protect the health of all stakeholders, while also helping alleviate disruption to production at a time when delivering new RVs is critical to the industry's continued success. Forest River and THOR continue to be focused on delivering quality products to their respective dealer partners.
"After reviewing all of the factors, we determined it was in everyone's' best interest and the safest, most responsible course of action to cancel the Expo this year," stated Pete Liegl, CEO of Forest River, Inc. "The community and dealers always welcome this event, but with COVID rates increasing across the country, we do not want to put our dealers, employees or the community at any additional risk."
"With a heavy heart, we're canceling this year's dealer event," shared Bob Martin, THOR President and CEO. "Our companies remain steadfast on delivering exceptional RVs to our dealer partners. While we are eager to share the exciting innovation we've been developing across our brands, we are committed to protecting the health and safety of our trusted partners, team members, and community."
About Forest River, Inc.
Forest River, Inc., is one of America's leading manufacturers of recreational vehicles, pontoon boats, cargo trailers and buses.
About THOR Industries
THOR Industries is the sole owner of operating companies which, combined, represent one of the world's largest manufacturer of RVs. Founded in 1980 by Wade Thompson and Peter Orthwein, Elkhart, IN-based THOR has grown both organically and through strategic acquisitions. For more information on the Company and its products, please visit: https://www.thorindustries.com/.