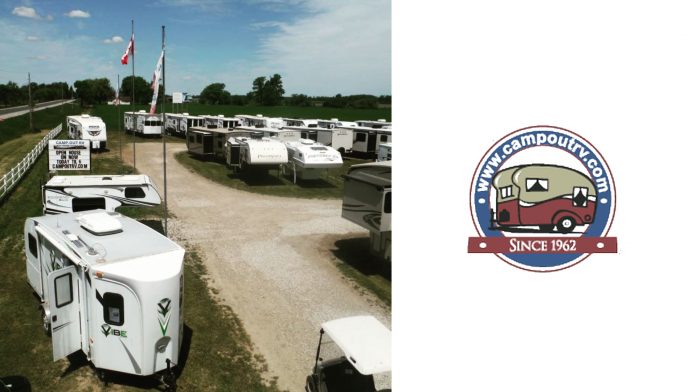 Images Courtesy of Camp-Out Facebook and Instagram
Charles Cyril Parks, former co-owner of Camp-Out Rental and Sales, passed away March 5, 2018 at the age of 91.
Cy is survived by his children Ruth (Gary) Whaley, Judith (Carl) Szolcsanyi and Sam (Debbi) Parks, his grandchildren seven grandchildren: Marianne (TJ), Steven (Christine), Kelly (Ryan), Wayne, Lauren (Riley), Karli (Aaron), Brianna and four great-granddaughters: Natalie, Jillian, Rachel and Ella and his wife Helen.
Parks was an Ontario Hydro employee for 35 years prior to running Camp-Out Rental and Sales.  Camp-Out Rental and Sales opened in 1962 and has been owned by the Parks family ever since.  They are the longest established RV Dealership in the Area.
Upon his retirement, Parks passed Camp-Out Rental, an Ontario based dealership to his son Sam, and his wife Debbi.  Sam Parks is a former chairman of the RVDA of Canada and recipient of the prestigious 2015 Canadian RV Dealer of the year award.
In his retirement, Cy enjoyed summers fishing on the Bruce Peninsula and winters in Homestead and Plant City, Fla.
Cy and his wife also loved traveling, the pair went on many cruises and camped their way across Canada and through every state in the U.S.
A private family graveside service will be held at a later date. In lieu of flowers, those wishing to make a donation in memory of Parks are asked to consider the Heart and Stroke Foundation of Ontario.