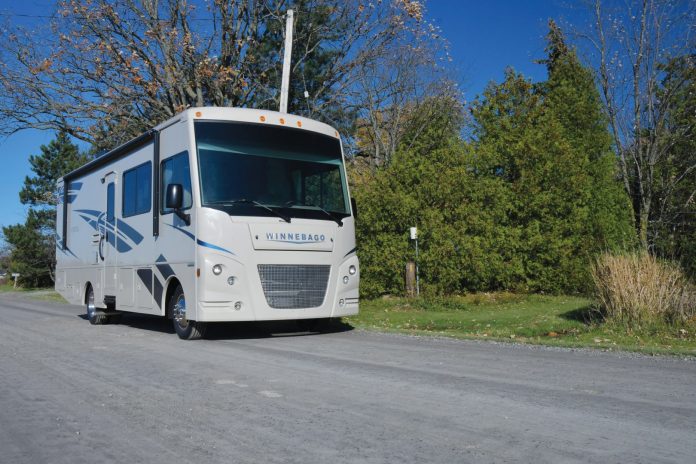 Winnebago Industries have reported a 17.9% increase in revenue for its fiscal quarter ending August 25.  The company also has reported net income is up 19.5%.
Revenues during the period rose to $536.2 million from $454.9 million in the period while Net income rose to $29.8 million, or 94 cents per diluted share; from $24.9 million, or 79 cents per share in the same period last year.
"Fiscal 2018 was a tremendous step forward for Winnebago Industries in all aspects — strategically, financially, and culturally," stated President and Chief Executive Officer Michael Happe. "Strategically we made strong strides in the journey to transform ourselves into a premier outdoor lifestyle company, especially with our fourth-quarter entry into the attractive marine market with the acquisition of Chris-Craft. We have also elevated our level of competitiveness within the North American RV market as a stronger full-line OEM, raising consolidated market share primarily on the strength of our sustained towables segment growth. Both our Winnebago and Grand Design-branded towables business have material momentum, with new products and superlative quality driving increased business with dealers and end customers. Our motorhome business continues to make sequential progress in improving its product line vitality and profitability."
Other fourth-quarter highlights include Gross Profit increasing 13.8% to $83.8 million from $73.6 million for the fiscal 2017 period.  Operating income was $45.7 million for the quarter, up 5.1% from 2017's fourth quarter.
"Financially, we are thrilled to exceed the $2 billion revenue mark for the first time in our company's storied 60-year history, and we are delivering record bottom-line results in the face of inflationary headwinds on material and labor costs. Our balance sheet is solid and appropriately positioned to allow us to pursue further smart, profitable growth in the years ahead," said Happe in a release.
"Culturally, our employees are extremely focused on enabling extraordinary experiences in the outdoors for our customers, around a business model platform focused on quality, service, and innovation. Our leadership is committed to driving an even higher level of employee engagement and we are directing more resources to giving back to the communities our team lives and works in. Our success in fiscal 2018 is a result of the incredible hard work of our 4,700-plus employees and their dedication to ensuring our customers receive the very best products and service possible."
Revenues in the motorhome segment rose 2.5% to $288.7 million in the final quarter of the 2018 fiscal year.  2018 total revenues for the motorhome segment increased by 0.9% to $860.7 million.
Towable revenue in the fourth quarter rose 26.2% from 2017's Q4 to $288.7 million The company credits this increase to the growth of the Grand Design and Winnebago brand's organic growth. Revenues in the towable segment rose 64.6% in 2018 to $1,127.7 million.
"Winnebago Industries enters Fiscal 2019 as a larger, increasingly diversified, and more profitable organization. Our expectation going forward is to exceed the growth projections of the industries we compete in. We remain comfortable with our own dealer inventories across the whole of our businesses," said Happe
"We continue to make further strategic investments in talent acquisition, new product development, and manufacturing capacity and efficiency across the company. Our RV businesses introduced many new models, to favorable reviews, at the recent Open House event in September and indications from the early fall RV retail shows confirm the momentum of our dual-brand, full-line RV portfolio.