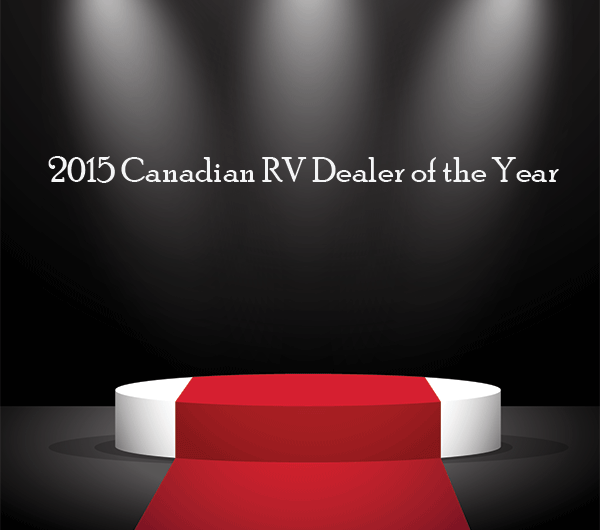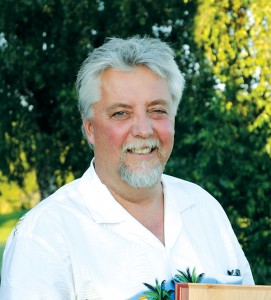 Sam Parks of Camp-Out RV Centre in Stratford, Ontario was presented with the prestigious 2015 Canadian RV Dealer of the Year Award this past week at the RVDA of Canada's Canada Night Dinner held in Louisville, Kentucky. Mr. Parks was clearly very moved as his name was called and he graciously accepted his award while surrounded by friends and colleagues at the event held by the RVDA of Canada.
"I am truly honoured to receive this award. It would not be possible without the support from our tremendous staff at the dealership. They make it possible for me to spend time away from the dealership at association and community functions and of course thank you to my wife and daughters for their support."
Thank you all again, and thank you to my lovely wife Debbi, who had a lot to do with this" said Parks, as RV Lifestyle Magazine, presented him with the Walter Paseska Memorial Canadian RV Dealer of the Year Award.
Each year, the RVDA of Canada, in conjunction with RV Lifestyle Magazine and Dealer News, invites nominations from across Canada for the Canadian RV Dealer of the Year Award. The award is dedicated to the memory of the late Walt Paseska, founder of Walt's Trailer Sales in Headingley, Manitoba, in recognition of his many years of commitment and dedication to the RV industry. Since established in 1989 by Camping Canada Magazine, this award has been presented to individuals who share Walt's enthusiasm and commitment, in recognition of their long-term contribution to the RV lifestyle, and commitment to the community as a whole.
The award is presented to a candidate who has:
Demonstrated long-term dedication to the RV industry and promotion of the RV lifestyle by the acting dealer principal of a recognized full service RV dealership
Shown commitment and participation in the RVDA at the provincial or national level;
Been recognized by customers and peers as a person with the highest integrity and credibility in both work and personal life, and
Made a contribution to their community.
Mr. Parks has been owner of Camp-Out RV for over 20 years along with his wife Debbi. Under his leadership Camp-Out RV has grown from a small family business started by his parents over 50 years ago to an enterprise with over 20 employees.
Sam's dedication to the RV industry is evident in his commitment to the various organizations he belongs to. He has been a member of the Ontario RVDA for many years. His volunteer work has led him to serve on the membership committee, the education committee, Board of Directors as well as President of the Ontario RVDA. To further Sam's involvement and commitment, he joined the RVDA of Canada Board in January 2011. He become treasurer in 2013 then vice chair in 2014 and now serves as the association's Chairman of the Board. Sam also joined the Board of Directors for Go RVing Canada in 2013.
Sam is a strong supporter of his local community Stratford Ontario through various charities such as the Sunshine Foundation, Meals on Wheels, and local soup Kitchen. Camp-Out RV has also supplied trailers for the Make a Wish Foundation, Relay for Life as well as local sports teams.
Sam appreciates the importance of family values and life balance and how well this is reflected in the RV lifestyle. A camper all his life, he along with his wife Debbi and there 3 daughters continue to create their own camping memories when time permits.Mr. Dufresne has been in the RV industry for over 20 years. During his lustrous career, he has always demonstrated exceptional discipline and an unparalleled attention for work well done. He has always been able to evolve at the industry's pace and make adjustments year after year. This has enabled him to adapt his products in order to position his company amongst the best. His go-getter personality and expertise make him a respected figure within the RV industry.
Along with our winner, the nominees for this year's Award were:
• Ken Friedenberg, ArrKann Trailer & RV, Edmonton, Alberta
• Dale Howes, Traveland Leisure Vehicles, Langley, British Columbia
• Kelly Lardner, Lardner's Trailer Sales, Saskatoon, Saskatchewan
• Kyle Redmond, Bucars RV Centre, Balzac, Alberta
Congratulations to Sam and to all nominees, who have made outstanding contributions to the RV industry!
Canada Night Dinner Sponsors