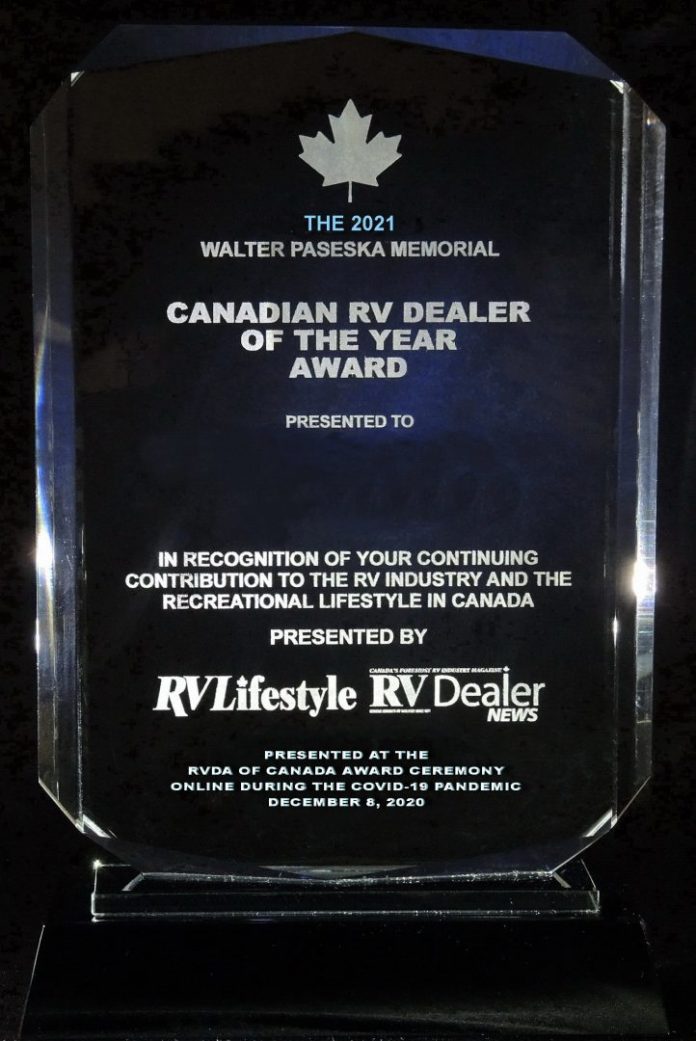 L'ACVR du Canada, en collaboration avec le magazine RV Lifestyle de Camping Canada et RV Lifestyle Dealer News, invite les candidats de partout au Canada à soumettre des candidatures pour le
Prix Walter Paseska du concessionnaire VR canadien de l'année 2021.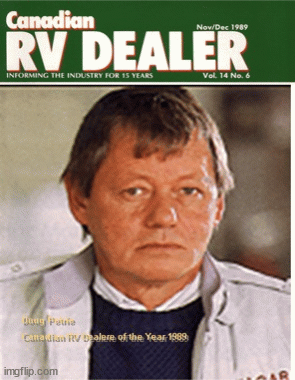 Créé en 1989 par camping Canada Magazine (RV Lifestyle Magazine), et dédié à Walter Paseska pour ses nombreuses années d'engagement et de dévouement infatigable envers l'industrie du VR, ce prix est décerné à un concessionnaire canadien par excellence en VR sur la base des critères suivants :
Dévouement à long terme envers l'industrie du VR et promotion du mode de vie du VR par le directeur par action d'un concessionnaire de VR à service complet reconnu;
L'engagement et la participation à la RVDA à l'échelle provinciale ou nationale;
Reconnaissance par les clients et les pairs en tant que personne ayant la plus grande intégrité, et crédibilité tant au travail qu'à la vie personnelle; et
Contribution à la communauté.
Si vous connaissez quelqu'un qui, selon vous, mérite d'être reconnu avec ce prix, veuillez soumettre votre ou vos candidatures au bureau national de l'ACVR du Canada. Veuillez remplir le formulaire de demande du concessionnaire lié.
https://www.dropbox.com/s/42a01qe7utvu7zk/EN-2021%20Dealer%20of%20the%20Year.pdf?dl=0
Established in 1989 by Camping Canada Magazine (RV Lifestyle Magazine), and dedicated to Walter Paseska for his many years of commitment and tireless dedication to the RV industry, this award is given to a Canadian RV acting dealer principal on the basis of the following criteria:
Long-term dedication to the RV industry and promotion of the RV lifestyle by the acting dealer principal of a recognized full-service RV dealership;
Commitment and participation in the RVDA at the provincial or national level;
Recognition by customers and peers as a person with the highest integrity
and credibility in both work and personal life; and
Contribution to the community.
If you know someone whom you feel deserves to be recognized with this award, please submit your nomination(s) to the RVDA of Canada national office. Please fill-out the linked Dealer Application Form:
https://www.dropbox.com/s/42a01qe7utvu7zk/EN-2021%20Dealer%20of%20the%20Year.pdf?dl=0
Choisir un gagnant:
Un maximum de trois candidats par province/région sera considéré pour le prix. Le comité de sélection des prix, composé des cinq derniers lauréats du Prix du concessionnaire de l'année et d'un représentant du commanditaire du prix, RV Lifestyle Magazine, choisit le ou les gagnants parmi la liste des candidats au scrutin secret.
Choosing a winner:
A maximum of three candidates per province/region will be considered for the award. The Award Selection Committee, composed of the past five Dealer of the Year Award recipients and one representative from the award's sponsor, RV Lifestyle Magazine, chooses the winner(s) from the list of nominees by secret ballot.
Reconnaissance du gagnant:
RV Lifestyle Magazine présentera cette année le Prix du concessionnaire canadien de véhicules récréatifs de l'année au Congrès international/Expo des concessionnaires de VR 2021, assemblée annuelle de la RVDA du Canada, en novembre 2021.
Idéalement, les gagnants seraient sur place pour recevoir leur prix – compte fait face à la situation actuelle de pandémie, cela peut changer à mesure que les conditions de voyage évoluent.
Le ou les gagnants seront reconnus de plusieurs façons : un prix en verre gravé pour le ou les récipiendaires; une histoire de profil sur le concessionnaire dans le magazine RV Lifestyle Dealer News; présentation d'une photographie professionnelle du destinataire au concessionnaire; une annonce payée dans leur ou leurs documents locaux; et la création de communiqués de presse et d'un dossier de presse que le concessionnaire peut envoyer à ses médias locaux, aux médias nationaux et régionaux, ainsi qu'aux fabricants, ainsi que les instructions d'utilisation par le concessionnaire.
Lignes directrices sur la documentation à l'appui:
Lettre de recommandation : Au moins une lettre décrivant la promotion et la contribution du candidat à l'industrie du VR. Veuillez inclure toute participation aux ACVR  provinciales/régionales et/ou nationales; travailler sur les questions relatives à l'industrie du VR et sur toute réalisation exceptionnelle;
Support Documentation Guidelines:
Letter(s) of recommendation: Minimum of one letter outlining the nominee's promotion of and contributions to the RV industry. Kindly include any participation in provincial/regional and / or national RVDAs; work on RV industry issues and any outstanding achievements;
Renseignements sur le concessionnaire ou l'entreprise:
Histoire de l'entreprise
Comment le concessionnaire / entreprise a commencé
Comment ils ont changé et grandi
Nombre d'employés
Philosophie du concessionnaire / entreprise, énoncé de mission
Faits saillants de l'entreprise:
Saveur spéciale, caractère, mise en page; événements mémorables, les clients
Ce que le concessionnaire aime dans l'entreprise
Particularités du concessionnaire, départements, formation
Prix reçus
Jalons importants
Les plans futurs; ce que le concessionnaire envisage peut-être pour l'industrie
Dealer / Company information:
History
How the dealer / company got started
How they've changed and grown
Number of employees
Dealer / company philosophy, mission statement
Highlights of the business:
Special flavour, character, layout; memorable events, customers
What the dealer likes about the business
Special features of the dealership, departments, training
Awards received
Milestones
Future plans; what the dealer perhaps envision for the industry
RVDA et d'autres travaux de l'industrie du VR – à l'échelle provinciale, nationale,
Faits saillants
Nombre d'années en tant que membre de la ACVR provinciale et/ou nationale – postes, durée, des projets spéciaux ont travaillé sur autres initiatives de l'industrie: gouvernement; à l'échelle locale; Go RVing Canada; tout ce qui s'applique
RVDA and other RV industry work – provincially, nationally, other
Highlights
Number of years as a member of the provincial and / or national RVDA – positions, duration, special projects worked on
Other industry endeavours: government; local; Go RVing Canada; whatever applies
Participation, reconnaissance et contributions communautaires:
Notez l'exigence d'une lettre d'appui (partie 2d du formulaire de mise en candidature).
Community involvement, recognition and contributions:
Note the requirement for a letter of support (Part 2d of the nomination form).
Autres / Renseignements personnels
Membres de la famille
Implication de la famille dans les affaires
Activités préférées, passe-temps / autres intérêts
Other / Personal Information
Family members
Family involvement in business
Favourite activities, hobbies / other interests
Liste des gagnants précédents du Prix du concessionnaire VR canadien de l'année :
List of previous winners of the Dealer of the Year Award:
2020 Al Robinson, Great Canadian RV, Peterborough, Ontario
2019 Bruce Marsh, Cape Breton Trailer Sales, Bras D'Or, Nova Scotia
2018 Jim Gorrie / Kevin Betzold, GNR Camping World RV Centre, Winnipeg, MB
2017 Jason Bell, Chemo RV, 150 Mile House, BC
2016 George Goodrick, Adventure Sports, Dartmouth, NS
2015 Sam Parks, Camp-Out RV, Stratford, ON
2014 Gérard Dufresne, Caravanes de la Petite Nation, L'Ange-Gardien, QC
2013 Ian Moore, Big Boy's Toys, Nanoose Bay, BC
2012 Garth Bromley, Transcona Trailer Sales, Winnipeg, MB
2011 Tom Ramsay, Meridian RV Mfg. Ltd., Port Coquitlam, BC
2010 Daniel Morin, Roulottes Desjardins, St-Jérôme, QC
2009 Dave Dobson, RV World, Waasis (Fredericton), NB
2008 Wayne Hambly, PEI Home & RV Centre, Charlottetown, PEI
2007 Marty Vellner, Vellner Leisure Products, Red Deer, AB
2006 Kim Stone, Stone's RV & Home Center, New Glasgow, NS
2007 Robert Rémillard, Centre du Camping Rémillard, St-Jean-sur-Richelieu, QC
2008 Jack Bell, Chemo RV Sales & Service, Williams Lake, BC
2003 Shelly Shewchuk, Recreation World RV's, Thunder Bay, ON
2002 Derek Dobson, Leisure Time RV Sales, Saint John, NB
2001 Woody Paylor, Woody's RV World, Red Deer, AB
2000 Art Pike, Westgate RV Centre, Kelowna, BC
1999 Bill Redmond, Bucars RV Centre, Calgary, AB
1998 Ken Langevin, Walt's Trailer Sales, Headingley, MB
1997 Don Sneyd, Ruston RV Centre, Burlington, ON
1996 Louis Gaudette, Roulottes RG Gagnon, L'Assomption, QC
1995 Don Main, Pik-A-Dilly Trailer Sales, Brandon, MB
1994 Eleanor Powers, Claynor RV World, Langley, BC &
Fred Benninger, Mobilife RV Centre, Kitchener, ON (tie)
1993 Gary Hodgins, RV City, Morinville, AB
1992 Gil Robert, GNR Camping World, Winnipeg, MB
1990 Doug Williams, Twin City Trailer Sales, Bedford, NS
1989 Doug Petrie, Niagara Trailer Sales, St. Davids, ON
Pour le formulaire de mise en candidature officiel sous forme de fichier PDF à remplir, veuillez suivre ce lien:
For the official nomination form as a fillable PDF file, please follow this link:
https://www.dropbox.com/s/42a01qe7utvu7zk/EN-2021%20Dealer%20of%20the%20Year.pdf?dl=0
Voici un lien vers le formulaire PDF que vous pouvez imprimer et envoyer au bureau national de l'ACVR du Canada, soins d'Anita Lein :
Here is a link to the fillable PDF form that you can complete and email, or print and send to the RVDA of Canada national office, care of Anita Lein – anital@rvda.ca
https://www.dropbox.com/s/42a01qe7utvu7zk/EN-2021%20Dealer%20of%20the%20Year.pdf?dl=0
Here is the RVDA of Canada contact information:
Canadian RV Dealer of the Year Nomination
Anita Lien 
Director, Marketing & Communications
Recreation Vehicle Dealers Association (RVDA) of Canada
145 – 11331 Coppersmith Way
Richmond, BC     V7A 5J9
(Direct) 604.718.6306
(Main) 604. 718.6325
www.rvda.ca  @RVDAofCanada