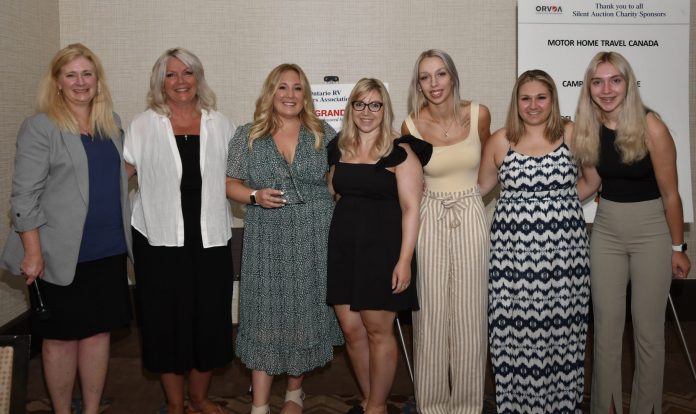 Left to right: Eleonore Hamm, Ruth Ann Goodrick, Nicole Serwatuk, Danielle Goodrick, Jadyn Goodrick, Trisha Goodrick, and Georgia Goodrick celebrate the presentation of the George Goodrick Emerging Leader Award, presented at the ORVDA AGM August 24, 2022.
Special report from the RVDA of Canada
Photos by Norm Rosen, RV Dealer News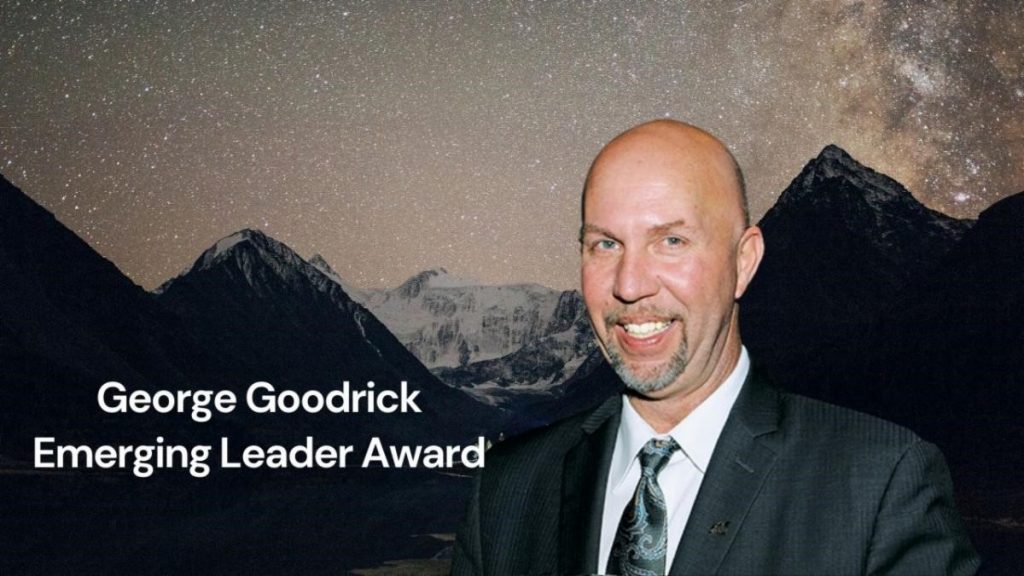 George Goodrick was the 2016 Canadian RV Dealer of the Year – to learn more about George's many accomplishments, please follow this link: https://rvldealernews.com/george-goodrick-wins-26th-annual-walt-paseska-memorial-canadian-rv-dealer-year/
George passed away in February 2021, after a long illness. In his honour, the RVDA of Canada created the George Goodrick Emerging Leader Award – to read more about the Award, please follow this link: https://rvldealernews.com/rvda-of-canada-establishes-emerging-leader-award/
Nicole Serwatuk wins the 2022 George Goodrick Emerging Leader Award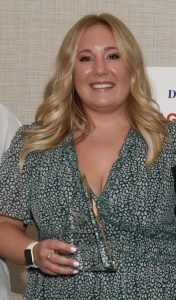 Collingwood, Ontario, August 24, 2022 – Nicole Serwatuk of Sicard RV in Smithville, Ontario was presented today with the inaugural 2022 George Goodrick Emerging Leader Award at the Ontario RVDA Annual General Meeting. The George Goodrick Emerging Leader Award recognizes and encourages early-career professionals who have demonstrated exceptional commitment, passion and promise of leadership to the Canadian Recreation Vehicle industry.
Nicole Serwatuk joined the RV industry 5 years ago in Human Resource Management at Sicard RV. Over the course of her tenure, her role has gown and evolved to include overseeing employee training and development initiatives at the dealership. She encourages all dealership employees to pursue career enhancing programs whether it be in manufacturer training, certificate courses or sales seminars.
Nicole had been an integral part of developing new ideas, resources and programs to assist in improving dealership operations. It was her responsibility to oversee and implement a new cloud-based CRM/dealer management software which simplified the process to grant employees access to work remotely during the pandemic. This allowed for employees to continue to work and for the dealership to remain open. Nicole also identified the need for a customer service engagement tool which provides consumers with a mechanism to positively provide feedback and address issues in an efficient manner.
Over the past year, Nicole's job function has been increased to include the management of the marketing department responsible for authorizing creative campaigns. Not only does Nicole organize the dealership's show participation, but she also manages all social media platforms and corporate giveaways.
Nicole has coordinated numerous charitable events for the dealership including working with Make-A-Wish Foundation to grant wishes for children. On a personal front, Nicole dedicates her time volunteering for Club Gain which assists adults with special needs and she also volunteers time with a local animal shelter.
"Thank you so much, this is indeed an honour", said Nicole upon receiving the award.
On hand to present the award were George's wife Ruth Ann and daughters Danielle, Trisha, Jadyn and Georgia.
Congratulations Nicole!
The Recreation Vehicle Dealers Association (RVDA) of Canada is a national association which exists to protect and promote the interests and welfare of RV Dealers across Canada in order to enable the industry to maximize its potential.