Leisure Days RV Group announces new VP Eastern Ontario
Canada's largest RV dealer group promotes Mike Garrick
OTTAWA, ON – September 16, 2022 – Canada's largest RV Dealership group today announced the promotion of Mike Garrick to Vice President, Eastern Ontario. Garrick will oversee a portfolio of 12 RV dealerships in Eastern Ontario.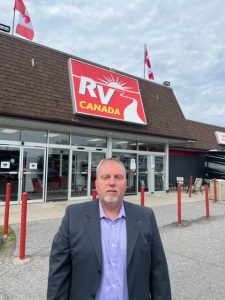 "Mike brings over 15 years of experience in the RV industry to the role," said Darcy Beckstead, President, Leisure Days RV Group. "Mike has run RV Canada, our largest and most successful store for the past 10 years and we look for him to assist all of our stores in the Eastern Ontario region to deliver high quality products and outstanding service to our customers."
"I am thrilled that Mr. Butler and Mr. Beckstead have shown the confidence in me to give me this terrific opportunity", said Mike Garrick, Vice President of Eastern Ontario for the Leisure Days RV Group. "I am confident working with our existing dealership teams we will be able to continue to grow our business and deliver exceptional sales and service experiences".
About Leisure Days RV Group Inc.
Headquartered in Ottawa, the Leisure Days RV Group announces new VP Eastern Ontario was started in 2003 when it opened RV Canada. Operating in five provinces the Leisure Days RV Group leverages its superior purchasing power and resources to provide RVers with unparalleled access to sales, rentals, parts and service.