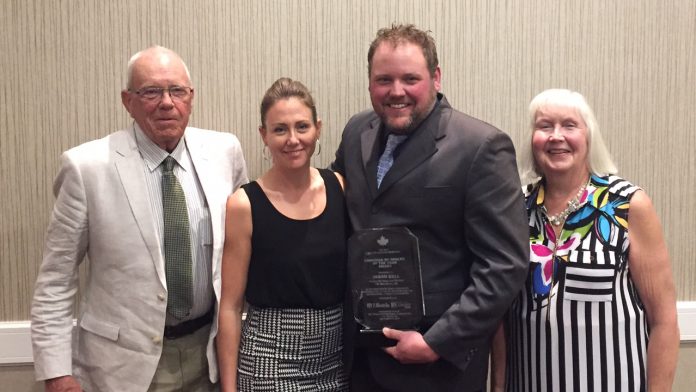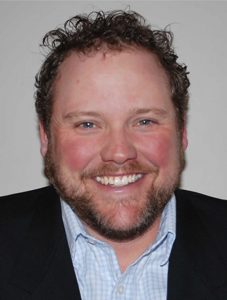 RV Dealer News would like to congratulate Jason Bell of Chemo RV in British Columbia for winning the 2017 RVDA of Canada's RV Dealer of the Year!
A 12-year employee at Chemo RV including 10 years as dealer principal, Jason Bell is well known throughout western Canada for his work with the RVDA of BC, the RVDA of Canada board, VSA committees and as a long-term member of the Spader 20 Group performance group. His efforts on behalf of the industry include terms on the provincial RVDA board, as RVDA of BC president, RVDA of BC golf committee chair, RVDA of Canada director and a member of the national education bursary selection committee. He is also an active participant in both RV Care and the Route 66 RV Network.
Jason Bell has grown the family business with a new store at the 150 Mile House location and has begun construction of a second location at Quesnel. He was recognized with an RV Business Top 50 Dealer Award in 2014.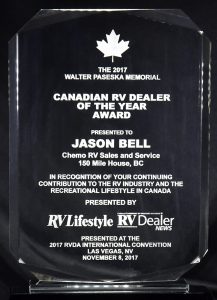 Deeply involved in the local community, Bell sponsors multiple hockey teams, youth soccer teams, hospital fundraisers and created the Jack Bell Bursary at Thompson River University, Williams Lake Campus. Chemo RV supports a wide range of community programs throughout the BC Cariboo region, including the famous Williams Lake Stampede, Billy Barker Days in Quesnel, Canada Day music festivals, fishing derbies, four major golf tournaments and fundraisers in support on new sports complexes in Williams Lake and 100 Mile House.
Bell is also known for supporting first responders, including delivering food and water to roadblock teams responding to this summer's wildfires in caribou Regional District and supplying no less than 24 RVs to be used as housing for firefighters battling local fires. The convoy of trailers, which became known in national media as "Rink City," provided a safe pace for firefighters and volunteers to sleep after working 18-hour days battling the intense fires.