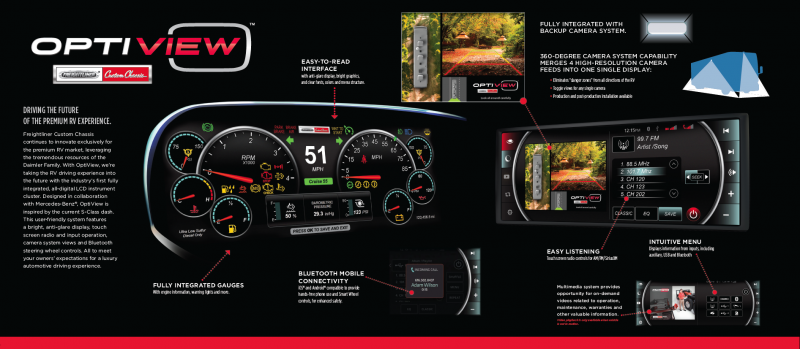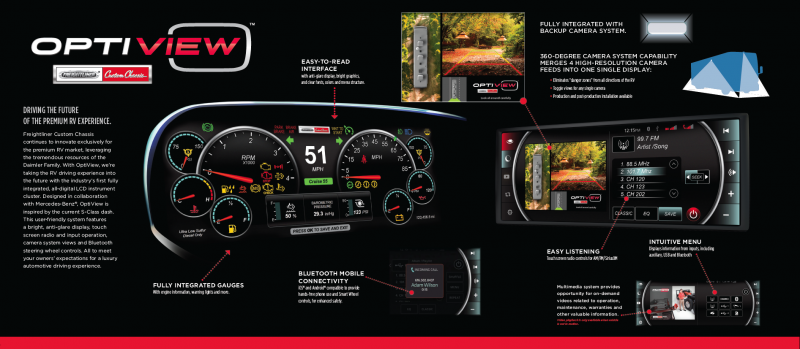 Freightliner Custom Chassis Corp. (FCCC) unveiled its new LCD OptiView system.
OptiView was designed in collaboration with Mercedes-Benz. It brings the features of the Mercedes S-Class luxury sedan's digital dash to a premium RV chassis. OptiView is a user-friendly system with fully integrated gauges and an easy-to-read interface.
"OptiView is the newest example of how we continue to innovate exclusively for the RV market by leveraging the tremendous resources of the Daimler global family," said Tony Sippel, Director of Sales and Marketing for FCCC. "As with all of our groundbreaking features, our number one goal with OptiView is to deliver a luxury automotive driving experience for the premium RV owner."
Some features of the OptiView system include:
Anti-glare display with bright graphics, clear fonts and streamlined menu structure
360-degree, high-resolution camera system
Bluetooth mobile connectivity for hands-free phone use and Smart Wheel controls
Intuitive touchscreen menu
OptiView's core driving instrument cluster will be available as an option in March 2016.