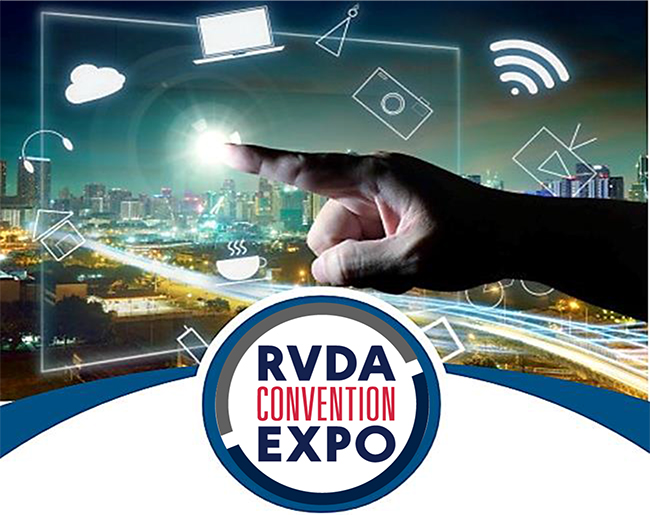 The RV Dealers Association of the U.S. and Canada have teamed up to deliver the RV Dealer Convention/Expo, an interactive event to take place Nov. 9-20, 2020. The online convention will provide educational workshops, virtual sessions and access to exhibit halls complete with vendor solutions.
Dealer registration is now open and includes options for both individual and multiple dealership personnel. Convention registration will allow access to virtual sessions that will be archived until the end of January.
The Associations are committed to ensuring that industry dealers and their business partners are able to connect and do business as the industry prepares for 2021 and what it may bring.
Virtual content includes:
Leadership Development and Human Resources
Social Media/Digital Marketing/Business Development
Fixed Operations Excellence/Improving Repair Event Cycle Time
2020 Tax Implications of Paycheck Protection Program and other Government Loans
Building F&I Income
The event will offer promotional opportunities such as:
Partners: Opportunity to have targeted branding positioned throughout the RV Dealers Convention/Expo virtual portal and premium virtual exhibitor placement.
Vendor Training Plus+: Opportunity to host scheduled virtual sessions on a company's own content and provide attendees with in-depth product or service information, case studies, educational demos, or topic of their choice.
Special Sponsor Pages: Personalized, engaging, and dedicated content portal for companies to showcase their solutions and connect with attendees.
Virtual Exhibit Booths: Use dedicated, interactive space to feature products and services to reach dealers during the digital event.
Featured Advertising: Available throughout the platform.
For information on partnership, sponsorship or exhibiting, contact Julie Newhouse –  jnewhouse@rvda.org.
A national, volunteer federation of provincial and regional RVDA associations and their members, the Recreation Vehicle Dealers Association (RVDA) of Canada is a professional trade association that works on behalf of all retail businesses involved in the recreation vehicle industry.
https://www.rvda.ca/