CRVA Update – October 22, 2021
The Canadian RV Association (CRVA) is a non-profit organization comprised of member companies from North American Recreational Vehicle Manufacturers, Suppliers and Industry partners who participate in the Canadian RV Industry.
The Canadian Recreational Vehicle Association has been in existence for over 46 years, and the association works continually to promote all aspects of quality and safety in RVs built by our CRVA member companies, and ultimately in the best interest of the consumer.
CRVA and fellow Industry stakeholders work together in a unified voice to enhance, protect and promote the Recreational Vehicle Industry in Canada. This is accomplished through effective communications, positive relationships and advocacy among industry stakeholders and government bodies.
The CRVA currently has a total of 85 members consisting of 49 Active Members (Manufacturers) and 36 Associate Members (Suppliers).
We would like to welcome CRVA's newest Members – RV Dealers.ca a new online resource for researching and shopping for consumers and Team RV Express, a leading RV transportation and delivery company for RV retailers.
CRVA Wholesale Shipment Report
The CRVA compiles Wholesale Shipment Reports for their members. Please find our most recent report for the month of August 2021 and year-to-date period: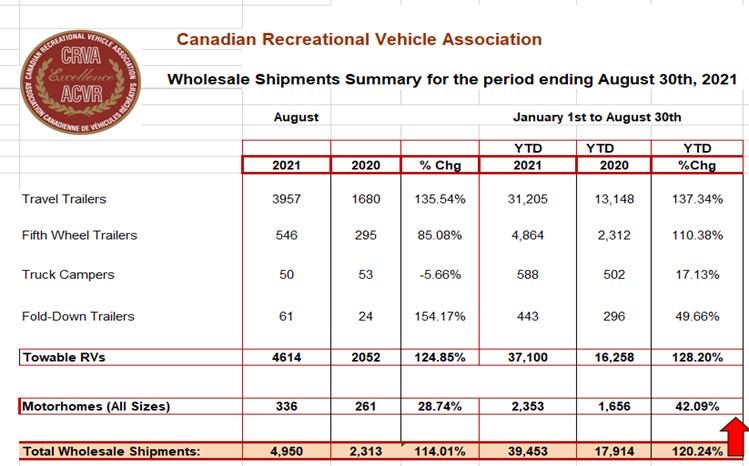 North America RV Safety Standards
CSA Z241 Park Model Series
The CSA Z241 Park Model Series new standard was published in November 2018 and there are no current requirements to update.
CSA Z240 RV Series & NFPA 1192
CSA Z240 RV Series Standard was updated in 2020. There have been ongoing discussions with CSA to update the standard in 2022. There are a number of code changes that were included in the NFPA 1192 2021 Edition that would ideally be included in the CSA Z240 Standard to keep the 2 standards synchronized.
Provincial Allowable Travel Trailer Length of 41 feet
We have been working jointly with RVDA of Canada to allow for 5th Wheels to exceed the current allowable 41 feet (12.5m) limit to 48 feet (14.65 m). Our most recent contact with the Committee indicated that they were still waiting on one Province to approve the change. We will continue to support RVDA of Canada and are hopeful that this issue can be resolved soon.
Transport Canada
Drive-Away / Tow-Away companies transporting RVs to Dealerships in Canada are currently required to maintain a daily written log of hours in service. Transport Canada has mandated that written logs were no longer to be used and they were to replaced with electronic logging devices (ELDs) that were needed to connect to a Commercial Vehicle effective June 2021 (no fines will be issued until June 2022).
An ELD connects to the electronic control module of a vehicle and make it easier and faster to track, manage, share and improve the accuracy of a driver's hours of service record but there are concerns from drivers that this would capture personal time and restrict business travel time. Currently, drivers of Commercial Vehicles are only allowed to be in service for 13 hours without a break to sleep.
We have received concerns from Manufacturers and Carriers of Drive Away Companies who indicated that requirements for a ELD device could reduce the number of transport options for the industry which is of great concern to both CRVA and RVDA of Canada. Currently, there is an exemption in the US that provides for the use of EITHER a written log or a ELD Device. Most deliveries are made by self employed contracted drivers, and they are reluctant to have their personal travel combined with business travel.
CRVA has had contact with Transport Canada and numerous discussions with Drive-Away companies.  CRVA has hired a consultant to assist in submitting an exception request for the Industry. We are awaiting safety information from a number of US Carriers and are planning to have our Exemption submitted to Transport Canada by November 15th before the House of Commons returns to Parliament.
RV Recalls – NHTSA and Transport Canada
CRVA and RVIA and members joined together in informal consultations with Transport Canada who invited the RV Industry to provide feedback on updating regulations under the Motor Vehicle Safety Act (MVSA) to improve Canadians' access to safety recall information. We recommended that reporting on safety issues were of the same frequency currently in effect with NHTSA.
CRVA currently announces RV Recalls weekly on its website and on social media.
Canadian Camping and RV Council
Administration for the Canadian Camping and RV Council ("CCRVC") is currently being handled by CRVA which includes but is not limited to:
Represent CCRVC at any public or private events or meetings
Bookkeeping and Accounting functions of the Associations
Plan, organize and co-ordinate required Board Meetings
Ensure all necessary Association requirements are completed with Government Agencies
Administration of Social Media communication
Update and Administration of Association Websites
any other duties as directed
CRVA Sponsorships
In line with our PR strategy goals, CRVA was pleased to sponsor RVDA Provincial Dealer Association's  AGMs and Golf Events throughout the 2021 calendar year.
We wish you all good health and continued success.
Shane Devenish,
President, Canadian Recreational Vehicle Association,
1100 Burloak Drive, #300 Burlington, Ontario L7L 6B2