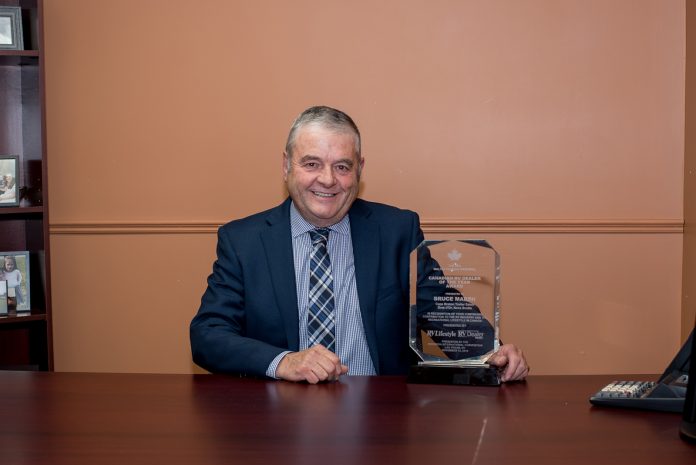 Cape Breton Trailer Sales, Cape Breton, Nova Scotia
Every year the RVDA of Canada and the provincial RVDA chapters honour one of their members as the Canadian RV Dealer of the Year.
This award, created in 1989 in memory of the late Walt Paseska, and sponsored by RV Lifestyle Magazine, Vie en Plein Air, and RV Dealer News, is presented to the Canadian RV dealer who, in the eyes of his or her peers, best exemplifies the professionalism and community spirit of RV dealers throughout the country.
The Canadian RV Dealer of the Year is selected based on his or her long-term contributions to the RVDA in Canada at the provincial or national level, recognition by customers and peers as a person of the highest integrity and credibility in both personal and professional life, long-term commitment to the growth of the RV experience in their community, and efforts on behalf of the community at large.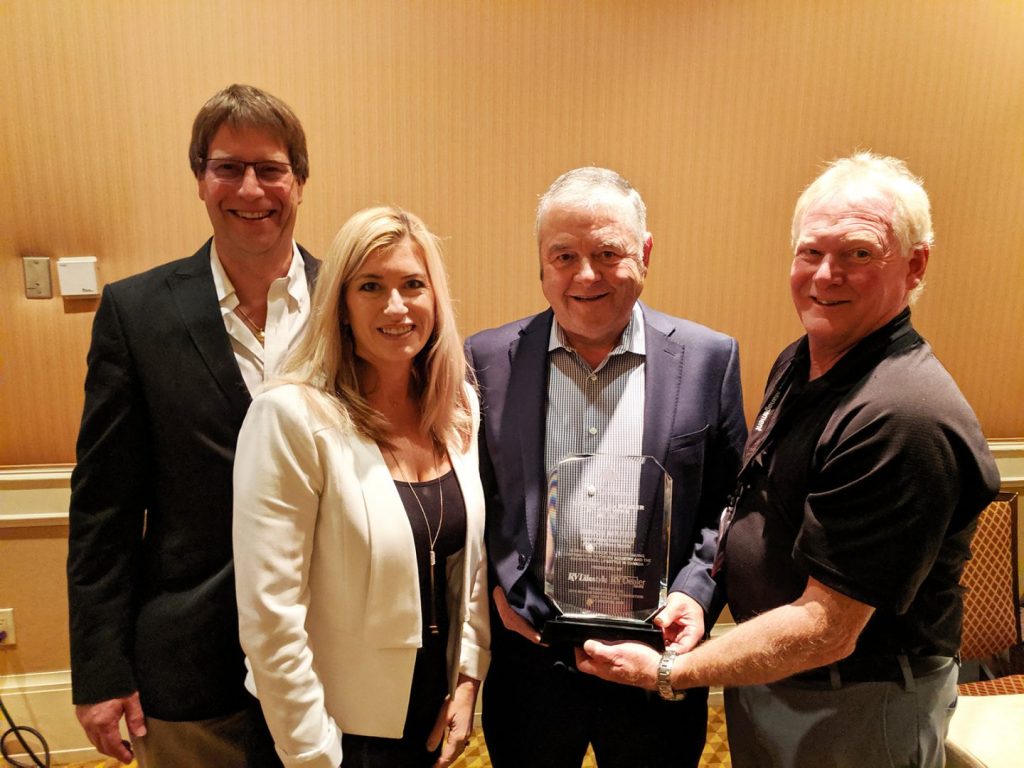 Each of the provincial RVDA organizations present their nominees to the RVDA of Canada selection committee, who select the Canadian Dealer of the Year based on the overall achievements within each of the specified categories. This year's selection committee included 2018 co-winners Jim Gorrie and Kevin Betzold, GNR Camping World, Winnipeg, MB;  Jason Bell, Chemo RV Sales & Service Ltd., 150 Mile House, BC; Sam Parks, Camp-Out RV, Stratford, ON; Gérard Dufresne, Caravanes de la Petite Nation, L'Ange-Gardien, QC; and Melanie Taylor, RV Lifestyle and RV Dealer News, Oakville, ON–who also presented the award. 
Through charitable donations, a successful business and time put in on the association boards, Nova Scotia's Bruce Marsh stays humble as the winner of Canada's most prestigious award for RV dealers.
RV Dealer of the Year winner Bruce Marsh has taken himself and his business far even if he isn't physically far from where he was born and grew up.
"I'm two miles from my original homestead," said Bruce, a Nova Scotian. He owns and operates Cape Breton Trailer Sales in Bras d'Or, Nova Scotia near Sydney.
Originally, Cape Breton Trailer Sales was operated by William McKeagan, who had moved to one of Marsh's father's properties and was considering selling as he was getting older. The original plan was not to have Marsh as the sole owner and operator.
"My father, myself and my brother were going to buy it and set it up for my brother to run it," Bruce said. "I enjoyed the first year, getting it up and running and I liked the idea of it, so I went with it. The other two were silent partners until a number of years later and I bought them out."
Previously he was in the auto parts business and not the trailer and RV industry. However, he did know that he liked them from previous experience. His father had a trailer, but they didn't end up doing too much camping because of running a summer-time business. After he married his wife Maureen, they bought a used trailer and would annually spend a few weeks in PEI or somewhere else around the Maritimes.
The business would eventually come to outgrow the original property, moving nearby in 2008. Being located on the Trans-Canada Highway outside of North Sydney is helpful but Bruce thinks family is a true cornerstone of the business' success.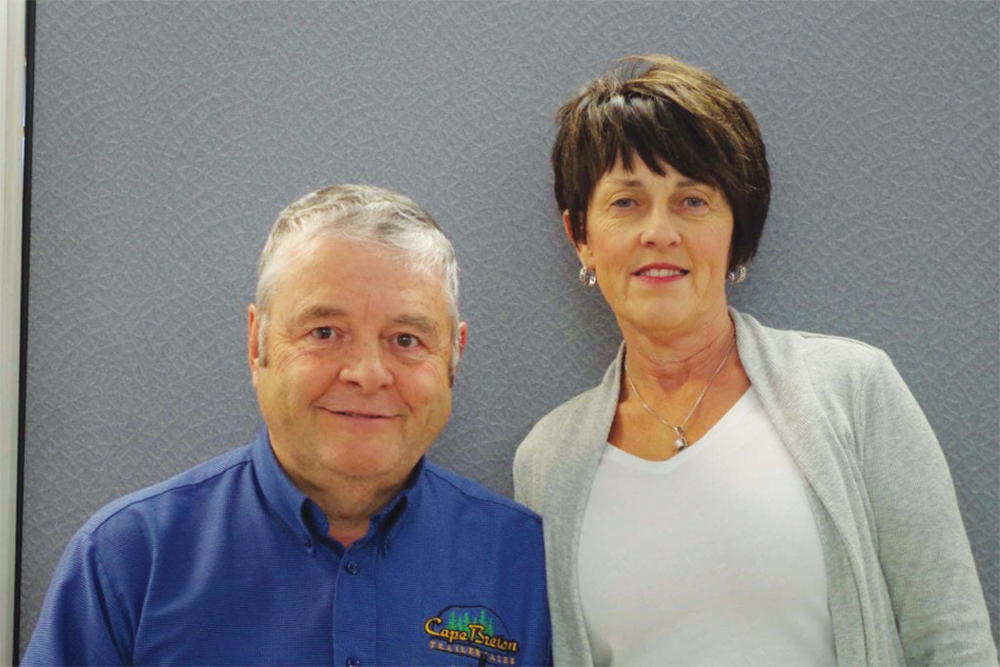 His wife Maureen is a huge part of the business. Also, he considers bringing his daughter, Jennifer, into the business as an accountant and to do other paperwork as one of the best decisions he's made. At one point it seemed like every employee was a member of his family whether they were a nephew, niece or cousin. To Bruce, it doesn't matter if he's related to his employees.
"I treat my employees as family, whatever I can do to help them out, I do," he said. "Everybody looks out for each other and we look after the customer. We treat the customer just as well as our family."
A big factor in Marsh's win is his involvement with the dealer associations both provincially and nationally. His involvement started decades ago when he got a call from some other dealers encouraging him to come to a board meeting. He found value in the meetings and jumped at his chance to be a director.
"The more people you meet, learn from, talk to and make connections with is better for you when you're in business," Bruce said. "I really feel my business is much better off when I've been doing the provincial and national board."
Without the associations, Bruce thinks it would be hard to get training in the Maritimes. This has been the biggest effort he pushed being on the education committee.
For example, the associations have propane courses in Alberta, but they can be taken online because of the efforts of the Atlantic RV Dealers Association (ARVDA). Bruce is a strong believer in keeping up on your training. He thinks it is essential to success because of the many hats an RV dealer wears.
"You have to keep up on so many trades because you have everything in a trailer from a plumbing to an electrical issue," Bruce said. "There's so much you have to know. You don't have to be a master of all of them, but you have to be trained in most of them."
He recommends all dealers be involved with their local RVDAs for the wealth of information and programs that they may otherwise miss out on.
"Read the emails that come from the association, do some of the training to keep your employees in top shape," Bruce said. "It's all for the betterment of the company and the RV business across Canada."
Bruce is glad to have been able to use Cape Breton Trailer Sales as a generous donor to many charities. They donate to kid's charities, sports teams, senior's clubs, school teams, fire departments, the regional cancer centre and cancer societies.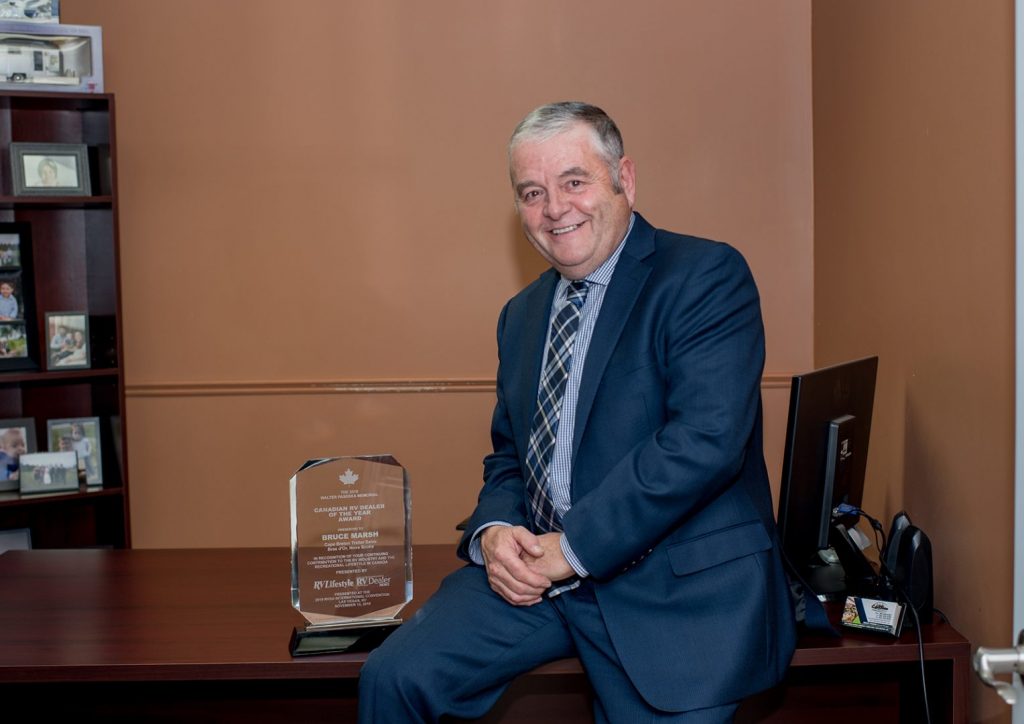 Bruce has a personal connection to the regional cancer centre because his wife has been going through treatment over the summer. Their support began before then by putting a plan in place of giving X number of dollars for X number of tires sold. Over the summer he had learned the importance of what Cape Breton Trailer Sales was supporting.
"It was fantastic to see what a cancer centre we have and how much they care," Bruce said. "We don't have to drive four hours to a cancer hospital, it's a 20-minute drive."
Bruce didn't know he was nominated until just before leaving for Las Vegas when he got a call from another dealer congratulating him. He's had friends who have been nominated and won over the years being on the RVDA board. He was honoured to be nominated alongside Carolyn Vos, Josee Bedard and Gord Bragg.
"Knowing who else was nominated, anyone of them could have won same as I could," Marsh said.
As a small dealer, he wasn't sure if he could compete with the bigger dealers but feels as though he's done right by his customers and employees–who along with his wife he shares this win with.
"It kind of validates what we've been doing over the last 30 years," Bruce said.
He still enjoys going to work every morning, greeting customers, selling parts and generally helping the public. Bruce has no plans to stop anytime soon.
"Until I get up in the morning and say, 'I don't want to do it anymore,' I will continue."