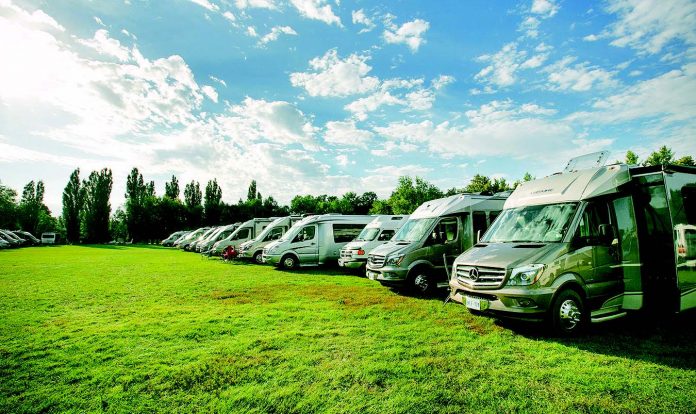 What began as  a family-owned, three-man operation in 1965 has grown into a true Canadian success story as Triple E celebrates its 50th anniversary.
Compiled by Walter Siemens
Triple E was founded by P.W. Enns, an entrepreneur at heart, who operated a plumbing and heating facility in Winkler, Manitoba. P.W. first took an interest in manufacturing travel trailers while visiting Elkhart, Indiana, on a volunteer trip. Being an inquisitive person, he was always eager to try new things, so he bought a torsion axle and brought it home to incorporate into his newly-designed travel trailer.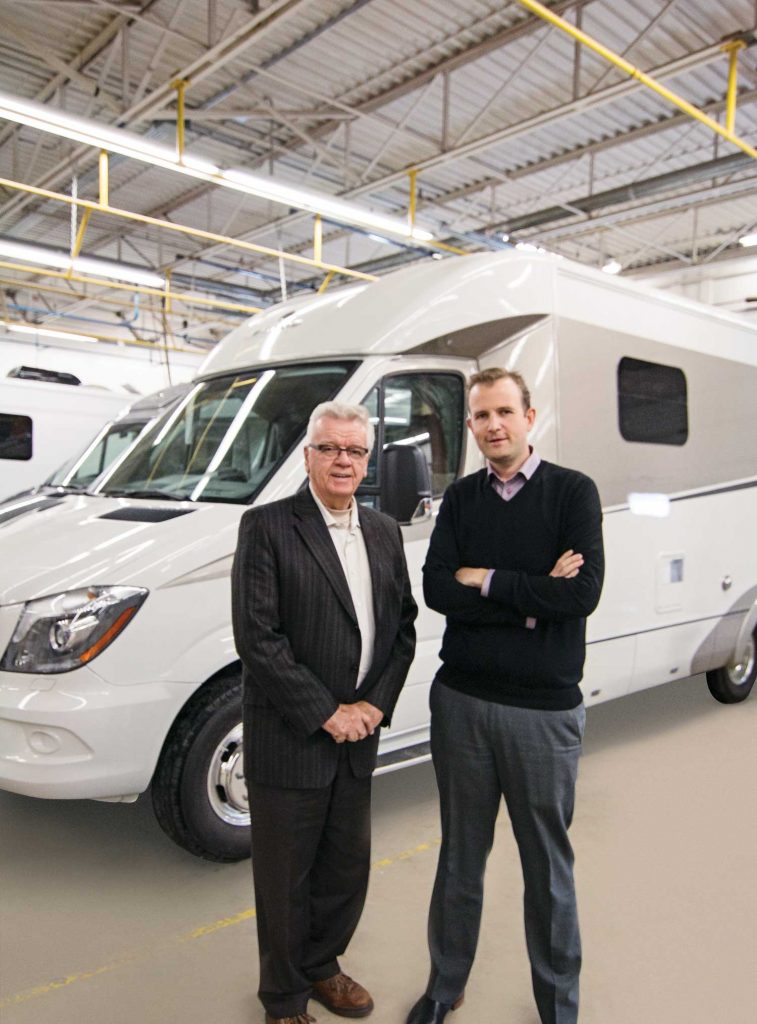 Corporate Citizen
Triple E places value on fostering growth and stability within its community. The company supports many charitable organizations and was instrumental in developing community facilities, including city halls, care homes for the elderly, health services and recreational sites.
"The City of Winkler is extremely proud of Triple E and the owner group as val-ued corporate citizens of Winkler," said Winkler Mayor, Martin Harder. "Triple E continues to invest in Winkler through their very generous donations to many sports and cultural activities and facilities, which make Winkler the place to be."
Enns recruited his two sons-in-law, Phil Ens and Peter Elias, and together they set out to build a travel trailer – a 13-foot aerodynamic design they called the Compact, which incorporated many of the features still sought after in today's market. The three E's – Enns, Ens and Elias – became the components of the name Triple E.
In Triple E's first year, the company managed to sell 50 of the stylish 13-foot Compacts. The following year, Triple E nearly doubled its sales and a total of 97 Compacts were produced. But it was 1967 when things really began to take off for the fledgling company, as the combination of Canada's Centennial and the Montreal Expo drove Canadian families to travel across the country in unprecedented numbers. A 16-foot trailer was added to the Triple E lineup that year, and overall production for the company grew to 327 units – almost one a day.
The year 1967 was significant for Triple E in another way, as the company made history by unveiling the first Canadian-built motorhome. The 22-foot unit, called the Caravan, was fully equipped and mounted on a modified General Motors milk van chassis, since GM did not have a motorhome chassis in production at that time. Later that year, GM sent several design engineers to Winkler to study and photograph the design refinements that P.W. had made. These refinements were then incorporated into all future GM Class A chassis production.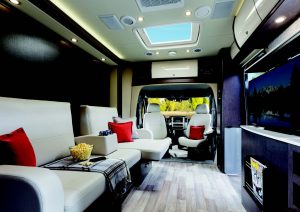 The business continued to grow, and in the late 1960s Triple E caught the eye of Vancouver-based entrepreneur, Jim Pattison, who was acquiring Canadian recreational vehicle manufacturers. Triple E sold the business to Pattison in 1969, with the three Es remaining with the company and continuing to develop new products. It was a positive transition, as Pattison brought the needed expertise and marketing skills to support the company's rapid growth. That partnership was to be tested on March 29, 1972, when a major fire destroyed the entire factory.
After making the decision to rebuild, Triple E purchased the facilities of another RV manufacturer in Winkler, and the business was soon back up and running. But it was to hit another snag the following year when the 1973 the oil embargo hit the recreational vehicle industry hard. Pattison had had enough, and sold Triple E Canada Ltd. Back to the family.
For many years, Triple E sold its products exclusively within Canada. In the late 1980s, the company elected to stretch its horizons, and began exporting into the Scandinavian market. Additional exports into Germany soon followed, along with further ventures into other markets, including Japan. But the recession of the early 1990s led to setbacks
that culminated in the company reconsidering its export strategy. By 1993, Triple E made the decision to exit that line of business and focus its full attention and resources on the Canadian market.
Triple E At A Glance
In 1989 P.W. Enns stepped down as chairman of the board, and Phil Ens, President and General Manager, was appointed to the position. In 1993, Enns appointed Terry Elias, the son of Peter Elias and grandson of P.W. Enns, as General Manager and Chief Operating Officer – he holds the CEO position to this day. In 2010, Ryan Elias, the son of Terry Elias, was appointed Vice-President and General Manager.
The corporation is built on a solid foun-dation – appropriately named "Our Community" – built upon five key pillars of equal importance. These are
Customers
Local Community
Dealers
Employees
Suppliers
The company has expanded from a 5,000 square-foot facility to more than 200,000 square feet, housing everything from the fully-equipped production facility with welding shop, fibreglass and mold shop, and a sewing department, to customer service and corporate offices. Triple E currently employs in excess of 280 people.
For the next 15 years Triple E continued to develop and expand its product line from travel trailers, to fifth wheels and class A and class C motorhomes. In 2008, the corporation acquired Leisure Travel Vans, a recreational vehicle manufacturer based in Morden, Manitoba.
This acquisition rounded out the Triple E product line, giving Triple E a quality Class B+ motor home that had an established presence in the United States. This allowed Triple E to expand its dealer network and target the United States market. Soon after the Leisure Travel Vans acquisition, the operation was amalgamated into the Triple E manufacturing facilities in Winkler.
As a company with more than 4 decades of experience in the RV industry, Triple E had seen its share of ups and downs as economic fluctuations came and went. The 2008 recession proved particularly devastating for the RV industry. Manufacturers across North America were shutting down, and like so many others, Triple E found itself struggling. The company, after much debate, continued to operate as well as possible in order to help minimize the impact on the community. Triple E made the decision to discontinue Class A models, and focus on the smaller, more fuel efficient class B, B+ and C motorhomes that were becoming increasingly popular.
With renewed focus, Triple E's design and engineering teams concentrated their efforts on creating innovative floorplans. The culmination of this effort was the 24-foot Unity, sold under the Leisure Travel Vans branding. Built on the Mercedes-Benz Sprinter cab chassis, the Unity featured an automatic queen-size Murphy bed – an industry first. The design proved to be so unique that, after it had been launched at the annual RV exhibition in Louisville, Kentucky, the Unity quickly became recognized as Triple E's most successful new product introduction.
By 2013, the Leisure Travel Vans brand had grown to represent more than 80 per cent of the RV division's product sales, dropping original Triple E-brand products to less than 20 per cent. In the summer of 2013, Triple E ceased production on the Triple E Class C Regency GT, the last Triple E-branded product in production, electing to focus all its efforts on the Leisure Travel Van products.
As Triple E's product mix has changed over the years as the company has adapted to an ever-changing landscape, so too has its approach to communicating with its customers. Since 2009 the company has placed a stronger emphasis on online marketing with an interactive, information-rich website, and social media platforms including Facebook, and YouTube communicating brand messaging to a connected audience.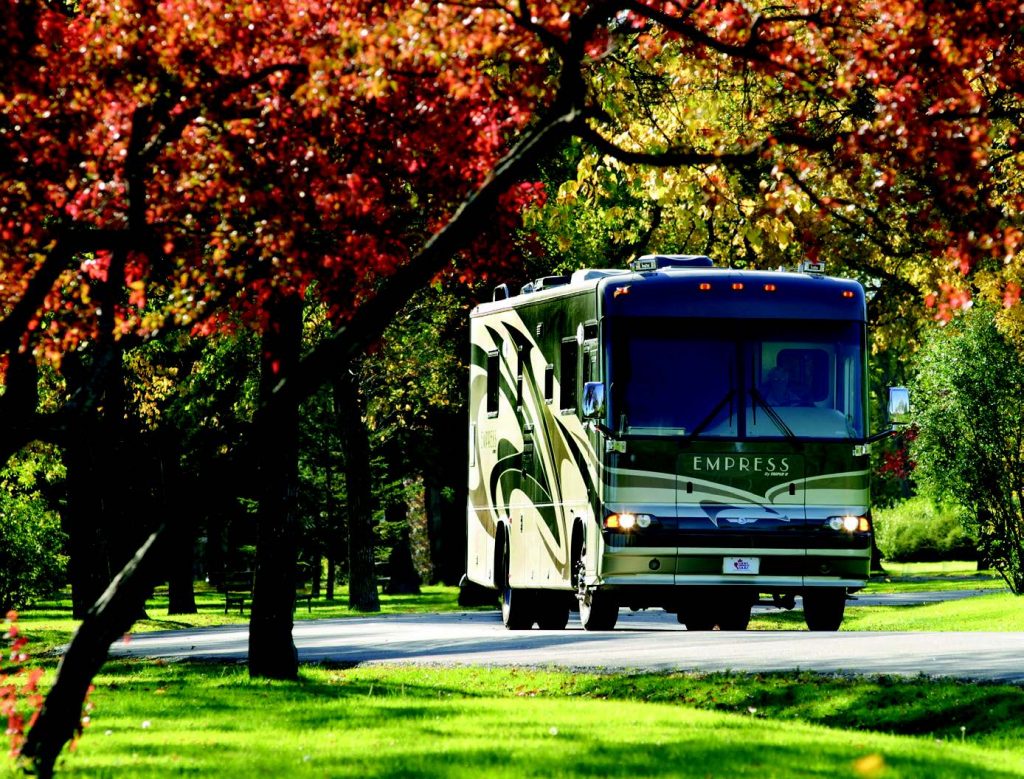 Into the Future
By 2013, more than 50 per cent of the company's product sales came from new products.
Today, Triple E looks to the future with renewed energy and optimism as the next generation of the company is driven by innovation, while remaining committed to a long-standing history of quality craftsmanship. The company has strong leadership and an excellent workforce, and their products are recognized as some of the finest in the industry. "50 years later our vision remains committed to being a premier company. We're inspired by the free-dom to explore and driven by a com-mitment to growing our community."
Through its first 50 years, Triple E has seen many changes and overcome numerous challenges. The company attributes much of its success to its highly skilled and dedicated staff, who share a commitment to ensure that every Triple E product rolling off the assembly line meets both the company's and its customers' highest standards.