RVDA of Canada has announced the nominees for the 34th Annual Walt Paseska Memorial
Canadian RV Dealer of the Year Award

Each year, the RVDA of Canada and Canadian regional RVDAs, in conjunction with RV Lifestyle Magazine and RV Dealer News, invite nominations from across Canada for the Canadian RV Dealer of the Year Award.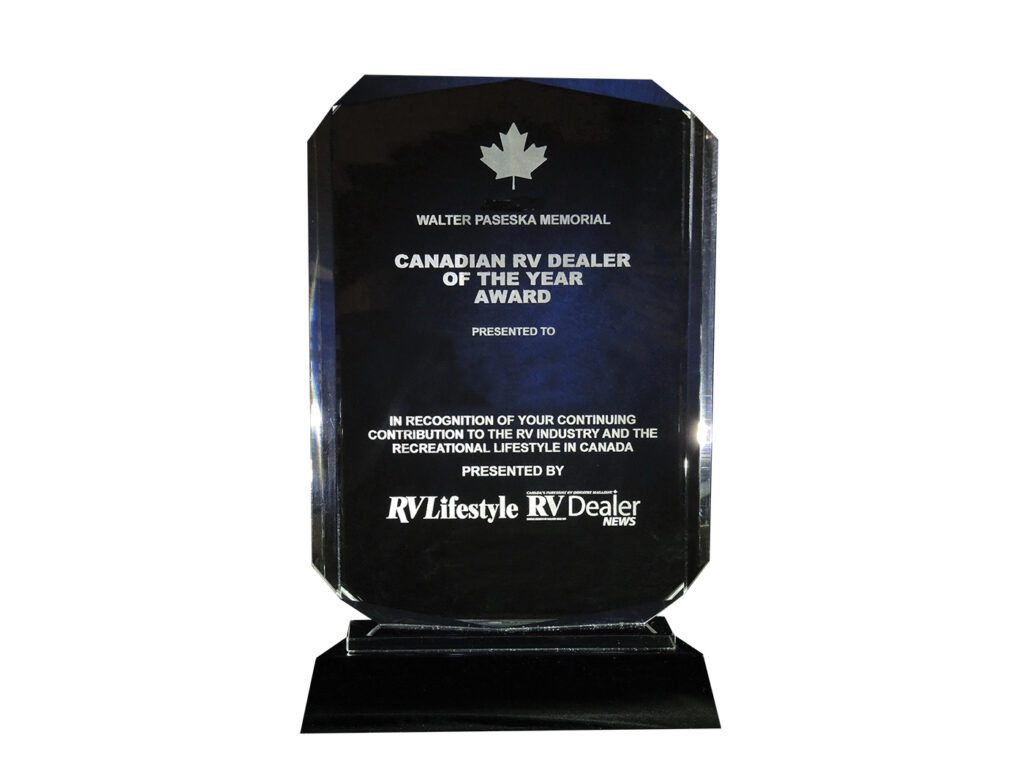 The award is dedicated to the memory of the late Walt Paseska, founder of Walt's Trailer Sales in Headingly, Manitoba, in recognition of his many years of commitment and dedication to the RV industry, the RV experience, and the community at large.
Established in 1989, this award has been presented to Canadian RV dealers who share Walt Paseska's legendary enthusiasm and commitment to the industry; individuals who have been leaders in the RVDA movement either regionally or at a provincial or national level; who have exhibited a long-term dedication to the RV community; and who have made substantial contributions to their communities through charitable or philanthropic activities.
Each of the provincial RVDA organizations are encouraged to present their nominees to the RVDA of Canada selection committee, who evaluate the nominees and select the Canadian Dealer of the Year.
The documentation for the nominees is submitted to the RVDA of Canada selection committee, which consists of five previous Canadian RV Dealer of the Year winners and representatives from the RVDA of Canada and RV Lifestyle Magazine, the founding sponsor of the Award.

This year's selection committee is comprised of previous Canadian RV Dealers of the Year: Kevin Betzold and Jim Gorrie, GNR Camping World, Winnipeg, Manitoba; Bruce Marsh, Cape Breton Trailer Sales, Cape Breton, Nova Scotia; Al Robinson, Great Canadian RV, Peterborough, Ontario; Andy Thomson, Can-Am RV Centre, London, Ontario; and Roland Goreski, Campkin's RV Centre, Whitby, Ontario.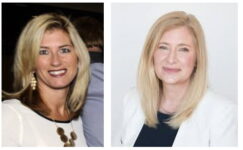 The selection committee operates under the supervision of Eleonore Hamm, RVDA of Canada, with assistance from Melanie Taylor of RV Lifestyle Magazine and RV Dealer News.
The award will be presented in-person at an official ceremony, coinciding with the RVDA of Canada annual general meeting, to be held during the RVDA Convention/Expo in Las Vegas, November 
For 2023, six distinguished Canadian RV dealers have been nominated for this honour, and we are pleased to introduce them here.
Nominees
Keith Barrick, Keith's Trailer Sales, Orton, ON
Marco & Mylaine Boudreault, E. Boudreault VR, Ancienne-Lorette, QC
Chardell Brydon, Jerry's RV Trailer Sales, New Minas, NS
Jason Friesen, Voyager RV Centre, Lake Country, BC
Kyle & Jeff Redmond, Bucars RV Centre, Balzac, AB
Murray Sullivan, SMP RV, Huston, BC
The following information is derived from the nomination documents:
Keith Barrick
Keith's Trailer Sales, Erin, ON
2023 Ontario RV Dealer of the Year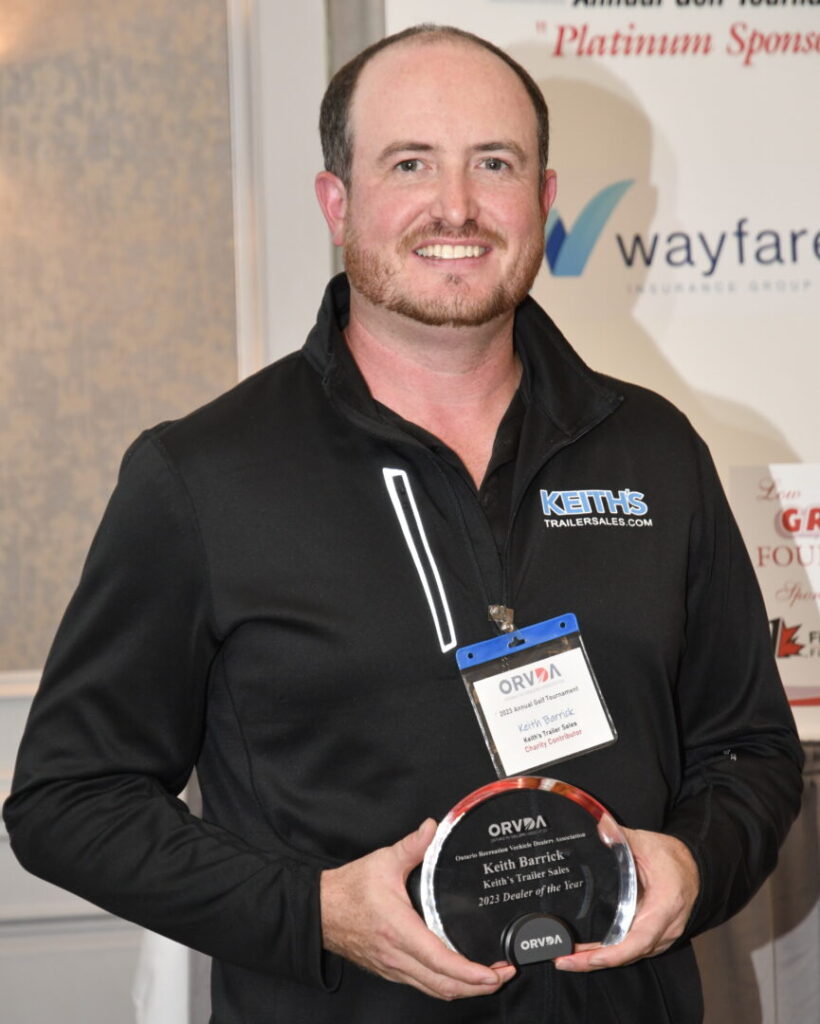 Keith's Trailer Sales was incorporated in July 2014, and has grown rapidly to be one of the region's most popular dealerships.
Keith Barrick has consistently demonstrated an unwavering commitment to the RV industry and the promotion of the RV lifestyle. Through innovative marketing campaigns, community engagement initiatives, and fostering strong relationships with customers, manufacturers, and industry stakeholders. By prioritizing exceptional customer service, offering a diverse range of high-quality RV products, and spearheading efforts to enhance the overall RV experience, Keith Barrick has left an indelible mark on the industry, inspiring others to embrace the joy of RVing.
In his role as the Acting Dealer Principal of the RV dealership, Keith Barrick has garnered widespread recognition and respect from both customers and peers for his unparalleled integrity and unwavering credibility. Through transparent business practices, honest communication, and a steadfast commitment to delivering on promises, Keith has built a reputation that resonates deeply within the RV community.
As an ORVDA member, Keith's Trailer Sales hosted RV1 and RV2 courses in their service shop, fostering industry networking and insights into emerging practices.
Keith and his wife Ally envision a dynamic future, perpetually embarking on new projects. Keith is deeply engaged in his community, serving as an active board member of the Erin Chamber of Commerce, contributing to local fundraisers, sponsoring sports teams, and establishing a well-known presence in the community.
Marco & Mylaine

Boudreault
E.Boudreault VR, Ancienne-Lorette, QC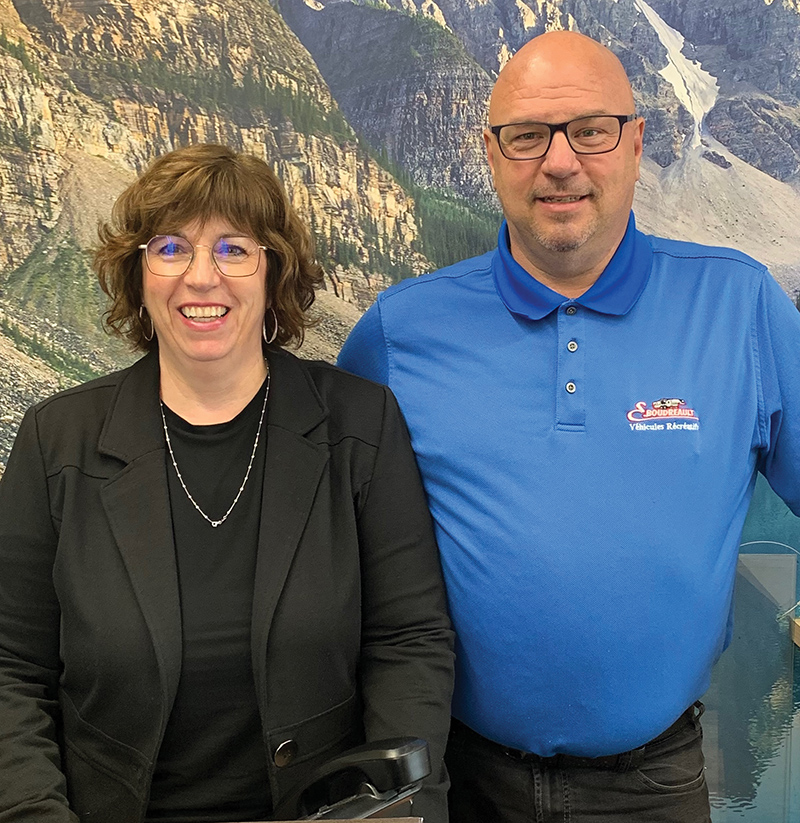 The E. Boudreault V.R. team was founded in the mid-1980s by Étienne Boudreault. At the time, the business operated in the car detailing field, expanding into RV body repair in 1990. After growing demand over the years, the company relocated to a larger location in Ancienne-Lorette in 1999.
For the past 33 years, the company has specialized in repair, maintenance and sales of parts and accessories for recreational vehicles and RV sales.

The E. Boudreault V.R. team of professionals has never stopped growing the family business. Now headed by Mylaine and Marco Boudreault, the dealership has become a reference in the recreational vehicle repair field.
The company's core value is customer service. It offers courteous and professional service and a wide variety of products – the corporate philosophy is embodied in the company motto "A Family Like Ours".
Marco Boudreault, a mechanic by trade, managers the shop and service.
Mylaine Boudreault, a graduate in administration and accounting, has worked in the automotive field since she finished school. She has been involved in all aspects of administration and accounting since the company was established.
The E. Boudreault V.R. team is composed of more than 23 full-time employees who have been with the company from the beginning, including several members of the Boudreault family. Yves Hawey, Mylaine's husband, manages the Body and Paint Department and everything that concerns insurance files. Nathalie Fortin, Marco's wife, manages the Parts and Accessories Department.
Chardell

 

Brydon

 
Jerry's RV Trailer Sales & Service, New Minas, NS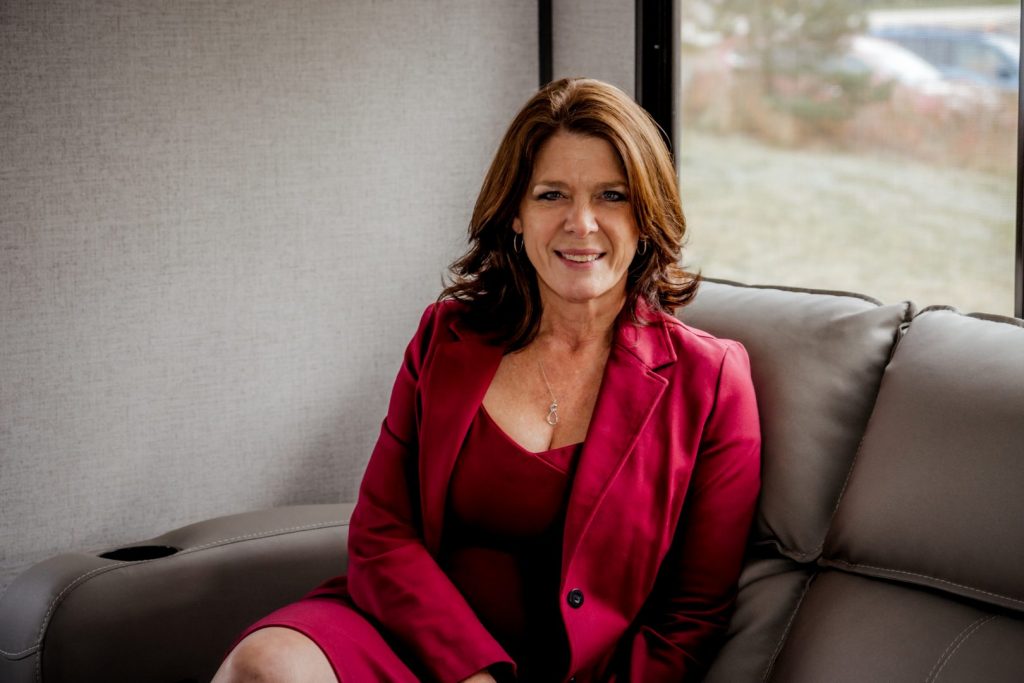 Jerry's RV was incorporated in 1987 by Jerry Weir, Chardell's father. Chardell started in the business in 1987 and has been the operating dealer principal since 1993.
Chardell Brydon has devoted many years to the Atlantic RVDA, currently serving as Vice President, on a path to become President of ARVDA at the next AGM in the fall of 2024. In addition to these duties, she chairs the RVDA National Education Committee, having joined that committee in October 2019. She continues to serve as a member of ARVDA's Training Committee, as well as the AGM and RV Show Committees. Chardell is also involved with several training initiatives, including the national trouble-shooter clinic.
Jerry's RV is a regular and active participant in ARVDA's RV Show Program.
Chardell is actively involved in her local community and has a keen interest in environmental conservation. Chardell is a long-time supporter of Ducks Unlimited, a not-for-profit organization dedicated to the conservation of wetlands and associated upland habitats for waterfowl, other wildlife, and people.
Jason Friesen
Voyager RV, Winfield, BC
2021 RVDA of BC Dealer Of The Year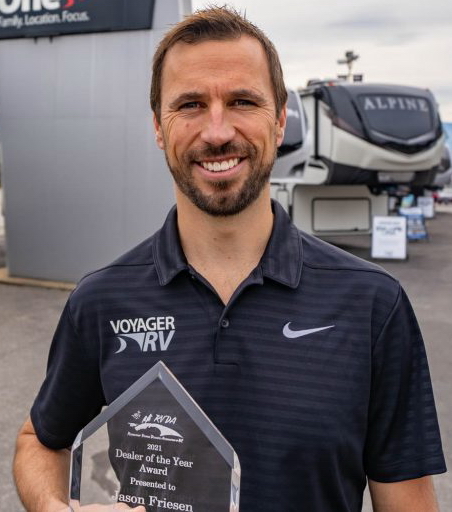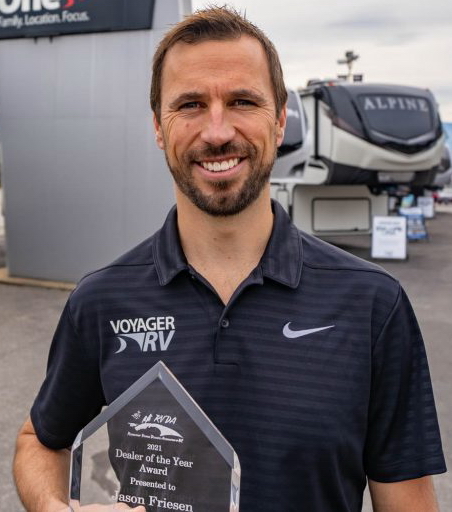 Jason joined Voyager RV's management team as a leader in 2003 and has been the acting Dealer Principle since 2004 when Rod retired. In 2009 Jason became the Vice President and leader of Voyager RV and immediately set the new direction of Voyager RV to match his vision. He continued to drive the Friesen family mission of creating the best customer experience in the RV industry, even throughout the tough times of the recession. Jason also made the tough decisions to alter certain common RV-dealership practices, to better fit with the new generation of RV buyer. These changes were not easy on some but were a win-win for the customer and the dealership. All non-mandatory fees were removed, and all processes and practices were scrutinized to ensure that integrity, honesty, and transparency would be what Voyager RV would be known for by our customers and in the industry.
Making sure that the customer experience continued to be the focus, Voyager RV has stayed well ahead of the competition. It has grown in market share and is by a wide margin the largest RV dealer in the BC interior, despite being located in a town with a population of just 15,000.
Jason Friesen started the "Voyager Cares" Initiative. Voyager staff were given a list of 25 local charities to vote on, with the top 7 vote getters chosen to receive a share of $100,000 in donations pledged to be donated by Voyager RV over the campaign. Having the team's own experiences, hardships and heartbreaks being reflected in this way meant a great deal to Jason and the Friesen family. This was to be a true reflection of what was in the team's hearts, and a thank you for the amazing hard work and dedication they all possess and demonstrate every day.
Jeff & Kyle Redmond
Bucars RV, Balzac, AB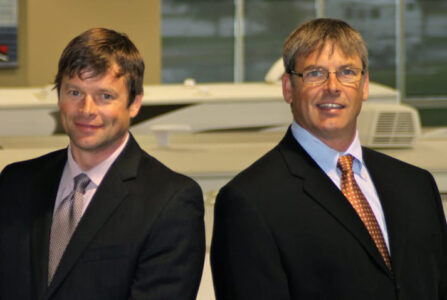 As Calgary's very first RV dealership, Bucars has maintained its status as one of Western Canada's premier dealerships. The foundation of their success lies in our commitment to client education and comprehensive support for the RVing community. Their unwavering dedication is evident in the strong partnerships we have cultivated with manufacturers, leading to consistent Top Sales awards.
The Bucars RV Online Learning Centre is an innovative and extensive online resource for RV knowledge. They have integrated the world of recreational vehicles with online learning and have published more than 400 articles, blogs, and videos geared toward the modern-day RVer.
Bucars RV is committed to charitable and non-profit initiatives as part of their corporate social responsibility efforts, consistently contributing to causes that align with their values and objectives.
The owners, Kyle and Jeff Redmond, act as Chief Culture Captains at Bucars RV Centre. Culture is the pulse of any organization and it's important to create an environment where employees can flourish. The owners engage with most, if not all employees daily.
Quite often employees are asked, "How was your weekend? How is your family doing?" before any real business begins. This same level of culture trickles down to customer interactions and they can see that Bucars is truly a business that cares and creates relationships above all else.
Murray Sullivan
SMP RV, Houston, BC
2022 RVDA of BC Dealer of the Year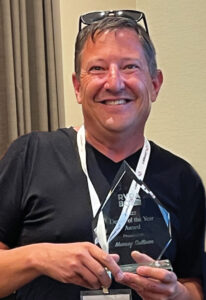 Murray Sullivan, Sullivan Motor Products, has sat on the RVDA of BC Board of Directors for many years, and has made a significant contribution to the RVDA industry in the province.
Murray's family has had generations of success in the automotive industry. About ten years ago, Murray opened his first RV store, SMP RV, in Houston, BC.
Murray joined the RVDA of BC as a director to learn more about the RV industry and the people in it. His enthusiasm and generosity have stood out from the very beginning.
Murray built SMP RV into a thriving business and, over the last few years, has purchased two more RV stores as a partner, taking over two long-time, well-established companies in the RV industry, Mike Roseman RV in Vernon, and NR Motors RV in Prince George. The two families that had run these dealerships for over 30 years and 50 years, respectively, were ready to step out of the industry – Murray taking over these RV dealerships will ensure a strong RV presence in these significant communities for years to come.
Murray believes in supporting local, so walking down the street in Houston BC, everyone knows Murray on a first name basis. In the halls of SMP and SMP RV you will see the photos and letters of thanks from the local 4H, Minor Hockey, Minor Baseball, and the School's Raise a Reader Program to name a few.
Murray has also been generous with his time when giving back to the industry. As soon as Murray started in the RV business, he volunteered to serve on the RVDA of BC Board, progressing from Director through the executive to President.
See the feature story in the Digital Edition of RV Dealer News: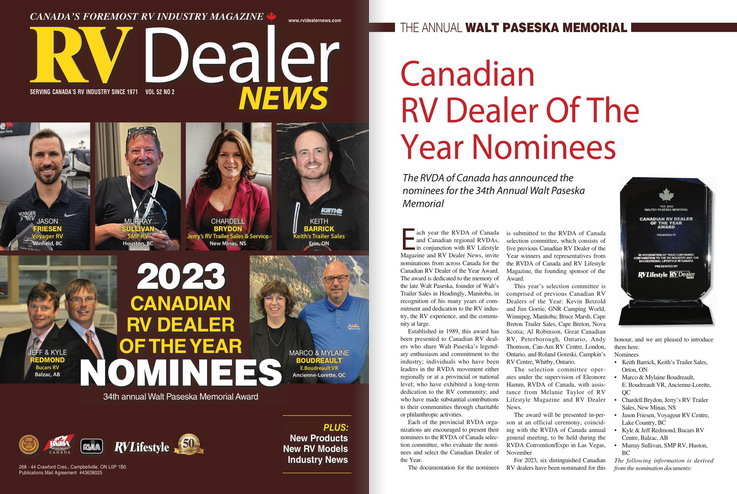 https://77260755.flowpaper.com/RVDN522all/#page=3
Please stay tuned for the announcement of the winner of the Canadian RV Dealer of the Year Award, Wednesday, November 8, 2023.