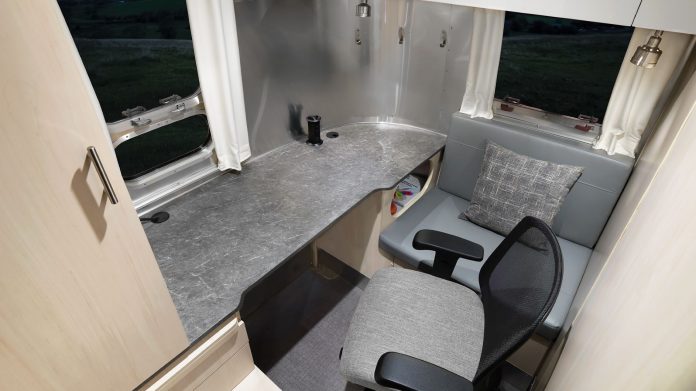 "Why work from home when you can work from anywhere?" is the new tagline for Airstream, which has added a dedicated office space to its Flying Cloud 30FB travel trailer.
With COVID-19 impacting the workplace and so many individuals now working remotely, it didn't take long for the company to capitalize on this new way of life. It enhanced the trailer's power solutions and outlets, added sound-deadening materials, and increased connectivity options.
Airstream said: "As more and more businesses and employees discover the benefits of working from home, Airstreamers everywhere have hit the road on extended trips, playing, learning, and working from anywhere."
The Flying Cloud 30FB's corner office space is converted from what was originally sleeping space in the trailer. It has a desk and an office chair, black-out curtains for video calls, hook-ups for Internet connections and there's a mounting place for a computer monitor (a pop-up USB/AC outlet is supported by the onboard 1000W power inverter). Sliding drawers and storage cubbies will assist in work organization and overhead storage cabinets, complete with a dry-erase area, may even help with creativity. The office swivel chair comes with a safety strap for travel, as well as a chair mat to protect the floor.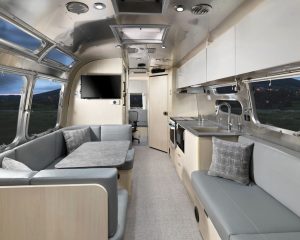 The Flying Cloud sleeps six+, has a queen-sized bed, a bathroom with separate shower and toilet, three closets, a kitchen with pantry, and a small dining area. When work is done, the office converts into additional sleeping and relaxing space for one.
The trailer includes
Airstream Connected pre-wire
, making it easy to add this powerful connectivity solution at any Airstream dealership. New owners can also choose to upgrade to
Airstream Power Plus
– a lithium battery system that allows RVers to remain powered with confidence.
The 30FB weighs about 6,800 lbs (3,084 kgs) and costs $107,500 USD (approx. $137,500 CDN). Airstream's website warns potential buyers: "Due to high demand, wait times for new products are longer than normal."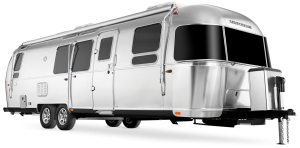 Airstream has future plans to add office space as an option on other trailer models.