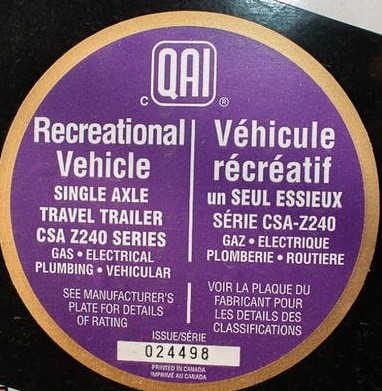 The Canadian RV Association continues to work alongside the RV Industry Association to align the CSA Z240 RV Series Standard to the NFPA 1192 as best as possible. In this regard, we would like to take this chance to update our members on proposed changes to the CSA Z240 Standard by the Technical Committee which are now available for public review.
Currently, the CSA Z240 RV Series Standard specifies that the Canadian NMD Wire must be used in the standard which is more expensive and not as readily available to US Manufacturers as the US NM-B. Working on this for several years, the CSA Z240 Technical Committee recently recommended a change to update the current publication, which if approved, would permit RV Manufacturers to use either Canadian NMD or US NM-B wire in the code. Fully supported by CRVA and RVIA, this amendment would greatly increase efficiency and lower costs for RV Manufacturers.
Additionally, due to changes in industry trends, CRVA and RVDA of Canada have been advocating with Provincial and Territory authorities to have the allowable length of Travel Trailers increased to 43 feet from the current max length of 41 feet (12.5 meters) in Canada. Although this is controlled by the Canadian Provincial jurisdictions, CSA Z240 similarly includes a travel trailer max length of 12.5 meters or 41 feet.
Given this, the CSA Z240 Technical Committee felt that we should take the opportunity and be proactive by proposing an increase in the allowable towable length to 43 feet in the amended CSA Z240 code and if the Canadian Provinces and Territories approve the same change at some point in the future we are already aligned.
The recent amendments to the CSA Z240 RV Series have been posted for 60 day public review.  A copy of the draft can be found here: https://publicreview.csa.ca/Home/Details/3499.
The public consultation period ends on August 24, 2019.
We would like to thank everyone on the CSA Z240 Technical Committee for their input and efforts. Please contact our office should you have any questions or concerns.
For inquiries, please contact:
(905) 315 3156