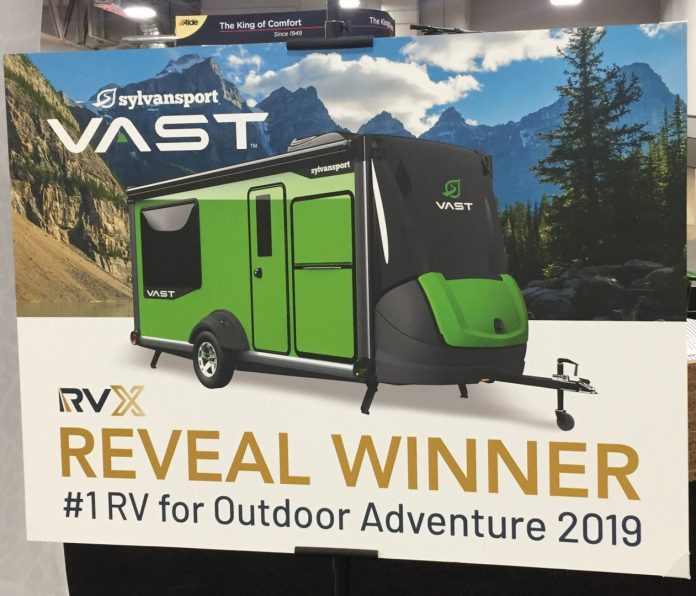 Truma is extending its congratulations to all manufacturers who won one of the nine product spotlights at RVX's "Reveal," some of which featured Truma products.
"Of the winners in the nine spotlight product categories, Truma especially congratulates four of the manufactures who are Truma partners: Outdoor Adventure: the SylvanSport VAST featuring the Truma Combi, Van Life: the ModVans CV1 Camper Van featuring the Truma Combi, City Escape: the Leisure Travel's 2020 Unity Rear Lounge featuring the Truma AquaGo and Destination Camping: Forest River's Riverstone Luxury 39 RBFL featuring the Truma AquaGo," said President and CEO of Truma, Gerhard Hundsberger.
"We would also like to congratulate Airstream for winning the On the Horizon category with the Airstream Classic Smart RV which features the Alde system," he said.
Other Truma partners were also given special "Judges Choice" recognition including the Airstream Basecamp, the Taxa Cricket, the Leisure Vans 2019 Wonder Rear Twin Bed, the Coachmen Galleria 24 A, the Airstream Interstate Nineteen, the Taxa 2019 Mantis and the Lance 1975 Ultra-Light Travel Trailer.
"Truma is pleased to work together with so many manufacturers who's prime objective is to look toward the future and develop ideas into innovative technology, providing the best possible RVing experience to customers," said Hudsenberger
Truma says they are proud to be exhibiting at the RVX and was excited to attend this new event showcasing the most innovative RV's and products in the industry. The RV Industry Association did an impressive job of making the "Reveal" an exciting event to be a part of, the company said in a release.