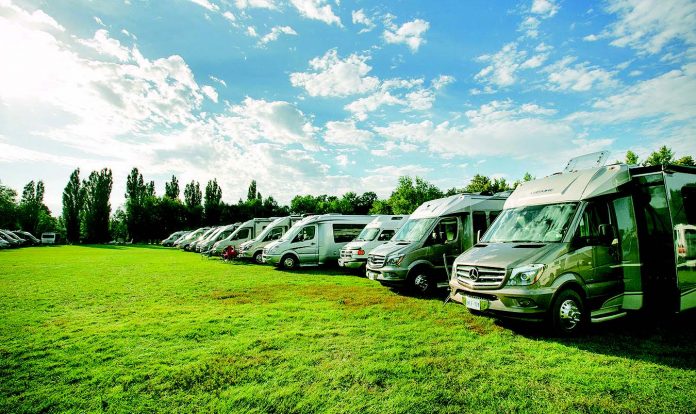 To say that these are interesting times would certainly be the understatement of the year.  We hope that you, your families and staff are staying healthy during this unprecedented pandemic. We would also like to say thank you to all of the hardworking essential and frontline staff who are working to keep our communities safe and supported.
As an association we are trying our best to keep our members informed of the latest developments, with particular emphasis on the available help for small and mediums businesses.  We have also been advocating to government the importance of the RV industry at this time as RVs are uniquely able to meet the critical needs in an expedited time frame for emergency crisis management.
2019-2020 NTP-Stag Canada RV Technician Bursary
The committee has approved to modify the parameters to increase the number of bursaries available due to class cancellations and disruptions caused by the Coronavirus pandemic. There will be now be one top prize of $1,000 and twenty-three, $500 bursaries available.
The eligibility period remains unchanged for all RV-related training courses successfully completed between August 1, 2019 to May 31, 2020. Applicants must be employed by an RVDA of Canada member during the prescribed training period.
The addition of admissible courses includes training webinars offered by RV industry suppliers and original equipment manufacturers. While not all suppliers currently offer training webinars, RVDA of Canada continue to work with available suppliers to expedite the offerings as well as work with RV Training Institute to have these training webinars accredited.
The bursary selection committee will review all eligible applications for consideration of this bursary.
Okanagan College was able to move the remaining apprenticeship classes online and allow students to complete their training classes. SAIT's RV apprenticeship classes offered this calendar year were unfortunately cancelled.
From the onset of the COVID-19 crisis, RVDA has worked diligently to ensure the RV industry is adequately supported throughout this unprecedented crisis. We have been working closely with the federal and provincial officials on the necessary programs to help businesses and workers affected by COVID-19.
Our advocacy efforts have focused on long-term business continuity through government programs aimed at bridging the gap for businesses and workers in the coming months. To date, we successfully advocated for:
The expansion of the federal wage subsidy program. Hours after the details of the new program were released; we launched a national campaign, with letters sent to elected officials across the country, to call on the government to expand the program to businesses of any size and to include inventory intensive businesses such as RV dealerships.
Essential services. We advocated with provincial authorities to include RV maintenance and repair as essential services.
Liquidity and credit access to help businesses weather the storm.
GST/HST deferrals to assist RVDA members with cash flow challenges.
While we are encouraged by the government economic response to the crisis, more is needed to ensure the RV industry remains viable post-crisis. We remain in constant contact with the federal and provincial governments while they continue exploring the next phase of economic support.
RVDA is advocating for additional support for the industry, including:
Rent and mortgage relief
Small and medium-sized business grants to support operational costs
GST/HST remittances refund
Recovery stimulus through generous incentive programs to encourage RV purchase and camping infrastructure investments

Eleonore Hamm, President
Recreation Vehicle Dealers Association (RVDA) of Canada
Suite 145 – 11331 Coppersmith Way
Richmond, BC   V7A 5J9
tel: (604) 718-6325
email: eleonore_hamm@rvda.ca
www.rvda.ca      www.rvcareers.ca