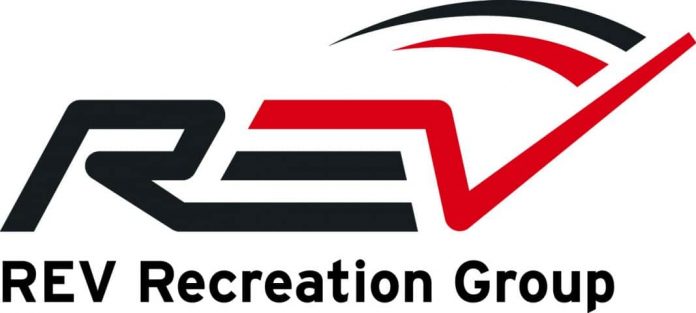 REV Recreation Group, a division of REV Group, Inc announced they will once again be hosting dealers at the annual Elkhart Open House. A showcase of 2020 American Coach, Fleetwood, and Holiday Rambler motorhomes will be available to preview from 9 a.m. – 5 p.m., Sept. 23 to 25, and 9 a.m. to noon on Thursday. The Open House is located on Executive Parkway, just west of the RV Hall of Fame.
"We will have a full line-up from our Class A Gas products up through our luxury American Coach products," said Bill Reith, vice president & general manager, REV Recreation Group.
Fleetwood and Holiday Rambler will unveil all-new products at the Open House. The 2020 line-up for each brand continues to do well, and the new product will help carry that momentum into the next year.
American Coach will highlight a line of luxury appointed coaches, starting with the 2020 American Revolution and continuing with the American Dream and flagship American Eagle. The 2020 American Coach line features an all-new dash, well-appointed interiors, and stunning exterior graphics. The American Dream will feature a painted cabinetry option, while the American Eagle will display an all-new hydro-dipped cabinetry option as well as an impressive American Black Walnut option.
According to a press release, REV RV's Class A division comes to Open House on the heels of a record-breaking Hershey RV Show.
"Attendees at the Hershey show were able to see firsthand what sets our diesels apart from everyone else," said Doug Miller, product manager for REV's Class A Diesel line. "We had the all-new Bridge Foundation on display, and we will have that same chassis at Open House. The all-new Freedom Bridge (Fleetwood) and Titan Bridge (Holiday Rambler) offers our owners a better ride, drive, and handling experience than anything out there."
Each American Coach is built on the exclusive Liberty Bridge foundation, in partnership with Freightliner Custom Chassis. Integrated with the XCM chassis from Freightliner, the Liberty Bridge offers more storage and a smoother ride than what can be found on other motorhomes.
For 2020, American Coach has also added an all-new slide system incorporating the HWH slide system. Each 2020 model now features Freedom Floor, an elegant high-end look throughout, with polished porcelain tiles now found throughout the coach, including on the slide-room floors. More features include designer fabrics and materials, Blanco German Siligranite sinks, Isenberg Faucets, Samsung black stainless-steel appliances found in the Dream and Eagle. The 2020 American Eagle features the Samsung Family Hub, a WiFi-enabled touch screen in the door for organizing.
introduces two all-new mid-level Class A Gas motorhomes at its annual Dealer Open House. Fleetwood RV has added the Fortis to its line-up, while Holiday Rambler added the Invicta. This all-new, mid-level coach features the amenities and styling of a higher-priced Class A Gas.
The Fortis and Invicta will both be on display at the annual Elkhart Dealer Open House. REV's display is located just west of the RV Hall of Fame on Executive Parkway. A full line of its RV segment will be shown including American Coach, Fleetwood RV, Holiday Rambler, Lance Campers, Midwest Automotive Designs and Renegade RV.
"The Elkhart Open House is always a good opportunity to connect with dealers, show-off our new models, and provide a walk-through of new features that continue to make our products some of the most popular motorhomes on the road," said Mark Lombard, Product Manager for REV's Class A Gas.
Visitors are invited to enjoy a complimentary hot lunch served each day along with drinks. Coffee and breakfast pastries will be available as well.