The Dometic Americas RV Division has established RV awards for the top OEM and top dealer of the year. This year's awards went to Leisure Travel Van and Northern Wholesale respectively.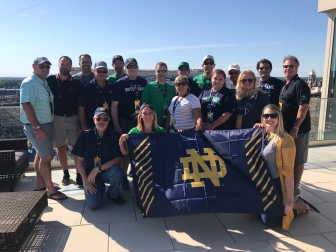 This is the first year of the Dometic RV awards and it has been a special time for all companies involved. There were several great companies who were considered, but ultimately, Leisure Travel Van and Northern Wholesale were awarded.
OEM's and Distributors were measured on a host of criteria including commitment to customer service, their support of innovation, recent growth trajectory and overall support of the Dometic product portfolio as well as the RV lifestyle
To celebrate and commence the awards, both Leisure Travel Van and Northern Wholesale were invited to the Notre Dame versus New Mexico football game at the University of Notre Dame Stadium on September 14.
Employees from each company were in attendance and were treated to a corporate suite at the game. For all who attended it was much more than an award; it was a celebration of collaboration, partnership, and Dometic's commitment to their customers.