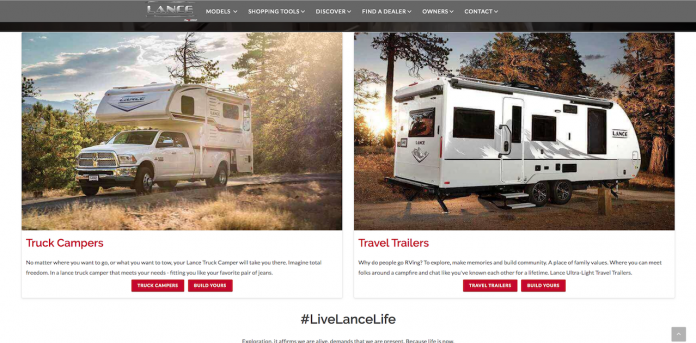 Ultra-Light Travel Trailer and Truck Camper manufacturer Lance has announced plans to lift the curtain on an all-new website (lancecamper.com). The new site features:
2020 product enhancements and addition of new models, including travel trailers 2075 and 2445
A redesigned model comparison tool. Select and compare floor plans side-by-side.
A modern visual menu design for both desktop and mobile; intended to increase user experience to ease navigation throughout the site.
Backend technology improvements, increasing performance and search engine optimization.
An updated online brochure viewing experience.
"A website is the key to managing a brand's digital presence, communicating its story, and effectively providing critical information to the public. As a quality manufacturer, we take pride in evolving our website along with our product to present the customer with a positive experience from the web search to the campsit," says Bob Rogers, marketing director.