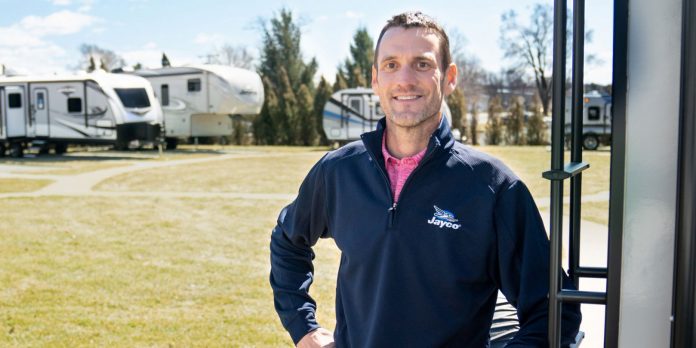 Bill Martin is joining Jayco as the company's new Vice President of Marketing.
Martin has over 20 years of experience in the RV Industry, with a successful track record on both the OEM and Supplier sides of the business.  In this new role, Martin will lead the marketing initiatives for Jayco and its subsidiaries, Entegra Coach, Highland Ridge, and Starcraft.
The addition brings an innovative marketing approach focused on creating an unparalleled customer connection and ownership experience, the company said in a release.
"We are fortunate to add someone with such impressive credentials and proven experience in this industry," said Jayco COO, Matt Thompson. "Bill brings a very unique perspective having not only worked in marketing but also has a strong sales background and solid foundation in the field. That broad experience, coupled with his genuine passion for the RV Industry, will help us take our marketing efforts to the next level."
Martin earned a bachelor's degree in Public Relations from Purdue University. Martin started his RV career at Coachmen where he quickly moved up the ranks to Vice President of Marketing. Martin also gained experience on the supplier side of the Industry as the sales and marketing director for Atwood Mobile Products. Most recently, he led the marketing charge for Grand Design RV.
"Bill is a great addition to the Jayco family and we're happy to have a vice president with such a solid background in the RV industry," said Jayco President and CEO Derald Bontrager. "We are also pleased to have Bill on board to help us tell our story and promote our products with his family-friendly approach."
"I am honoured for the opportunity to lead the marketing efforts for a company with such an amazing history," Martin said. "There is a rich 50-year legacy here at Jayco and I look forward to further enhancing our connection with the Jayco family of owners and dealers."
Martin says he has always felt a connection to Jayco and believes that this company's values align very well with his personal values. Martin lives in Goshen with his wife Tracy and their two children Meg (16) and Will (13).