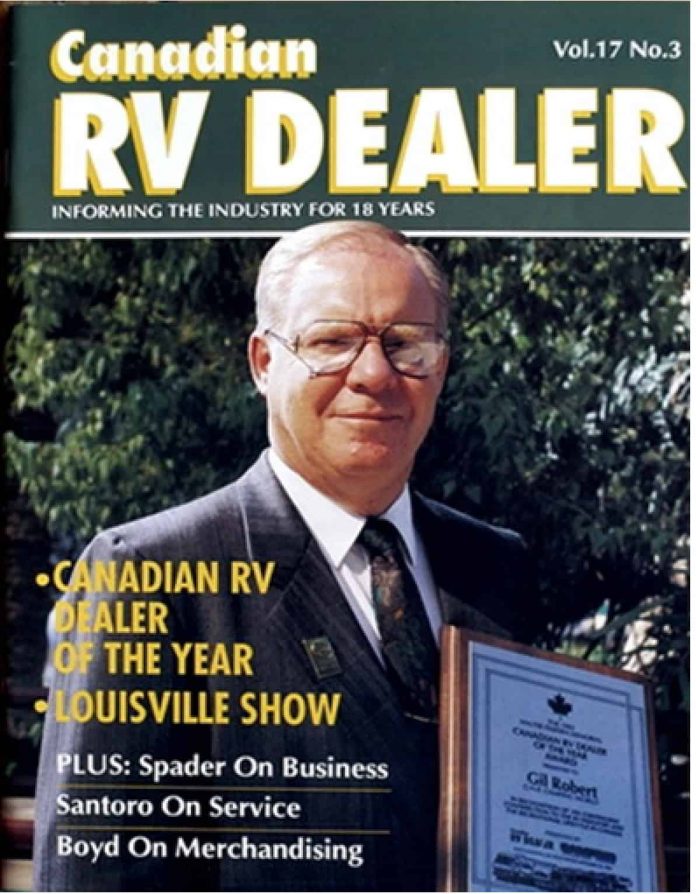 Un triste message de l'Association canadienne des concessionnaires de véhicules récréatifs.
Sad news from the Canadian RV Dealers Association…
Gil Robert, l'un des concessionnaires de VR les plus connus au Canada, est décédé…
Gil Robert, one of Canada's best known RV dealers, has passed away…
L'industrie canadienne des VR a perdu l'une de nos personnalités les plus respectées – un homme dont les efforts inlassables ont contribué à la création de la RVDA du Manitoba, de la RVDA du Canada et de l'ACVRQ.
The Canadian RV industry has lost one of our most respected personalities – a gentleman whose tireless efforts helped create the RVDA of Manitoba, the RVDA of Canada, and the ACVRQ.
Plusieurs des membres plus âgés de l'industrie des VR se souviendront de Gil depuis l'époque où lui et son cousin Noel Painchaud et son frère Rheal Robert ont lancé le GNR Camping World RV Centre à Winnipeg, au Manitoba. Ceux d'entre nous qui ont eu le privilège de le connaître se souviendront de Gil Robert comme d'un homme dont la personnalité et la générosité ont inspiré des générations de professionnels du VR. Gil Robert était un homme dont la personnalité et la générosité ont inspiré des générations de professionnels de RV. Sa contribution à l'industrie en général, aux amateurs de VR et à l'ensemble de la communauté des véhicules récréatifs a établi les normes auxquelles nous aspirons tous et a gagné le respect des générations au sein de la communauté nord-américaine des véhicules récréatifs.
Many of the senior members of the RV industry will remember Gil from the early years, when he and his cousin Noel Painchaud and his brother Rheal Robert started GNR Camping World RV Centre in Winnipeg, Manitoba. Those of us who had the privilege of knowing him will remember Gil Robert as a man whose personality and generosity inspired generations of RV professionals. His contributions to the industry at large, the RV enthusiasts, and the community at large, set the standards that we all aspire to, and earned the respect of generations within the North American RV community.
Au fil des ans, nous avons eu le privilège de travailler avec Gil Robert sur de nombreux projets clés essentiels au développement de l'industrie canadienne des VR, des spectacles de VR à la formation des associations provinciales et nationales de concessionnaires de véhicules récréatifs.
Over the years, it was our privilege to work with Gil Robert on many key projects crucial to the development of the Canadian RV industry, from RV shows to the formation of the Provincial and National RV Dealers Associations.
En 1992, Gil a été l'un des premiers récipiendaires du Prix canadien du concessionnaire de VR de l'année, nominé et sélectionné pour recevoir cet honneur prestigieux par ses pairs – les concessionnaires de VR à travers le Canada. En 2018, cette tradition d'excellence s'est perpétuée lorsque les gendres de Gil, Jim Gorrie et Kevin Betzold, ont rejoint les rangs des lauréats de la deuxième génération du prix.
In 1992, Gil was one of the first recipients of the Canadian RV Dealer of the Year Award, nominated and selected to receive this prestigious honour by his peers – the RV dealers across Canada. In 2018, this tradition of excellence was carried on when Gil's sons-in-law, Jim Gorrie and Kevin Betzold, joined the ranks of second-generation winners of the award.
Nous offrons nos plus sincères condoléances à sa famille et à la communauté des véhicules récréatifs du Manitoba et de partout au Canada.
We extend to his family, and the RV community in Manitoba and across Canada, our deepest sympathies.
Pour plus d'informations et pour ajouter vos condoléances au livre commémoratif s'il vous plaît visitez le site Web à cette URL:
For information and to add your condolences to the memorial book please visit the website at this URL: https://passages.winnipegfreepress.com/passage-details/id-272155/ROBERT_GILBERT?fbclid=IwAR1bFgyMWVLBL9KIFT9ia0uhtCTmntUMK-DPh_61iJKcPqJsSKClPExJ4i0
For more information on the 2018 Canadian RV Dealers of the Year please follow this link: http://rvldealernews.com/jim-gorrie-and-kevin-betzold-win-2018-canadian-rv-dealer-of-the-year/