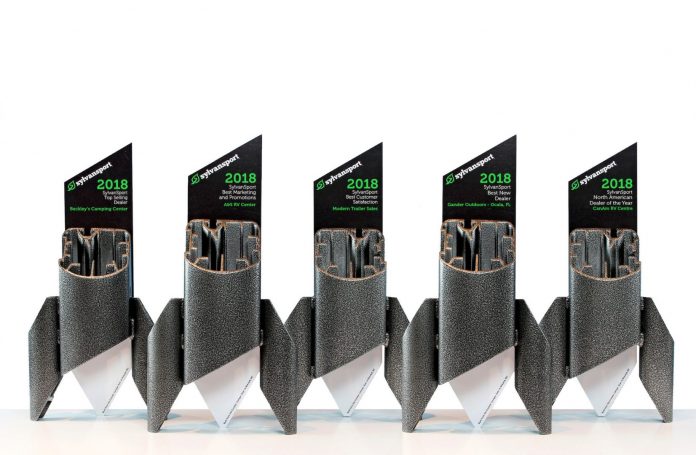 London, Ontario based Can-AM RV has been awarded "North American Dealer of the Year" by Sylvansport.
The award was presented to the dealership as a part of the company's 2018 Dealer Awards.  Sylvansport handed out five awards in total to their dealers: "Top Selling Dealer," "Best Marketing and Promotions," "Best Customer Satisfaction" along with "Best New Dealer" and North American Dealer of the year, which were added this year.  Winners were selected from the company's network of over 80 dealers that best exemplify these qualities.
"Can-Am of Canada continues to impress us with their passion to be the best SylvanSport dealer in the world," said Vice President of Sales, Earl B. Hunter.
Can-Am RV notes their customer base seems to be thoroughly enjoying the GO!
"Since the day the first customer family picked up their SylvanSport GO we knew it was a special product. The unique design and build quality were met with excitement and smiles all around. Folks are genuinely ecstatic when they leave here with their new GO. Coolest camper ever? Indeed," said Kirk Thomson, Vice President of Can-Am RV Centre
SylvanSport's Top Selling Dealer in 2018 was Beckley's Camping Center, located in Thurmont, MD.
"Beckley's is one of the top RV dealers in the country and they do a VERY good job selling-thru the GO Adventure Camper,"said Hunter. "We are proud to present Beckley's Camping Center with our top selling dealer award for 2018."
Dan Zboyan, Sales Manager at Beckley's Camping Center was very appreciative of the award.
"We are excited to be the top dealer for SylvanSport. They really make a unique quality product and everyone with the company is a pleasure to work with. We were honestly a little skeptical with it being a pretty niche product, but here we are. The product as well as the customers it attracts are a lot of fun and we have made many great relationships. The GO lifestyle is something we couldn't offer before, but now drives many people into the dealership who would have never stopped in otherwise. Good job team," he said.
Auburn Hills, MI, based A&S RV Center received the Best Marketing and Promotions award for their creativity and energy in 2018.
"A&S dedicated Dave Steighner to be the SylvanSport Champion and he is OUT OF SIGHT," declared Hunter.
"It is an honour to partner with SylvanSport and bring the innovative Go trailer to Michigan. With all of our local lakes, rivers, and remote camping areas, the GO is a perfect fit for our customers, " said Mike Andree of A&S.
Modern Trailer Sales of Anderson, IN was named as SylvanSport's winner for Best Customer Satisfaction.
"We live by the saying that you don't stay in business for 68 years by accident. It is always by design, so we take great care of our legacy and reputation to preserve what has been so carefully engrained in our culture: 'Focus on customer concerns and resolve those to their satisfaction every time, '" said Sales Manager Chris Ricker.
In the category of Best New Dealer, Gander Outdoors of Ocala, FL was the clear winner.
"Gander presented a WIN/WIN model for us and they followed our lead to sell-thru their first load of units in record time," said Hunter.
Sylvansport says that the awards are a way for the company to show their appreciation for their dealers.
"Our dealers are on the front lines with our customers everyday," said Hunter. "We hope these awards let them know how much we appreciate all their hard work and energy.  The SylvanSport GO is not for everyone, but these award-winning dealers have found a way to leverage the quality, design and GO lifestyle to build their business."
For 2019, SylvanSport plans to continuing building its dealer network, both in North America and abroad. The company is also readying their launch of a new travel trailer and a full line of camping gear.