Congratulations to Al Robinson of Great Canadian RV in Peterborough who has been named the Ontario RV Dealer's Association (ORVDA) 2020 Dealer of the Year!
Al has worked in the RV and camping industry for an impressive 42 years and has owned and operated Great Canadian RV since 2012. He works hand-in-hand with his wife Stacey Robinson and employs a staff of 11, including a full-service team, parts manager and receptionist.
"I am very honoured to have received this award and was even surprised to be considered – it's so nice to be voted for by peers," he said. Al noted that he feels the award should be a "dealership award" as it's the staff and the team that make it all possible.
Al Robinson grew up camping with his family and his parents Marg and Ken opened M&K's Beaver Park in Omemee in the Kawartha Lakes, now a thriving Parkbridge Resort, in 1972. Al was 12 at the time and has very fond memories of life around a campground, recalling that while it was a carefree one, he got his hands on everything he could at the campsite. "I even got to drive a dump truck," he chuckled, adding that his parents taught him the value of a strong work ethic, along with the day-to-day operations. He obtained an honours degree in urban planning from York University, started his first RV dealership in the mid-'80s and purchased his first campground in 1992.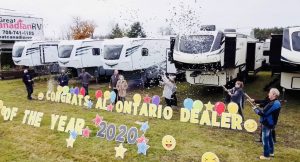 Al and Stacey and Great Canadian RV worked tirelessly this spring and summer during the COVID-19 outbreak and matched 47 first responders across Ontario – and as far as New York – with RV owners who were willing to loan out their units for the purpose of self-isolation. At no cost, Al also treated each trailer with an antimicrobial spray before it was returned to its owner.
He is no stranger to supporting his community. Over the years Al and Great Canadian RV have sponsored youth teams, supported the Canadian Guide Dogs for the Blind, the Food Bank, The Hospital for Sick Children, The Make a Wish Foundation, and more.
"We should all do what can do to help others," he said.
In presenting the award, Natalie Conway, executive director of ORVDA, said: "Al is recognized as a leading contributor to the Canadian RV industry with association peers, stakeholders and industry partners. He has served on several boards of directors, committees and currently remains the chairman of the ORVDA government relations committee. His knowledge and background has been an asset as ORVDA continues its advocacy efforts with various ministries and government influencers."
Natalie Conway added that as a lifetime member of the ORVDA, Al proudly represents the industry, supporting RV shows and important association initiatives developed both provincially and nationally.
On the future of RV dealers Al says that the industry must continuously revisit things. "If you get into a rut you don't change," he stressed. Al is thankful to Stacey for her input over the years, saying that she has been great for introducing him to other ideas. Stacey has branched out with a Great Canadian RV camping product line that has been very successful, selling mugs, hoodies, blankets, spices and more.
"It's an incredible industry and there are so many peers that were deserving of the award. Kirk and Andy Thomson, Harry Patel, Roland Goreski…it's quite an honour," he stated.
Al and Stacey celebrated the Dealer of the Year award with their staff over lunch and cake.
When asked what his 91-year-old mother thought of his win Al laughed and replied, "She was pretty proud and a little overwhelmed. It was great to include her in this."
Great Canadian RV proudly carries Coachmen Catalina and Freedom Express, East to West Della Terra and Alta, Forest River Impression and Cameo fifth wheels. They have the largest RV parts and accessories store in their region.